Bannon's "Apology" Only Makes Things Worse For The Trump Campaign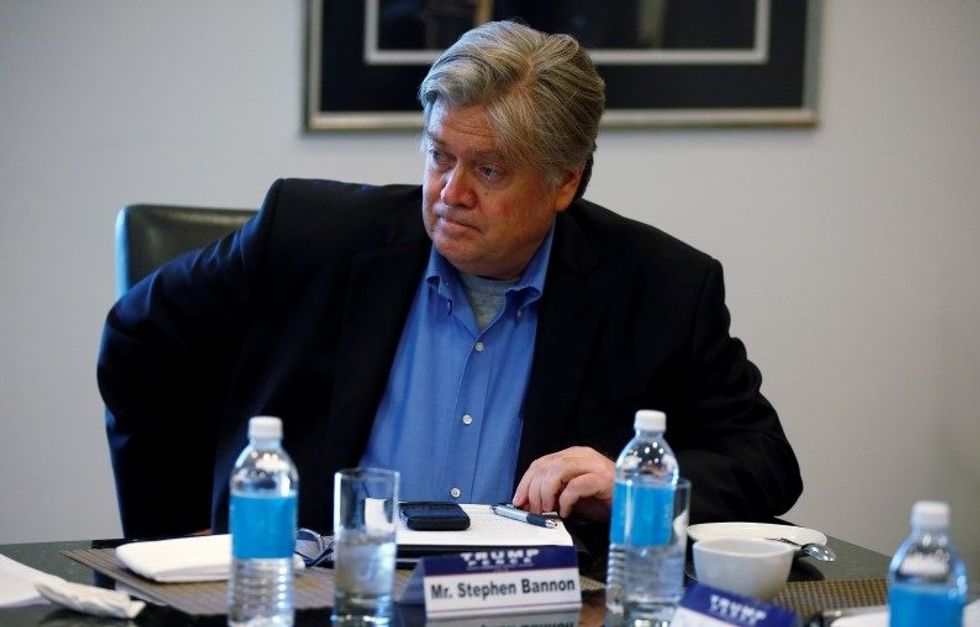 Reprinted with permission from Shareblue.com
The first of many shocking revelations from Michael Wolff's tell-all Trump book was Steve Bannon's admission that Donald Trump Jr's meeting with Russians at Trump Tower was "treasonous."
And in a thoroughly botched attempt to walk that stunning comment back on Sunday, Bannon managed to confirm it instead.
In a series of bullet-points that he fed to news outlet Axios, Bannon tried to do damage control by placing the blame on indicted former Trump campaign honcho Paul Manafort, but confirmed the treason quote in the process:
"My comments about the meeting with Russian nationals came from my life experiences as a Naval officer stationed aboard a destroyer whose main mission was to hunt Soviet submarines to my time at the Pentagon during the Reagan years when our focus was the defeat of 'the evil empire' and to making films about Reagan's war against the Soviets and Hillary Clinton's involvement in selling uranium to them."

"My comments were aimed at Paul Manafort, a seasoned campaign professional with experience and knowledge of how the Russians operate. He should have known they are duplicitous, cunning and not our friends. To reiterate, those comments were not aimed at Don Jr."
No matter where those comments were aimed, however, they most certainly hit everyone on the Trump campaign who participated in that meeting, including Donald Trump Jr.
On MSNBC's "AM Joy" Sunday morning, columnist E.J. Dionne pointed out that Bannon didn't dispute calling the meeting "treasonous," and even reinforced it by citing his own experience as a military officer.
One other fascinating dimension to Bannon's botched attempt at an apology is the timing.
He made a point of telling Axios, "I regret that my delay in responding to the inaccurate reporting regarding Don Jr has diverted attention from the president's historical accomplishments in the first year of his presidency." But Trumpworld's anger with Bannon has been evident for some time, including being cut offby Bannon's main benefactor several days ago.
What made Bannon wait so long, and what prompted him to finally attempt to repair his bridge with Trump, are open questions for now.
What we do know, though, is that confirming he called the Trump Tower meeting "treasonous" is not likely to do it.