Bed Down To Reinvent Cinema In New York
@AFP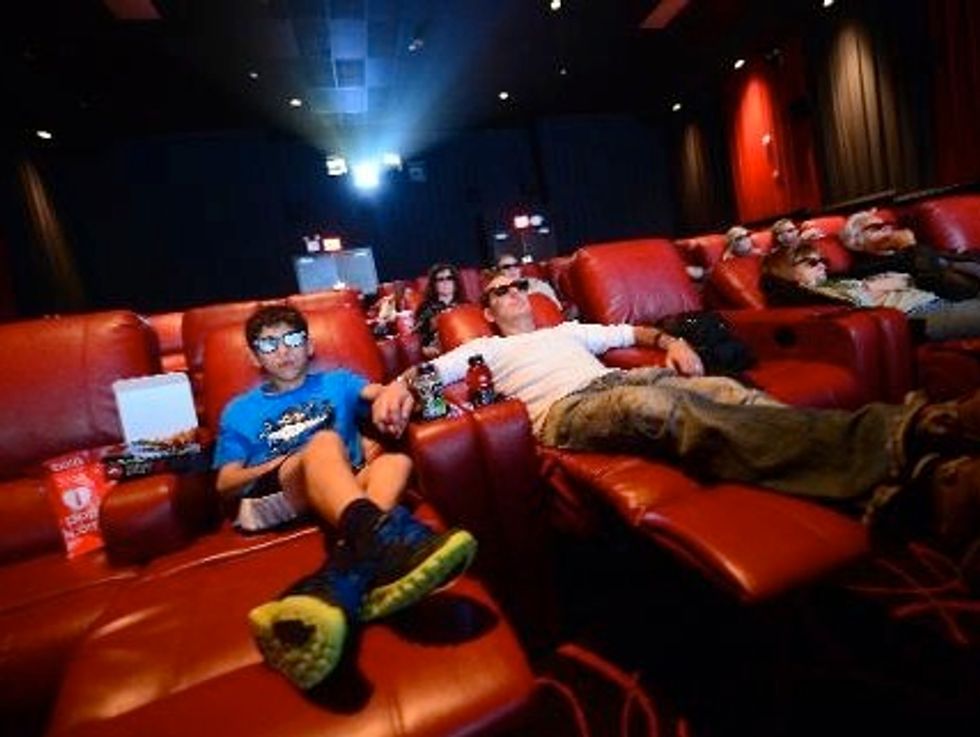 New York City (AFP) – If box office takings have stagnated in recent years, one U.S. cinema is wooing back film lovers with big, fat, leather recliners… reminiscent of well, beds.
Deep and luxuriously comfortable, the plush reddy-brown chairs with movable foot rest are creating a buzz at one tarted-up New York cinema on the Upper West Side.
Similar to first-class airline seats, the movier goer can at the touch of a button maneuver the foot rest until they are sprawled out, sun-lounger style.
No longer is your view of the silver screen blocked by a hefty man sitting in front. Long gone are battles of the elbow to control the arm rests.
The guy chomping on popcorn may still make a racket, but you can slip off your shoes and snuggle down on a chair infinitely nicer than the chewed-up sofa at home.
"I feel so great. It's better than going to a spa," said Jay Smith, after watching rom-com "Don Jon" at the AMC movie theater on Broadway and 84th Street.
"You really feel relaxed. I don't think I'll ever go back to an old theater," he enthused.
Out of the 688 cinemas run by AMC in the greater New York area, 60 have now been equipped with the oversized leather recliners.
There are another 17 in Washington DC and its suburbs, 12 in California and a total of 271 across the States.
The goal is roll out 1,582 in the next five years — around a third of the 4,940 cinemas managed or owned by AMC in the United States, according to a document submitted to the US Securities and Exchange Commission.
There is no need to arrive early as all seats are assigned when you book online.
No more queues in the biting cold or broiling New York summer. No more worries about being late and getting stuck with a neck-craning seat in the front row.
For a business model that concentrated on stuffing as many seats as possible into a cinema, AMC spokesman Ryan Noonan said it was now about quality, not quantity.
"We really wanted to truly enhance the entire experience for our guests," Noonan said.
AMC is also offering a greater selection of snacks at traditional soft drinks and popcorn stands.
"We added concession items like chicken tenders, mozzarella sticks, pizza," said Noonan. There are also more than 120 different types of drinks available.
Dinner a la carte in your seat
A clutch of other cinemas in the United States are going a step further, offering an a la carte dinner and bar service served in your seat as you watch a movie.
Items on offer are salads, entrees of tenderloin and salmon, pastas, burgers, sandwiches and appetisers, with a kids' menu as well.
Beer, wines and cocktails are also served on occasion.
AMC says its new recliner seats have had the biggest single impact on business since launching two years ago even if it reduces capactiy by 50 or even 70 percent.
As the experience is so much more pleasurable for clients, attendance has grown by 84 percent.
"Our guests are coming more and they coming out more often," Noonan said.
"We could have done the bare minimum, we wanted to go all the way, to make it a destination theatre, to make it a place people want to come and watch a movie."
At the AMC cinema on Broadway and 84th, he said reaction has been "tremendous".
And at $15, ticket prices are not much more expensive than the $12 average in New York.
The only inconvenience, faced with such comfort, is resisting the temptation to doze off.
AFP Photo/Emmanuel Dunand