Bezos: National Enquirer Attempted To Blackmail Him Over Nude Selfies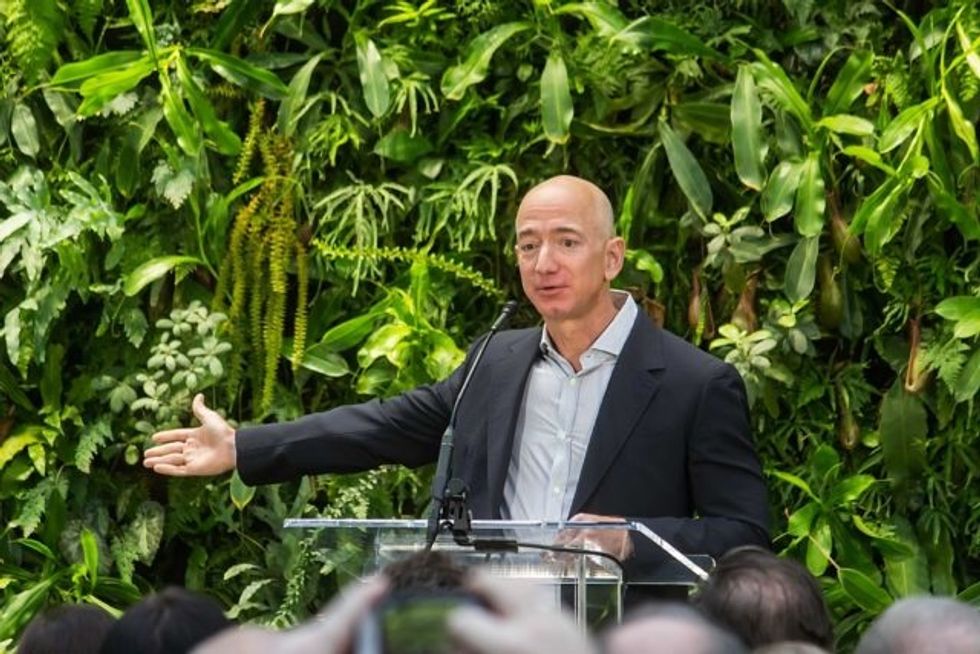 Reprinted with permission from AlterNet.
Jeff Bezos, the founder of Amazon and the owner of the Washington Post, published explosive allegations on Medium Thursday evening, charging the American Media Inc., the parent company of the National Enquirer, tried to blackmail him with his nude selfies.
The National Enquirer recently revealed the existence of Bezos' affair with Lauren Sanchez, which preceded his divorce from his wife. In response, Bezos hired a private investigator to uncover how the news had leaked.
As a part of the investigation, Bezos suspected political motives behind the story, as the Post has been deeply critical of both President Donald Trump and the Saudi regime. Trump, in particular, has been vocal about his animosity toward Bezos and the Post, and the president has had a longstanding mutually beneficial relationship with the Enquirer and AMI CEO David Pecker. AMI recently began cooperating with the Justice Department in an investigation that included the finding that the Enquirer used a "catch and kill" operation to pay off a Karen McDougal, who says she had an affair with Trump, for her silence ahead of the 2016 election.
"Several days ago, an AMI leader advised us that Mr. Pecker is 'apoplectic' about our investigation. For reasons still to be better understood, the Saudi angle seems to hit a particularly sensitive nerve," Bezos wrote. "A few days after hearing about Mr. Pecker's apoplexy, we were approached, verbally at first, with an offer. They said they had more of my text messages and photos that they would publish if we didn't stop our investigation."
Bezos then reproduced emails that purport to show a lawyer for AMI alleging in detail that it has nude and otherwise embarrassing selfies sent between Bezos and Sanchez. In exchange for not releasing the photos, the email demands that Bezos refrain from suggesting that the National Enquirer's cover was "politically motivated or influenced by political forces."
Bezos concluded:
Be assured, no real journalists ever propose anything like what is happening here: I will not report embarrassing information about you if you do X for me. And if you don't do X quickly, I will report the embarrassing information.

Nothing I might write here could tell the National Enquirer story as eloquently as their own words below.

These communications cement AMI's long-earned reputation for weaponizing journalistic privileges, hiding behind important protections, and ignoring the tenets and purpose of true journalism. Of course I don't want personal photos published, but I also won't participate in their well-known practice of blackmail, political favors, political attacks, and corruption. I prefer to stand up, roll this log over, and see what crawls out.