Biden Mum On Presidential Run Despite Approaching Deadlines, Antsy Supporters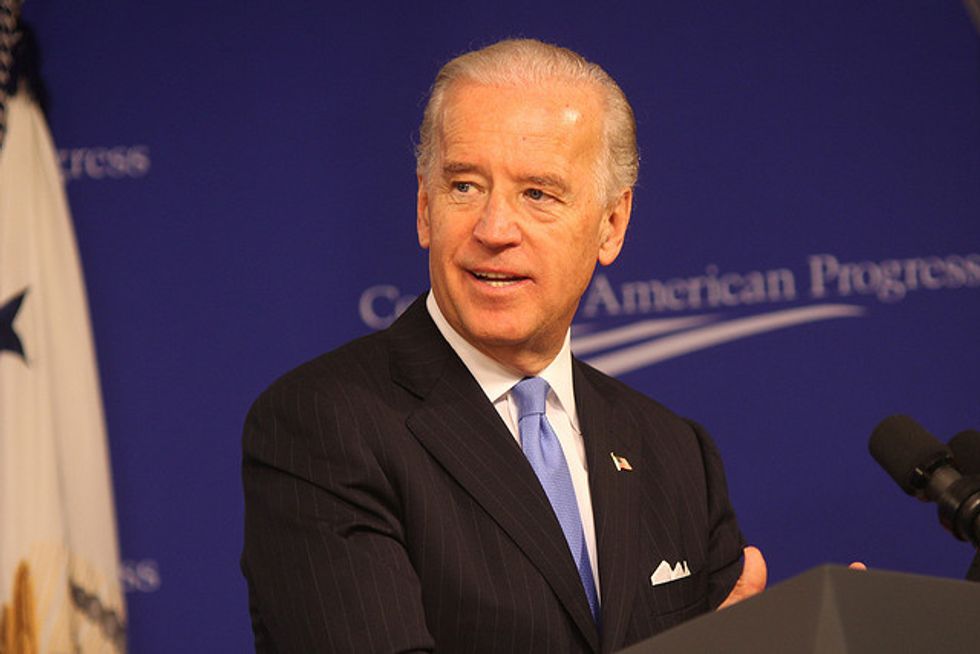 Joe Biden: Still undecided.
Yet others have decided. They want Joe.
Chris Coons. Jeff Markell. John Carney. President Obama (sort of). And now Dick Cheney.
The former vice president joined the three Delaware politicians in voicing his support for the current vice president to pursue a presidential run.
Cheney, a Republican who is on the press circuit with his daughter Liz promoting their new book, spoke to CNN over the weekend, urging Biden to enter the race.
"He's tried twice before; he obviously is interested," Cheney said. "I think there's a lot of support for him in the Democratic Party. I think it would stir things up. They're short candidates on their side, so I'd urge Joe to have a shot at it."
He added that he'd bet the veep would run, and that with Hillary Clinton's email controversy still lingering, Biden would be an antidote to Clinton fatigue and would reinvigorate the paltry Democratic field.
Biden is spending the rest of this week in southern Florida, a hotbed for both Democratic politics and fundraisers. But everything on his schedule has "nonpresidential explanations," as The New York Timesputs it.
Meanwhile, several South Florida politicians have publicly announced their support, citing Biden's personality and his record.
State Sen. Jeremy Ring, a Democrat who represents northwest Broward County, told the South Florida Sun-Sentinel, "He would be a better president [than Clinton]. He can rally a country. He doesn't have the stains. People trust him."
"Joe Biden is one of those guys that if you work for him and get to know him, you're always going to be a loyalist," Patrick Baskette, a Tampa-based Democratic consultant who worked with Biden when the VP was a senator, told the Tampa Bay Times. "He's been a phenomenal vice president by all measures. He's been a consensus builder by all measures."
Despite the goodwill for Biden, analysts consider him too similar to his main rival on the issues.
According to political reporter David Lightman, "During their eight years together in the Senate, Biden and Clinton both voted against President George W. Bush's 2001 and 2003 tax cuts, his Medicare prescription program, and the nominations of Samuel Alito and John Roberts to the Supreme Court," as well as voted for the Iraq War in 2002. At the time, Biden was chair of the Foreign Relations Committee, which conducted the Senate hearings deciding whether to allow President Bush to go to war.
Speculation on whether Biden will run has been simmering for months. Shortly after his son, Beau, died of cancer in May, it was revealed that the younger Biden's wish was that his father run for president again, following unsuccessful campaigns in 1988 and 2008.
Possible announcement dates keep getting mentioned and pass uneventfully: First it was Aug. 1, then early September, now October. We could possibly hear a decision next year, say advisors. But the first Democratic debate is October 13, and filing deadlines are fast approaching.
He is scheduled to appear on Stephen Colbert's new Late Show on September 10, and rumors are abuzz as to whether he'll announce then. The move wouldn't be without precedence: John McCain announced on the same show with Colbert's predecessor David Letterman in 2007, as did Republican Fred Thompson later that year on The Tonight Show with Jay Leno. John Edwards announced his run on The Daily Show in 2003.
Recent polling has indicated that Biden has support, albeit much less than the two frontrunners, Clinton and Senator Bernie Sanders. The most recent Des Moines Register/Bloomberg Politics Iowa poll shows that 14 percent of voters polled list him as their first choice, with 24 percent as a second choice, trailing Clinton's 37 and 23 percent, respectively, and Sanders' 30 and 20 percent. Iowa has the first primary vote in the country, on February 1.
Of course, what most worries some supporters – like the DraftBiden PAC – is that by announcing so late, he won't have the infrastructure in place to support a presidential run. Clinton might be plagued by perceived scandals, but at least she has a massive organization behind her, and her early official announcement in April has given her momentum to mobilize voters, donors, and volunteers.
"Everybody in this room absolutely loves him," said American Federation of Teachers president Randi Weingarten at a recent DNC meeting. "But you have to have infrastructure, you have to have money."
Photo: Joe Biden, much beloved. Center for American Progress/Flickr