Is The Big Republican Attack On Our Health Care Doomed To Fail?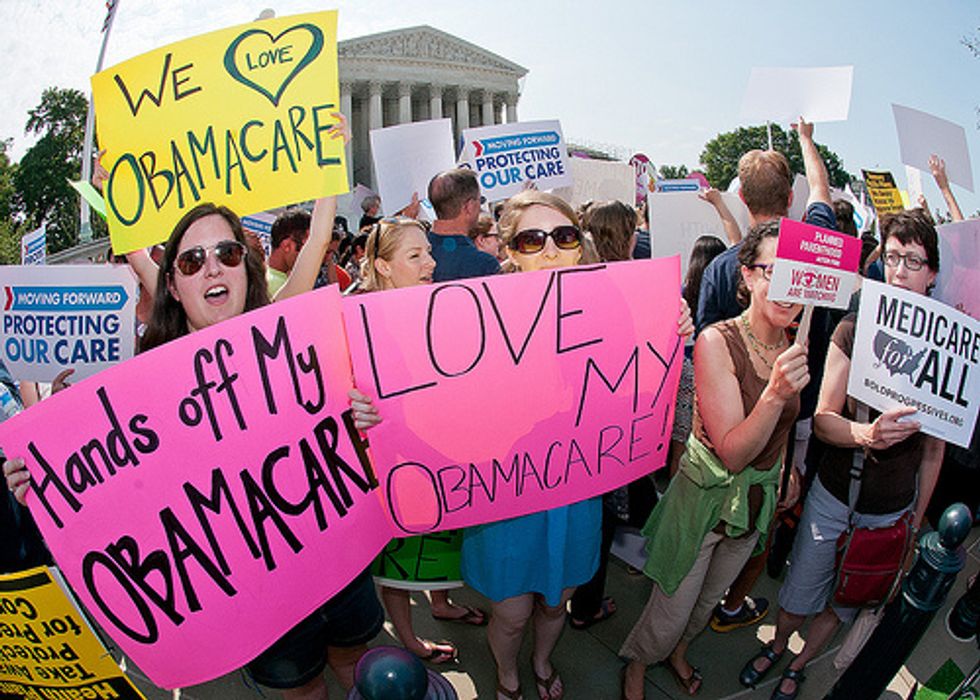 Reprinted with permission fromAlternet.
Thursday's House action on repealing Obamacare—how the GOP majority votes, or if they postpone—will be a defining moment for the Trump presidency and Congress.
As Wednesday closed, vote counters in the capital, such as TheHill.com, listed 25 Republican representatives publicly saying they would vote no. House Freedom Caucus leaders, whose members are not satisfied with spending cuts depriving 14 million people of health insurance in 2018 and jacking up everyone else's premiums by 20 percent according to the Congressional Budget Office's analysis, told Politico.com that they had even more no votes. The Republicans can't have more than 22 defections for the bill to pass.
House Speaker Paul Ryan's comments Wednesday acknowledged an uphill climb. But Ryan said they were peeling off yes votes one by one—often by promising members to take up their pet proposals later in the spring. Meanwhile, the White House praised Trump as a veritable magician poised to pull a rabbit out of a hat. "He's a dealmaker. He's going to figure out how to get it done," an unnamed senior official boasted to Politico. That claim contrasts with Trump's nonchalant attitude last week, when he told Fox News' Tucker Carlson he knew the repeal would hurt his voters in swing states, but scoffed that it could be fixed later.
Tea-leaf reading aside, it's showtime for Trump and the House. The country will soon see what Republicans can muster—an appalling bill that will thrust millions into medical and fiscal uncertainty, or a big admission that they are a gang that can't legislate straight, or legislate at all.
Many Americans are hoping the GOP's infighting and incompetence will coalesce into a demonstration of do-nothingness. But that hope contains a large degree of wishful thinking. Republican leaders in Congress know the stakes are larger than health care. They know failure to deliver will raise questions around the rest of their agenda. That's why Trump has gotten involved in securing votes, from hosting meetings at the White House to visiting the Capitol this week, where he was thin on substantive arguments to repeal but big on threatening any member voting no, saying they would not be re-elected.
The House GOP leaders know that failing on Obamacare would complicate what they really want to do—even more than destroying safety nets created by Democratic presidents. They want to get into tax reform, creating a multibillion-dollar bonanza for corporate America, the wealthy and campaign donors. GOP leaders want to prevent Americans from concluding that Trump is more conman than salesman, and that the House is too fractured to get anything serious done.
Meanwhile, it hasn't helped Ryan that a growing number of Senate Republicans don't like his bill. That gives House members pause about a politically risky vote, should an Obamacare repeal disintegrate in the other body. Sen. Rand Paul, R-KY, who has been goading House right-wingers to vote no (again, because it does not cut enough), predicted there would be no House vote on Thursday.
"There's easily 35 no votes right now so unless something happens in the next 24 hrs," he tweeted. "I predict they pull the bill."
Whatever happens, it underscores that Trump and Republican leaders in Congress are not averse to high-risk gambits, which is not what smart, prudent governing is about. Indeed, many of the no votes are reportedly because Ryan's tweaks to the repeal bill did not address Republican representatives' concerns. Nonetheless, it is political sausage-making time, where ugly deals are cut and thinking through details takes a back seat to the legislative clock.
Foremost on Republican leaders' minds is the fact that their first 100 days in office are seeping away and they have little to show for it. But even if Ryan pulls Obamacare repeal from a floor vote, the Republicans' critics should hold their cheers and look at what may happen next.
As Joseph LaVorgna and Brett Ryan, both U.S. economists for Deutsche Bank, noted in a commentary on TheHill.com Wednesday, the drop-dead date for passing Obamacare repeal legislation is April 28.
"The Republican strategy is to pass the American Health Care Act (AHCA) first as part of the final budget resolutions for fiscal year 2017. The effective deadline for this legislation to be passed by both chambers of Congress is April 28, which is when the continuing spending resolution for the current fiscal year expires," they write.
That deadline gives Republicans a tight but achievable path to push an Obamacare repeal through both chambers. The two economists explain:
"Republicans are attempting to pass health care reform through the 'reconciliation' process, which means that both the House and Senate will pass their respective proposals. The differences between the two bills will then be 'reconciled' in joint committees of the two Chambers of Congress before a final bill is presented to the president."

"This bill, however, has to be revenue neutral, meaning it cannot add to the budget deficit. However, the advantage of this approach is that only a simple majority is needed for budget legislation to pass in the Senate, where its fate is more uncertain."
LaVorgna and Ryan obviously are cheerleading for Obamacare repeal. But as bullish and timely as their posturing is, they are also fully aware that Thursday's stakes are huge. "Since much of the Trump agenda rests on the ability of the Republicans to pass health care reform, its failure would seriously dent the party's political capital and imperil other legislative actions. For this reason, we expect Republicans to ultimately come together, even in the Senate."
That gives congressional Republicans five more weeks—until April 28—to use every means to wage war on Obamacare. That means the millions of Americans who gained and stand to lose their health care coverage also have a concrete window in which to make their voices heard.
This article was made possible by the readers and supporters of AlterNet.