Boko Haram Leader Threatens To Sell Abducted Schoolgirls
@AFP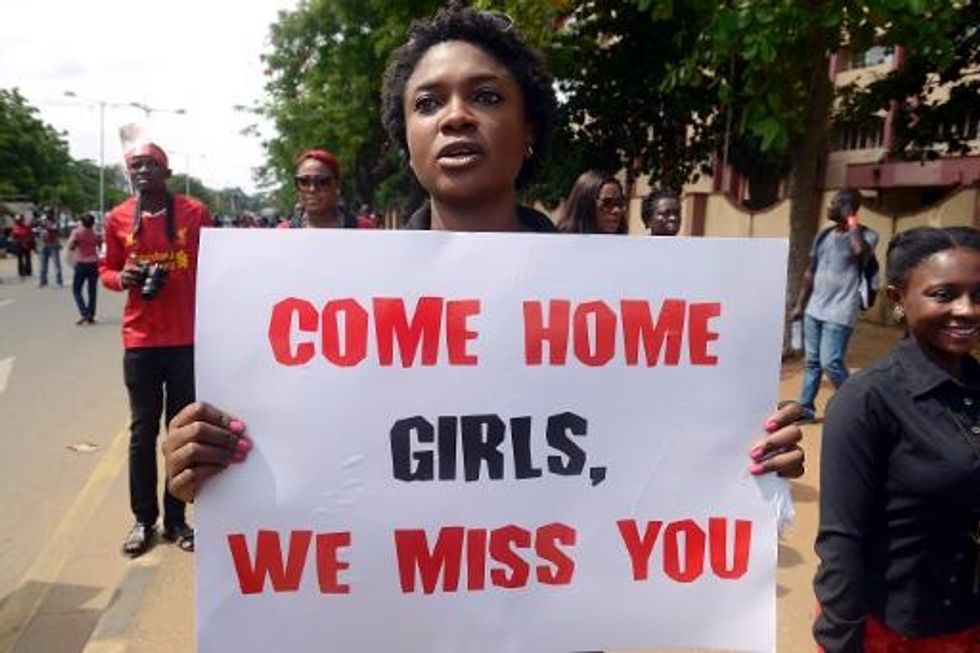 Kano (Nigeria) (AFP) — Boko Haram on Monday claimed the abduction of hundreds of schoolgirls in northern Nigeria that has triggered international outrage, threatening to sell them as "slaves."
"I abducted your girls," the Islamist group's leader Abubakar Shekau said in the 57-minute video obtained by AFP, referring to the 276 students kidnapped from their boarding school in Chibok, Borno state, three weeks ago.
Fifty-three of the girls managed to escape from the militants but 223 were still being held, state police said last Friday.
Nigeria's President Goodluck Jonathan and his administration have been under mounting pressure to act since gunmen stormed the girls' school on April 14, forcing them from their dormitories onto truck and driving them into the bush.
Jonathan pledged in his first public comments on the abduction on Sunday evening that the government would find the girls and return them to their families.
"This is a trying time for this country… it is painful," he said, adding that he had sought help from foreign powers, including the United States, to help Nigeria tackle its security challenges.
In the latest video, Shekau is seen dressed in combat fatigues standing in front of an armoured personnel carrier and two pick-up trucks mounted with sub-machine guns.
Six armed men stand beside him with their faces covered.
The images are blurry at times but zoom in to Shekau, who speaks in the local Hausa language and Arabic, as well as English.
For the first 14 minutes, he takes a swipe at democracy, Western education, efforts for Muslims and Christians to live in peace and rails against non-believers in Islam.
"I abducted a girl at a Western education school and you are disturbed. I said Western education should end. Western education should end. Girls, you should go and get married," he said. "I will repeat this: Western education should fold up. I abducted your girls."
"I will sell them in the market, by Allah," Shekau said, claiming his group was holding the girls as "slaves."
"I will marry off a woman at the age of 12. I will marry off a girl at the age of nine," he said elsewhere in the video.
Unconfirmed reports from local leaders in Chibok suggested that the girls had been taken across Nigeria's borders with Chad and Cameroon and sold as brides for as little as $12.
Boko Haram has been waging an increasingly deadly insurgency in Nigeria's north that has claimed more than 1,500 lives this year alone.
The violence has largely been confined to three northeastern states — Borno, Yobe and Adamawa — which have been under a state of emergency since May last year.
Previous attacks have targeted government offices and military installations as well as Christian churches and schools teaching a so-called Western curriculum.
But two car bomb attacks that killed more than 90 in the same suburb of the capital Abuja in three weeks have raised fears that the Islamists are changing tactics and targets.
On Friday, the United States issued a security warning to its citizens in Nigeria to avoid two Sheraton hotels in the financial capital, Lagos, because of an unspecified threat.
Unprecedented security has been put in place for the regional meeting of the World Economic Forum, which takes place in Abuja from Wednesday to Friday.
International attention on the plight of the missing girls was initially slow but has grown quickly in recent days, in part because of a social media campaign — #bringbackourgirls.
U.S. Secretary of State John Kerry vowed Saturday that Washington would do "everything possible" to help Nigeria deal with Boko Haram militants and bring the children home.
AFP Photo/Pius Utomi Ekpei