Here We Are, On The Brink Of What Comes Next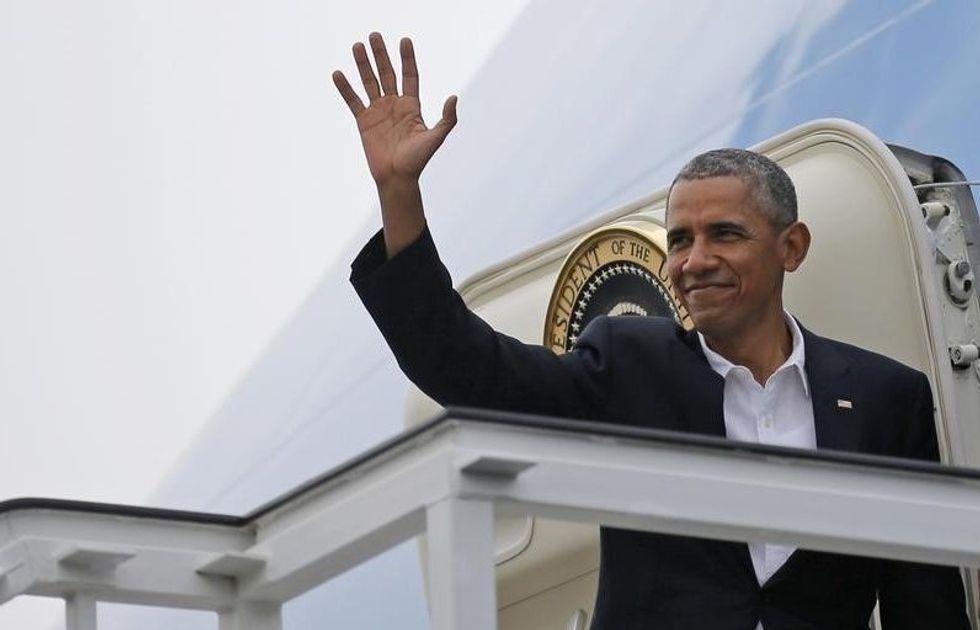 For 45 minutes on Christmas Eve, I watched love, in all of its diversity, play out in front of me.
Thanks, 2016. I needed that.
I was parked in the arrivals lane at Cleveland Hopkins International Airport, nearly an hour early for my daughter and her family. It is not my habit to arrive so ridiculously early to pick up relatives or friends, but some things one doesn't leave to chance. Laying eyes on my one year-old grandson the very second the revolving doors release him ranks way up there.
The police officer who would normally order us drivers to circle the airport like pilots waiting for permission to land was in a jolly enough mood to let a number of us linger. I didn't know this was his plan as he approached my car, so I rolled down my window and launched into the usual please-sir-just-a-minute-more round of begging, which he promptly cut off with a wave of his hand.
"Just pull closer to the curb," he said, "and don't make any noise."
Aside from laying on my horn (an unthinkable act for a born-and-bred Midwesterner), I'm not sure what racket our good officer thought I could conjure from the seat of my hermetically sealed car — beyond blasting Bing Crosby's "Mele Kalikimaka," I mean, which is my habit under normal circumstances. However, there is nothing normal about post-election 2016, so I nodded at the officer like a toddler who's just been asked whether she wants more chocolate and wished him a very merry Christmas.
"If you celebrate," I quickly added.
He nodded and waved me closer to the curb. "I'll celebrate as soon as we get all you people out of here."
Ho-ho-ho.
In the ensuing 45 minutes, I sat behind the wheel and watched strangers of every size and shade embrace fellow humans. The smallest children shouted as they ran, their arms poised for the scoop skyward. Young adults greeted loved ones with older versions of the same faces. Reunited couples kissed like no one was watching, including two people who were surely my age or older, bless their determined hearts.
I rolled down my window to listen to the joy unfolding in front of me, ignoring the blast of cold air and basking instead in the sense of relief. Too often since Election Day, I've been one of the despondent millions openly bemoaning what 2016 has wrought and wanting it over. Watching so much love unfolding in front of me caught me up short and reminded me that I've never been the sort to wish away my days. Especially now, when I'm months away from turning 60 and feeling the steady march toward 62, which was my mother's age when she died.
So, between chipper smiles at the ever-so-patient officer, I started to make a mental list of reasons to be grateful for 2016. I'm a Clevelander, so of course I thought of the Cavaliers' NBA championship and how the Cleveland Indians made it to the World Series. You might think the latter is an odd thing to appreciate, considering the outcome, but after 54 years without a national championship, I wasn't sure we were even up to dealing with so much good luck in one year. Go, Tribe!
On a larger scale, I take heart that more than 20 million Americans now have health care coverage because of Obamacare — and that number is growing daily during this current enrollment period, which ends Jan. 31. If Republicans plan to repeal it, they must name their victims. Those with pre-existing conditions, for example? Young adults under the age of 26, for another? Maybe preventive care for senior citizens?
Speaking of transformative moments, Hillary Clinton became the first woman to be a major party's nominee for president. Am I disappointed that she didn't win? Shaken to the marrow of my bones is a more accurate description, but that neither negates the milestone nor diminishes my will to call out the dangerous deeds of the next president every chance I get.
You may disagree.
But for now, for just this moment, let's celebrate that here we are, you and I, on the brink of another year. May we cherish those who keep us human and acknowledge our incredible luck that we're still here.
We all know at least one person who didn't make it. That alone should keep us trying.
Connie Schultz is a Pulitzer Prize-winning columnist and professional in residence at Kent State University's school of journalism. To find out more about Connie Schultz (con.schultz@yahoo.com) and read her past columns, please visit the Creators Syndicate webpage at www.creators.com.
IMAGE: U.S. President Barack Obama waves from the door of Air Force One as he ends his visit to Cuba, at Havana's international airport, March 22, 2016.  REUTERS/Carlos Barria