In Striking Global Trend, Youth In U.S., Britain, France And Holland Moving Left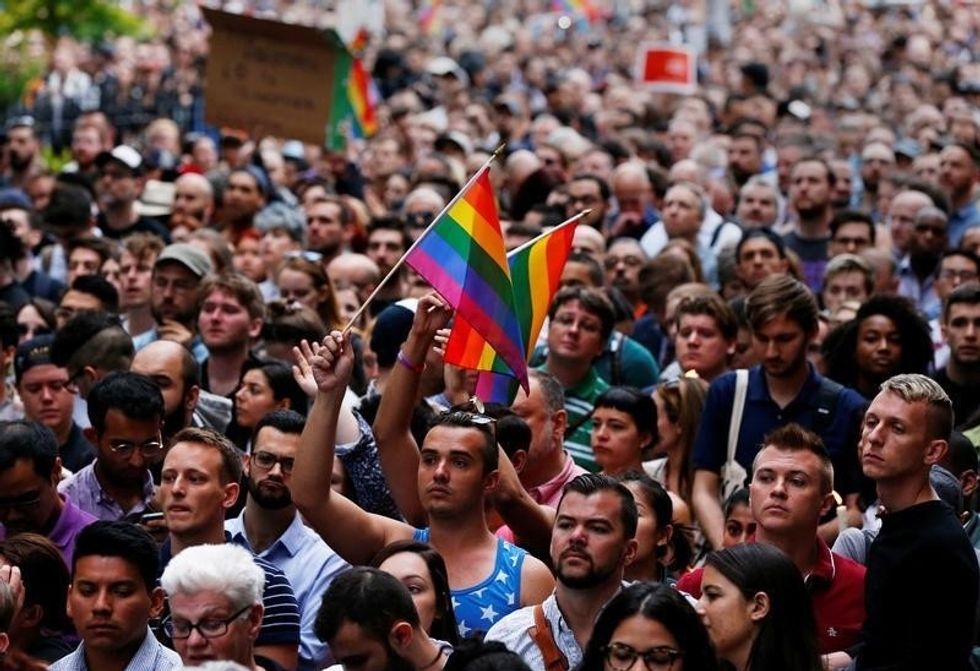 Reprinted with permission from Alternet.
Following the results of the general election in Britain, it is clear that Theresa May overestimated her and the Conservative Party's chances at securing a majority. At the same time, she and many other British political pundits underestimated the support garnered by Jeremy Corbyn and the Labour Party—gaining 31 seats for a total of 261. A large part of Corbyn's success: swelling support from young voters.
According to an exit poll from Sky News, Labour Party candidates won 63 percent of voters who were between 18 and 34 years old. The Tories, in contrast, only garnered 27 percent. According to the New Republic, turnout among 18- to 25-year-olds is estimated between 66 and 72 percent. That figure eclipses the 45 percent turnout among young people during the 2015 election, when centrist Edward Miliband was the Labour Party candidate. And according to the Telegraph, voter registration among young people also surpassed that of the 2015 election, as one million people between 18 and 24 registered to vote in the month after May's announcement of the general election.
Millennials' increasing support for left-wing, radical candidates is not only evident in Britain; it is a trend sweeping many countries across Western Europe and the United States. Democratic Party candidate and progressive leader Bernie Sanders won more voters in the 18- to 29-year-old range than Hillary Clinton and Donald Trump combined. During the first round of voting in France's election, left-wing candidate Jean-Luc Mélenchon garnered the most support among 18- to 24-year-olds, gaining 30 percent of their vote. In the Dutch elections last March, 35 percent of voters in the 18- to 34-year-old bloc voted for the Green Left Party, a rate higher than any other party.
There are a number of theories to explain this trend. Some political scientists have attributed this leftward shift to "post-materialist" concerns, citing issues of climate change and the treatment of the LGBT community, immigrants and people of color. But young people's movement to the left and their embrace of socialist policies is more deeply caused by a rejection of the capitalist economic system that has largely disadvantaged them. Over the past few years, young people have begun to see many of the flaws with the cutthroat capitalism and free-market system dominating their countries; a 2016 Harvard University study even showed that 51 percent of respondents between the ages of 18 and 29 actually do not support capitalism.
In the U.S., the Great Recession in 2008 particularly hurt young people, as they suffered higher unemployment rates than any other group during that time. Their wages also fell more than any other group in the aftermath of the recession. And despite millennials being the most educated generation in American history, their road from a college degree to a well-paying job has become marred with obstacles in recent years. High student debt from skyrocketing tuition prices has become even more difficult for many post-grads to pay off due to low wages. A study from the San Francisco Federal Reserve found that wages for recent graduates have grown 60 percent more slowly than the general population since 2009. With dismal statistics such as these, it is no surprise so many young people supported Sanders and his tuition-free college plan during the U.S. primaries.
Further exacerbating this economic trend is the dominance of intern culture, which leaves many young people with only temporary experience and low wages. It has also become more common for young people to jump from job to job instead of holding a consistent position for a number of years, which can exacerbate job insecurity. A LinkedIn study found that people who graduated college between 2006 and 2010 held an average of 2.85 jobs, a marked increase from those who graduated between 1986 and 1990.
Insecurity caused by a lack of employment is common throughout Western Europe as well. Many countries boast high youth unemployment rates: 11.9 percent in the UK, 21.7 percent in France, 34 percent in Italy, and 39.3 percent in Spain. The labor force in Western countries has also seen considerable transformation, with more reliance on part-time jobs, temporary work and the gig economy. In Spain, Italy, Greece, Austria, and Germany, part-time employment has increased over the last decade. And in Europe, 45 percent of 15- to 29-year-olds have temporary jobs, according to Eurofund. Twenty-four percent of the UK workforce is part-time, with 14.9 percent being self-employed.
Celisa Calacal is a junior writing fellow for AlterNet. She is a senior journalism major and legal studies minor at Ithaca College in Ithaca, New York. Previously she worked at ThinkProgress and served as an editor for Ithaca College's student newspaper. Follow her at @celisa_mia.
This article was made possible by the readers and supporters of AlterNet.