Budget Rift Pushes Washington To The Brink
@AFP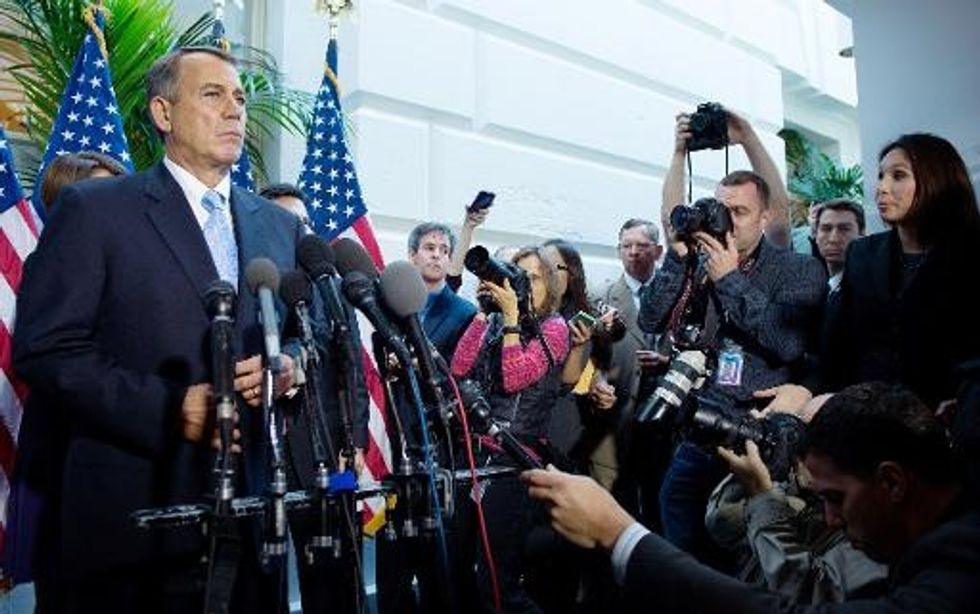 Washington (AFP) – A dramatic day of political breakdowns thrust the United States dangerously close to a debt default deadline Thursday and left the global economy exposed to unpredictable knock-on turmoil.
Just 32 hours before the U.S. government begins to run short of money to pay its bills, there was no clear way out of a stalemate that has called the dollar's status as the world's reserve currency into question.
Major world powers looked on is dismay at the brinkmanship and political recrimination in Washington, fearing reverberations that could wreak havoc in their own sometimes weakened economies.
"We're far from a deal at this point," White House spokesman Jay Carney admitted.
If Congress does not raise the government's current $16.7 trillion debt ceiling by October 17, the Treasury will have too little money coming in via tax receipts to meet all of its obligations.
It would be forced to chose, for example, between honoring bond payments or shelling out Social Security checks to older citizens.
Overnight hopes for an agreement between Senate Republicans and Democrats on raising U.S. borrowing authority, faded once conservative House Republicans seized back the initiative by framing their own plan.
The bill included new efforts to constrain President Barack Obama's health care reform law, prompting the White House and Senate Democratic leaders to reject the plan and complain Republicans were hunting for a "ransom."
It then emerged that House leaders lacked even the votes to pass that Republican initiative, with the support of conservative "Tea Party" Republicans in question.
Senate talks were meanwhile put on hold pending developments in the House — effectively leaving efforts to end the crisis in limbo.
"It's all fallen apart," said Democratic Senator Dianne Feinstein.
"We are stunned by the reaction in the House."
As bitter rhetoric hit new heights, Senate Democratic leader Harry Reid furiously accused Republican House Speaker John Boehner of seeking to save his own political skin at the expense of his nation.
"Let's be clear: the House legislation will not pass the Senate," Reid said. "I am very disappointed with John Boehner, who would once again try to preserve his role at the expense of the country."
Like the nascent Senate proposal, the House Republican plan would fund government through January 15 while extending the debt ceiling to February 7.
But it included a bid to delay a medical device tax designed to pay for part of the Obamacare health reforms and would remove special protections for labor unions under the health care law.
"The President has said repeatedly that members of Congress don't get to demand ransom for fulfilling their basic responsibilities to pass a budget and pay the nation's bills," said Amy Brundage, a White House spokeswoman.
"Unfortunately, the latest proposal from House Republicans does just that in a partisan attempt to appease a small group of Tea Party Republicans who forced the government shutdown in the first place."
Boehner was left once again with the unenviable choice that has come to define his speakership in Washington's divided government.
Does he stick with the Tea Party faction of his party, and possibly save his job but risk culpability in sending the U.S. economy into a first default of modern times?
Or does he try to pass a compromise plan acceptable to Senate Democrats and Obama, with the help of minority Democratic votes — a scenario that could fritter away his party power base and possible cost him the speakership?
Boehner ally representative Devin Nunes, told CNN there would be a House vote on the Republican plan later Tuesday.
But he added: "I don't know that we know that we have the votes or not."
Republican Senator John McCain, who has been critical of his own party's conduct in seeking to use the debt limit as leverage, turned fire on the White House and Democrats on Tuesday.
"It's piling on and it's not right," McCain said.
Democratic Senator Bill Nelson said: "Jack Lew has run out of tricks," warning the Treasury Secretary had exhausted clever accounting methods to stave off default.
Major powers like China and Japan which between them hold $2.4 trillion in U.S. Treasuries are already alarmed at the implications of the crisis.
Japan's Finance Minister Taro Aso said many U.S. politicians "don't seem to understand well the magnitude of the international impact this problem could have".
"We demand," said China's Vice Finance Minister Zhu Guangyao in Beijing, "that the U.S. side, as the issuing country of the major reserve currency . . . should undertake its due responsibility."
Investors endured a roller coaster day on the markets due to the fast moving political developments.
The Dow Jones Industrial Average was down nearly 0.6 percent at 15212.64 in late afternoon trade.
The State Department warned that dysfunction in Washington undermined America's image abroad.
"This has a tremendous impact on how we're perceived abroad, as well, and it undermines our efforts to promote democratic reforms and economic growth," said spokeswoman Jen Psaki.
"The question we have is how can we expect our diplomats overseas to entice governments to embrace our values when we can't keep our own doors open."