Captain America Shield Tops U.S. Danger Toy List
@AFP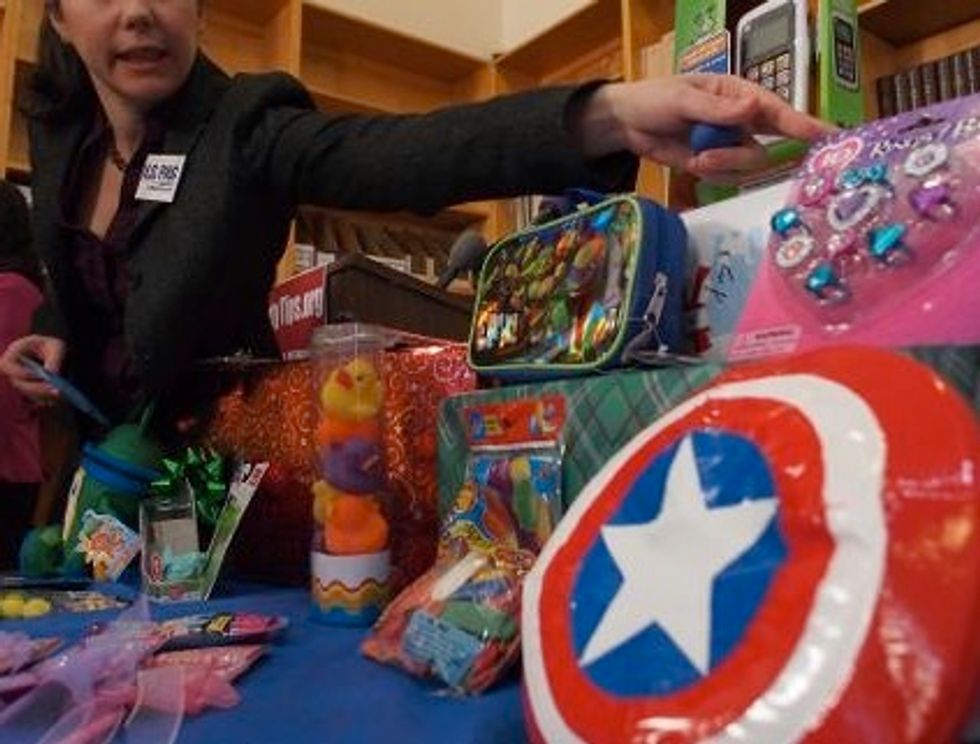 Washington (AFP) – Consumer activists cited a Captain America shield that contains 29 times more lead than allowed by law as one of the most dangerous toys of 2013.
Tougher laws mean toys sold in the United States today are safer than ever, said the U.S. Public Interest Research Group (US PIRG) as it released its 28th annual "Trouble in Toyland" survey of toy safety.
But as the Christmas shopping season kicks in, danger lurks in the form of toys that contain lead and other toxic chemicals — or which pose a choking risk if they're small enough for a child to swallow.
"We need to protect our littlest consumers from dangerous toys," Jenny Levin, U.S. PIRG's public health advocate, told reporters in Washington behind a tableful of some of this season's most dangerous toys.
The Captain American soft shield, which typically sells for $8.99, tested for lead content at 2900 parts per million (ppm) — way above the 100 ppm limit set down in the Consumer Product Safety Improvement Act.
"Unfortunately, some toys with (excessive levels of lead) are slipping through the cracks" and finding their way onto toy shelves, Levin said.
A Teenage Mutant Ninja Turtles pencil case tested for high levels of cadmium and phthalates, both considered "chronic health hazards" for children, said the report, posted on the U.S. PIRG website (www.uspirg.org).
Other toys of concern include a Super Play Food Set and a Fisher-Price Loving Family Outdoor Barbeque with plastic food items so small and authentic-looking that toddlers could potentially choke on them.

Major toy manufacturer Hasbro was called out for five products from its Littlest Pet Shop line which, U.S. PIRG said, contain easily detachable small parts liable to cause choking.
The report also warned consumers about small but powerful toy magnets that could cause severe internal damage if swallowed, and toy mobile phones meant to be held close to a child's ear, yet as loud as a bedside alarm clock.
U.S. PIRG, whose previous reports have prompted more than 150 toy recalls and other regulatory action, said it bought this year's test samples from national chain stores, retail malls and dollar stores in September through November, then sent them to a lab in Chicago for analysis.
Over the past five years, she said, nearly 10 million units of toys have been stopped at U.S. ports. The bulk of American toys are imported from China.
Of the 20 samples in this year's Trouble in Toyland report, Davis said: "We will be testing them to see if further action is needed."
In a statement, the Toy Industry Association, which represents U.S. toy manufacturers, said U.S. toy safety standards "remain the most protective in the world."
"Education and information is the best way to help families select the 'perfect' toy for their children (that) is age appropriate and matches the interests of the child," it said.
According to the Consumer Product Safety Commission, the United States saw 11 toy-related deaths in 2012, of which 27 percent involved choking or asphyxia.
That's down from 17 deaths in 2011 and an 11-year peak of 28 in 2006.
AFP Photo/Robert MacPherson