Cards, Dodgers Cruise In Playoff Openers
@AFP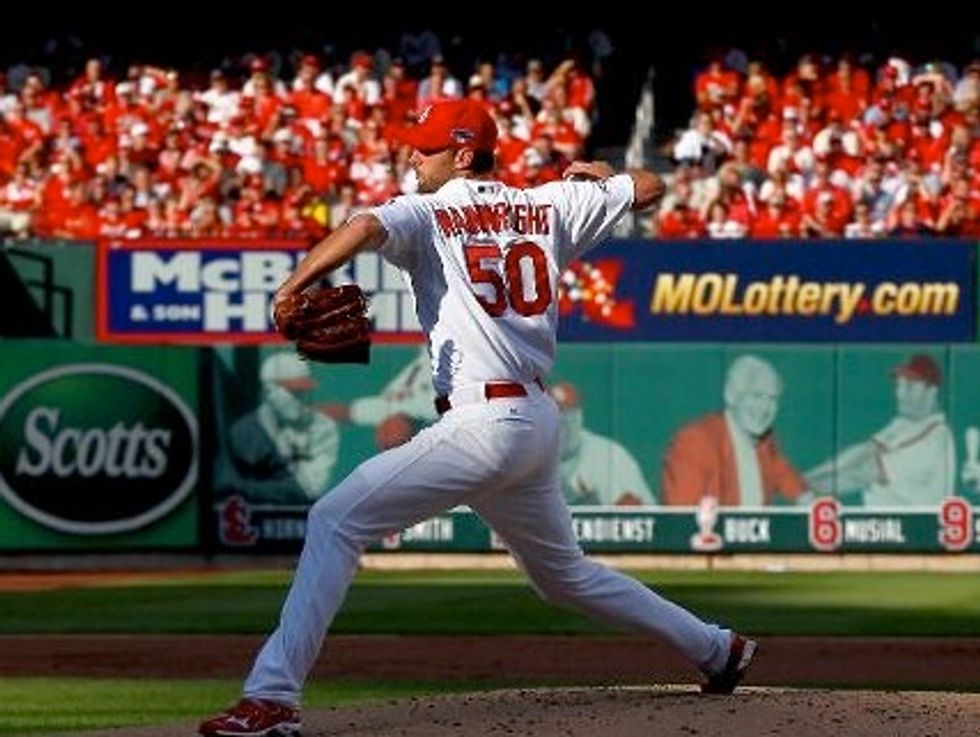 Saint Louis (AFP) – The St. Louis Cardinals crushed the Pittsburgh Pirates 9-1 to launch their Major League Baseball playoff campaign with an emphatic win.
St. Louis starter Adam Wainwright turned in seven brilliant innings as the Cardinals got their quest for a third-straight trip to the league semi-finals off to an excellent start.
The 32-year-old Wainwright struck out nine and allowed just three hits in the opening game of the first round playoff series.
Wainwright said he embraces the extra pressure that comes with playing in the post-season.
"I love to be that guy," Wainwright said. "It is important to have somebody out there you can count on."
In the late game Thursday, Clayton Kershaw struck out 12 as the Los Angeles Dodgers cruised past the Atlanta Braves 6-1 to take a 1-0 series lead.
Cardinals starter Lance Lynn will face Pittsburgh rookie pitcher Gerrit Cole in game two on Friday.
National League Central Division champs St. Louis scored seven runs in the bottom of the third inning in which eight straight runners reached base in front of a crowd of 45,693 at Busch Stadium.
"To be able to get out on a good first step and play well today, I think is big for our guys confidence-wise," said Cardinals manager Mike Matheny.
Wainwright set the tone in the first game of the best-of-five series by retiring the first 11 batters he faced.
"He had his good stuff going right from the beginning," said Matheny. "Breaking ball was sharp. Controlled the counts. He had everything really working from the top. When he does that, he's going to make for a long day for most people."
Wainwright's only blemish was when Pedro Alvarez belted a solo home run to lead off the top of the fifth inning.
Carlos Beltran clubbed a three-run home run off Pirates pitcher A.J. Burnett during the third-inning barrage, while 2011 World Series MVP David Freese batted two-for-four with a two-run single.
The Cardinals ended the regular season on a six-game win streak to hold off the upstart Pirates for the division crown and beat out Atlanta for the NL's best record.
Pittsburgh struggled in just their second postseason game since 1992.
The Pirates committed three errors, had a mere four hits and didn't get much help from starting pitcher Burnett.
Burnett walked four batters, gave up six hits and surrendered seven runs in a little over two innings of work.
Pittsburgh manager Clint Hurdle said they are not reading too much into one game.
"We had a rough game," Hurdle said. "We're down one game in the series, and we'll move on."

The Dodgers were able to steal home field advantage from the Braves who will also host game two of the best-of-five series on Friday at Turner Field.
Los Angeles scored five runs over their first four batters to set the foundation for Kershaw, who allowed just one run on three hits over seven superb innings.
Kershaw, who gave up four runs in only three of his 33 starts this season, finished his outing in spectacular fashion by striking out nine of the last 11 batters he faced.
The NL-West Champions finished with 11 hits, with nine of them coming off Braves starting pitcher Kris Medlen, who took the loss.
"You get runs early like we did tonight it gives you confidence," Kershaw said.
Atlanta's Medlen lasted just over four innings and was charged with five runs, including a two-run homer to Adrian Gonzalez in the third inning.
Cuba's Yasiel Puig had two hits, along with Mark Ellis and A.J. Ellis, who each scored a run and finished with an RBI. Skip Schumaker added a sacrifice fly in the victory.
"He is the guy that gives us great energy and enthusiasm and he is going to be a big factor for us," Gonzalez said of Puig.
The Braves, who managed just five hits on the night, were coming off their first NL East title since their run of 14 straight ended in 2005.
The Braves have lost seven consecutive playoff series with their last win coming in 2001.
AFP Photo/Dilip Vishwanat