Charles Koch Wants To Be The Next Bernie Sanders? Huh?!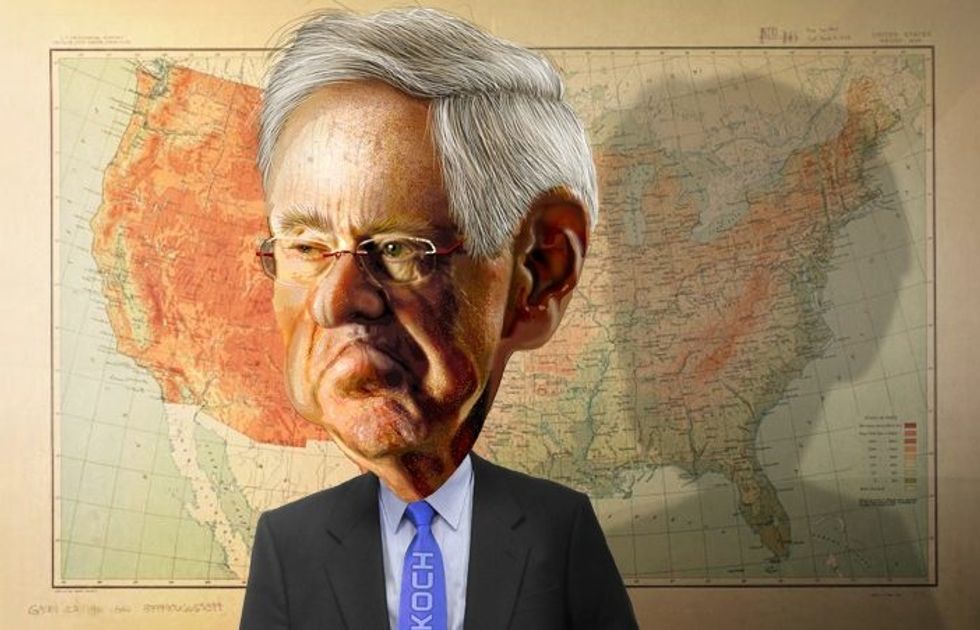 Charles Koch, one half of the infamous Koch brothers, plans to air national television ads that call on Americans to come together to fix a "rigged" economy. No, that's not a joke. One of the people who benefits most from what Bernie Sanders has called the "rigged" economy is now encouraging people to change it. But of course, he's encouraging them make change by demanding a smaller government, with even less of a tax burden on billionaires like him — and even less regulatory muscle pitted against gigantic multinational corporations like Koch Industries.
The newest Koch ad, called "It's Time To End The Divide," blames "government and corporations" for "picking winners and losers" and "creating a two-tiered society with policies that fail our most vulnerable." It also juxtaposes "an unjust cycle of incarceration" with "businesses that don't get subsidies and tax breaks," and tells viewers that, with "an end to red tape and excessive regulations, innovation would flourish."
It's well known that the Koch brothers have been key donors in U.S. elections for a generation, funneling millions upon millions of dollars into the super PACs that 2010's Citizens United decision made legal, and millions more directly to candidates, the Republican Party, and 501(c)(4) "dark money" groups. In this cycle, however, Republican primary voters sent a message: They found the Koch brothers' super PACs so distasteful that they instead voted for the candidate clearly opposed by the Koch. So the Kochs are attempting to hijack Bernie Sanders' movement and use his message to promote their own ultra-conservative fiscal and regulatory agenda.
"Let's stop attacking people we disagree with and trying to silence them," Charles toldUSA Today. "Let's instead try to find common ground and learn from each other so we can innovate."
This is a startling message from the corporate chieftain whose millions empowered the Tea Party in 2010, exploiting racial animosity and post-recession economic uncertainty to grind the government to a halt.
Yes, Sanders has repeatedly denounced the Koch brothers, and his supporters are angry about income inequality, environmental destruction, and pretty much everything else the Koch brothers profit from and use their money to promote, but who cares? Charles Koch intends to channel Sanders' supporters' energy toward his goals.
But that is very unlikely to happen because:
The Kochs are the definition of money in politics.
Sanders thinks the Supreme Court's Citizens United decision is "legalized bribery," but the Koch brothers have greatly benefited from the law that allows them and their closest billionaire friends to sway elections.
Even before that decision, the Kochs spent staggering amounts of money on political campaigns. In 1980, David Koch was the Libertarian Party's vice presidential nominee, running on right-wing promises that would become the platform of their lobbying efforts, like eliminating federal regulatory agencies and offering a 50 percent tax break to top earners. He spent more than $2 million on his failed campaign.
In 1984, the brothers created Citizens for a Sound Economy, a precursor of their current front group, Americans for Prosperity.
Since then they have created other tax-exempt political organizations like the super PAC Freedom Partners Action Fund.
Combined, these organizations raised about $400 million for the 2012 election. This year, before they knew Donald Trump would be the Republican Party nominee, the Koch brothers announced they were planning to spend $889 million in the 2016 presidential and congressional elections.
That money courses through the veins of conservative politics: consultants, think tanks, advertising agencies, politicians, and media.
They created the far right that now runs Congress — and keeps it from running properly.
Back in the early 1990's, when President Clinton was pushing for the BTU tax, a levy on the heat content of fuels and one of the first government attempts to control climate pollution, the Kochs fought back. Faced with the prospect of accountability for the environmental damage perpetrated by their energy interests, the Kochs created a movement to act against the Clinton tax, backed by their Citizens for a Sound Economy group.
Years later, Americans for Prosperity and Freedom Works — each formerly a half of Citizens for a Sound Economy — bankrolled the birth of the Tea Party movement.
They fund anti-gay and anti-choice politicians.
While Sanders has spent his career fighting discrimination, the Koch brothers have helped elect most of the prominent politicians who stand against gay rights and reproductive rights.
The brothers have been trying to soften their public image as extremist social conservatives, but the reality is that many of the politicians opposed to progress on social issues are flush with Koch money. The duo has spent more than $86 million helping elect officials who are anti-gay marriage and anti-choice. According to Think Progress, "of the 265 federal elected officials who have benefited from Koch spending since 2010, just nine have pro-choice voting records. At least 242 have endorsed controversial proposals to ban abortions after 20-weeks of pregnancy."
They create huge amounts of pollution and disregard environmental regulations.
As Rolling Stone's Tim Dickinson explains:
According to the University of Massachusetts Amherst's Political Economy Research Institute, only three companies rank among the top 30 polluters of America's air, water and climate: ExxonMobil, American Electric Power and Koch Industries…

The company ranks 13th in the nation for toxic air pollution. Koch's climate pollution, meanwhile, outpaces oil giants including Valero, Chevron and Shell. Across its businesses, Koch generates 24 million metric tons of greenhouse gases a year.
Koch Industries is known for systematically violating environmental laws. In 1996, two teenagers burned to death after a rusty Koch pipeline leaked flammable butane near their Texas neighborhood and ignited a gas cloud in their truck. The National Transportation Safety Board determined that "the probable cause of this accident was the failure of Koch to adequately protect its pipeline from corrosion."
In 1999, a Koch subsidiary pleaded guilty to allowing aviation fuel to leak into the Mississippi River from its refinery in Minnesota, as well as dumping a million gallons of high-ammonia wastewater onto the ground and into the Mississippi.
In 2000, Koch Industries was fined $30 million for 300 oil spills that caused three million gallons of crude oil to leak into natural water sources.
In October 2013, Koch Industries' pipeline company spilled 17,000 gallons of crude oil near Austin Texas.
And the Kochs are now major players in the fracking boom that Bernie Sanders said he would ban.