Chicago Police Chief Out, Inquiry Launched Over Black Teen's Death
@reuters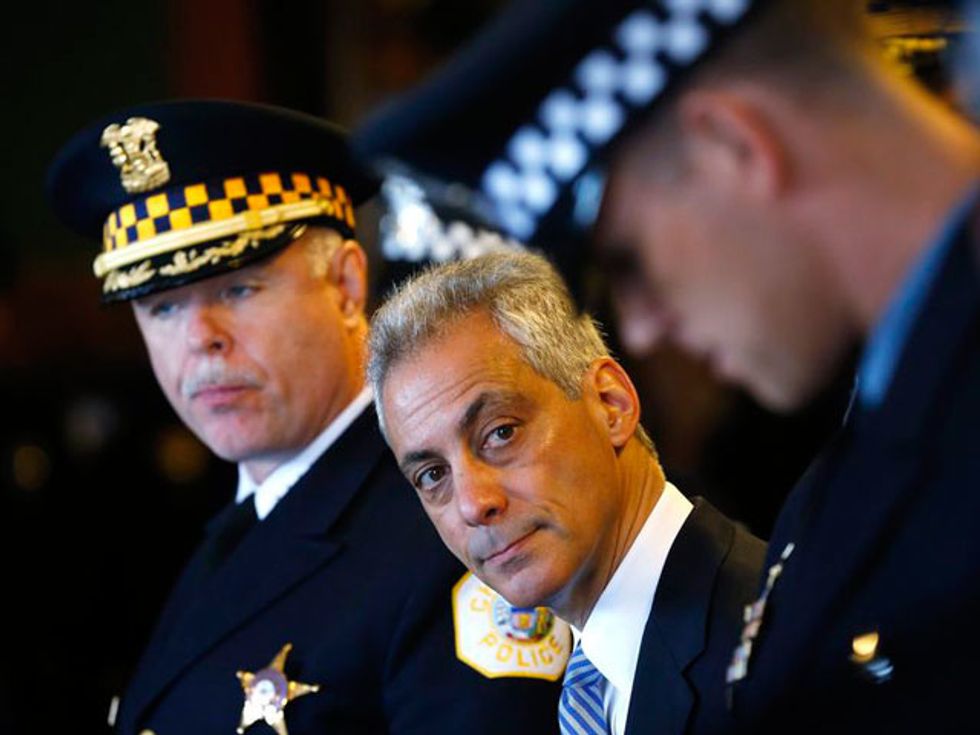 By Mary Wisniewski
CHICAGO (Reuters) — Chicago's police chief was ousted on Tuesday after days of protest over a white officer's shooting of a black teenager 16 times and the department's refusal to release a video of the killing for more than a year.
Mayor Rahm Emanuel announced during a news conference that he had asked Garry McCarthy, police superintendent since May 2011, to resign. The mayor also said he was creating a new police accountability task force.
The white officer, Jason Van Dyke, was charged a week ago with first-degree murder in the killing of Laquan McDonald. The video, from a patrol car's dashboard camera, was released on the same day.
High-profile killings of black men at the hands of mainly white law enforcement officials in U.S. cities have fueled demonstrations for some two years, stoking a national debate on race relations and police tactics.
Emanuel, a Democrat and former chief of staff to President Barack Obama, said he was responsible for what happened in the case, the same as the police superintendent. He said the creation of the task force was meant to rebuild trust in the police department of one of the country's largest cities.
The mayor said McCarthy had become "a distraction." In an editorial on Tuesday, the Chicago Sun-Times had called for McCarthy's resignation. The Chicago City Council black caucus and some protesters had also called for him to leave.
STREET VIOLENCE AN ISSUE FOR MAYOR
Policing and street violence have emerged as leading issues for Emanuel since his election in April to a second term after being forced into a runoff. The mayor, McCarthy and Cook County State's Attorney Anita Alvarez have faced criticism for taking 13 months to release the video of the 2014 shooting and to charge Van Dyke.
By naming a commission and removing McCarthy, Emanuel could be hoping to deflect criticism of his own handling of the case. Soon after Emanuel's re-election, the city agreed to a $5 million settlement with the 17-year-old's family.
The video shows Van Dyke shooting McDonald in the middle of a street on Oct. 20, 2014, as McDonald was walking away from police who had confronted him. Protests followed the charging of Van Dyke and the release of the video on Nov. 24.
Van Dyke, 37, was released from jail on Monday after posting bond on a $1.5 million bail.
A civil rights leader, the Reverend Jesse Jackson, voiced disappointment in Emanuel's handling of the matter and urged an independent investigation led by a special prosecutor. Asked why he was not calling for the mayor to resign, Jackson said, "That's not the role for me to play. I'm not trying to incite." He predicted further protests.
Jim Pasco, executive director of the Fraternal Order of Police, said ultimately the mayor was to blame, not the police. "Blame Rahm Emanuel. He hired McCarthy, he set his parameters, and he fired him," Pasco said.
Cornell William Brooks, president of the National Association for the Advancement of Colored People, accused the city of "generational police misconduct and police brutality."
FIVE-MEMBER PANEL
Emanuel said the new five-member task force will be advised by former Massachusetts Governor and Chicago native Deval Patrick. A former government civil rights lawyer, Patrick said he hoped to help restore the community's confidence in the police and rebuild the system of accountability.
The panel, due to make its recommendations by March 31, aims to boost independent oversight of police misconduct, ensure officers with repeated complaints are evaluated and forge a process for releasing videos of police incidents, Emanuel said.
Federal authorities have had an open criminal investigation into the shooting since April, and the U.S. Department of Justice might still investigate the police force, as it did in Ferguson, Missouri, and Baltimore following deaths involving officers and unarmed black men.
Despite Obama's close relationship with the mayor, there is meant to be a firewall between the White House and investigators in the Justice Department when it comes to criminal probes.
In another incident, a lawyer representing the family of a 25-year-old man killed by Chicago police on Oct. 12, 2014, told reporters that a dashboard camera video of the shooting that would challenge the police version of events could be released by court order as early as Dec. 10.
Ronald Johnson III was running from police when Officer George Hernandez arrived and seconds later shot him in the back, lawyer Michael Oppenheimer said. Police said Johnson had a gun and turned toward officers before being shot, but Oppenheimer and Johnson's mother said a yet-to-be released video did not support that description.
In a Chicago courtroom, a 21-year-old college student was released to home detention on Tuesday on $4,500 bond following his arrest for threatening to kill 16 white male students or staff at the University of Chicago to avenge McDonald's killing.
(Additional reporting by David Greising, Michael Lansu, Dave McKinney and Karl Plume in Chicago, Brendan O'Brien in Milwaukee, Ben Klayman in Detroit, Julia Edwards in Washington and Barbara Goldberg in New York; Writing by Howard Goller; Editing by Jonathan Oatis)
Photo: Chicago Police Superintendent Garry McCarthy (L) stands with Mayor of Chicago Rahm Emanuel (C) during a recruitment graduation ceremony in Chicago, Illinois, in this April 21, 2014 file photo. REUTERS/Jim Young/Files