Chief Diplomats Leave Iran Nuclear Talks Despite Looming Deadline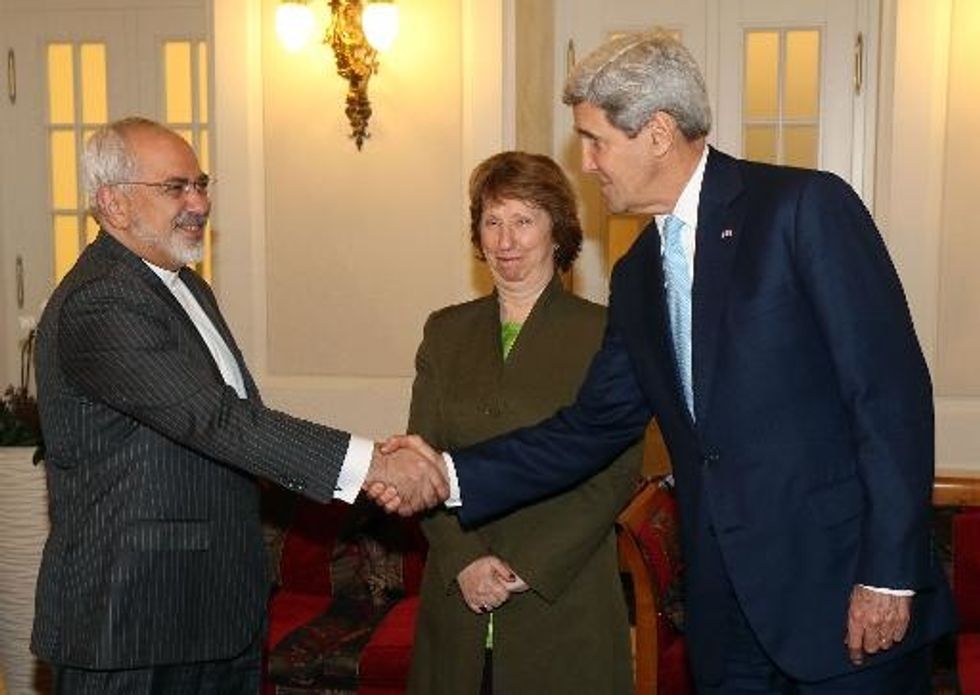 By Albert Otti and Farshid Motahari, dpa (TNS)
VIENNA — High-level talks over Iran's nuclear program are to be interrupted to allow Western top diplomats to leave for last-minute consultations on a potentially historic deal with their governments, officials in Vienna said Friday.
The interruption is set to add time pressure on the six world powers and Iran, who have until Monday to bridge their considerable differences and close a deal on curbing Iran's nuclear program in return for the lifting of sanctions.
U.S. Secretary of State John Kerry had arrived in Vienna on Thursday night for talks with his Iranian counterpart, Mohammad Javad Zarif. But the U.S. State Department said Kerry is now expected to fly to Paris and return at an unspecified time.
Kerry is to use the time away from Vienna to consult with other European countries and with the U.S. administration, State Department spokeswoman Jen Psaki said.
British Foreign Secretary Philip Hammond and his French counterpart, Laurent Fabius, are also expected to leave only hours after arriving in the Austrian capital, delegates said.
Asked about the significance of the ministers' schedules, one Western diplomat said they were not necessarily a sign that talks were going badly.
"This is to be expected. There need to be consultations [in capitals]," the diplomat said.
Iranian delegates and media outlets have issued conflicting information about whether Zarif is to leave for Tehran on Friday or not.
In any case, any deal would have to be approved by supreme leader Ayatollah Ali Khamenei, as solving the nuclear impasse is considered a matter of highest national importance.
Senior diplomats from the involved countries are set to continue the talks in the absence of their ministers.
"We have a long way to go if we are to get to a deal before the deadline on Monday," Britain's Hammond said as he arrived in Vienna.
Iran and the group of six — Britain, China, France, Russia, the United States and Germany — still disagree on how much uranium Iran will be allowed to enrich under the deal, and how fast sanctions will be scrapped.
If Iran shows flexibility now, the sextet is also willing to be flexible, Britain's Hammond said.
"There is a huge prize on the table for Iran," he said, pointing to the release of currently frozen Iranian funds, revived trade relations and an end to Tehran's international isolation.
"I hope that Iran will seize this opportunity," French Foreign Minister Laurent Fabius said.
Diplomats have brought up the possibility that talks may have to be extended beyond the self-imposed Monday deadline. Another option would see only a framework agreed, with details to be worked out later.
According to Hammond, the aim is to "get the key principles of a deal agreed" by Monday.
An outright failure of the talks would create political problems for Iranian President Hassan Rowhani, who has promised voters to get sanctions lifted and revive the economy. Rowhani's diplomatic offensive has been warily watched by the country's conservative political forces.
U.S. President Barack Obama, weakened by the recent mid-term elections, is also under pressure to deliver a foreign policy success amid various intractable crises — from Ukraine to the Middle East.
The deal that is being discussed would make it much harder for Iran to produce enriched uranium and plutonium, which can be used not only for nuclear power and other civilian purposes, but also to make weapons.
Tehran's leaders deny that they want to have a nuclear weapon.
AFP Photo/Ronald Zak