On Churches In Politics, Trump Does … Nothing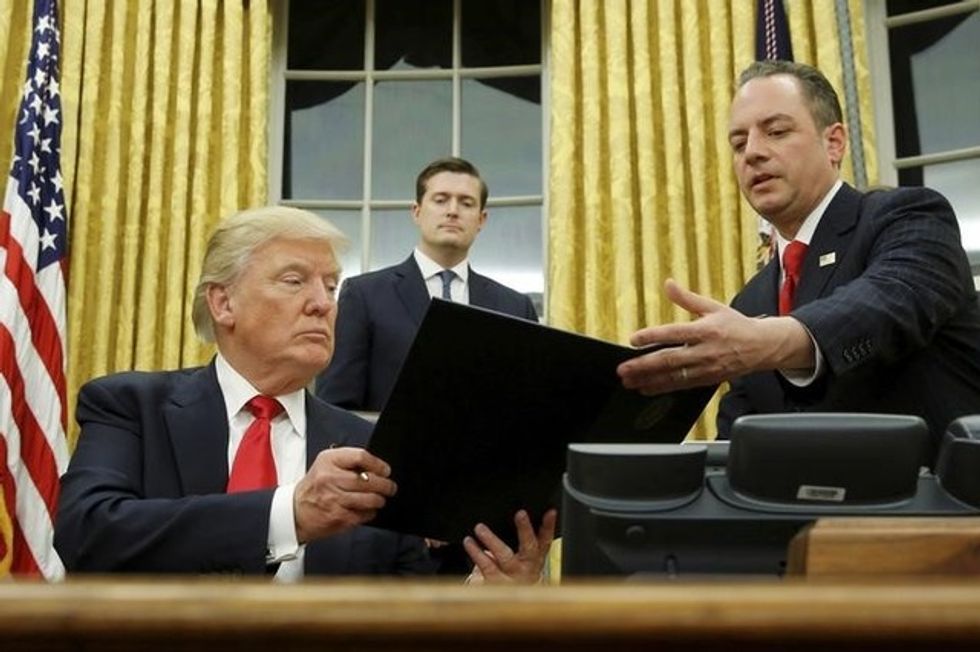 Reprinted with permission from Creators .
With hundreds of executive branch jobs yet to be filled, the Trump administration needs a lot of people. One person it especially needs is Goldilocks, who might save the president from his habit of doing too much or too little but seldom getting anything just right.
In the executive order he signed Thursday titled "Promoting Free Speech and Religious Liberty," Donald Trump had a rare opportunity to pursue a small yet significant change that would have accomplished both of his stated purposes. Instead, he ceremoniously unveiled a heaping platter of nothingburgers.
In February, at the National Prayer Breakfast, Trump extolled religious freedom and promised: "I will get rid of and totally destroy the Johnson Amendment and allow our representatives of faith to speak freely and without fear of retribution. I will do that. Remember."
If you're not familiar with the Johnson Amendment, don't feel bad. It's safe to assume Trump wasn't either until he ran for president. Enacted into law in 1954, it prohibits churches and other nonprofit organizations from taking part in political campaigns, on pain of losing their federal tax exemption.
The basic reason for it is sound. Political contributions are not tax-deductible, because Americans don't want to indirectly subsidize them. If churches were allowed to engage in active electioneering, citizens could give money to churches to help their favored candidates and then deduct those "religious" donations on their 1040s.
This policy would have a couple of bad effects, besides the loss of revenue. One would be to encourage churches to become partly or solely political entities, at the expense of real political entities. In fact, it would be only a matter of time before partisan activists would form "churches" that hold no services and need no pews. They would exist purely to help candidates get elected.
That would work to the detriment of real churches, fostering cynicism about their true function. It would jeopardize popular support for their tax treatment, which was granted partly in deference to the separation of church and state.
We've long had a rough bargain between religious institutions and government. The deal is that because they, unlike other organizations, are not allowed to get financial aid from the government, neither should they be required to provide financial aid (in the form of taxes) to the government. The exemption also encourages charitable activities, by secular as well as religious groups, which are seen as good for society because they help those in need and lessen the burden of public aid.
But the Johnson Amendment also bars political activities that don't cost a dime. If a pastor recommends a vote for a candidate during the course of a Sunday sermon that would be given regardless, no money is spent, and no indirect government subsidy occurs. As a literal matter, though, that pastor's statement violates the law.
"It doesn't evade campaign finance regulation, it doesn't create a path for deductible campaign spending, and it ought to be protected," University of Virginia law professor Douglas Laycock told me. It's pure political speech, which the First Amendment was designed to cover.
Securing this zone of freedom is what Trump might have proposed but didn't, quite. His fuzzy order directs the Treasury Department not to "take any adverse action" against a religious leader or church who has "spoken about moral or political issues from a religious perspective."
It's the equivalent of strumming an air guitar. The IRS has long taken a relaxed view of the Johnson Amendment, cheerfully ignoring sermons that veer into political endorsements. But Trump didn't even explicitly reaffirm that tolerant policy.
The reasonable answer is to write it into law — leaving no doubt about what is permitted and shielding clergy against any future IRS decision to get tough. What Trump did, though, was an empty gesture.
Even his usual defenders couldn't defend him this time. The National Organization for Marriage said it "falls far short of what is needed." Heritage Foundation fellow Ryan T. Anderson dismissed the executive order as "weak" and "woefully inadequate."
The American Civil Liberties Union, which had been preparing to go to court to challenge Trump's order, decided there was no need. "Today's executive order signing was an elaborate photo-op with no discernible policy outcome," it said, amounting to "a textbook case of 'fake news.'"
Trump is no Goldilocks, and in this instance, he's not even the Big Bad Wolf. He huffed and he puffed, but nothing came down.
Steve Chapman blogs at http://www.chicagotribune.com/news/opinion/chapman. Follow him on Twitter @SteveChapman13 or at https://www.facebook.com/stevechapman13. To find out more about Steve Chapman and read features by other Creators Syndicate writers and cartoonists, visit the Creators Syndicate website at www.creators.com.