Clinton Sets Sights On Trump, General Election After Huge Win In South Carolina
@reuters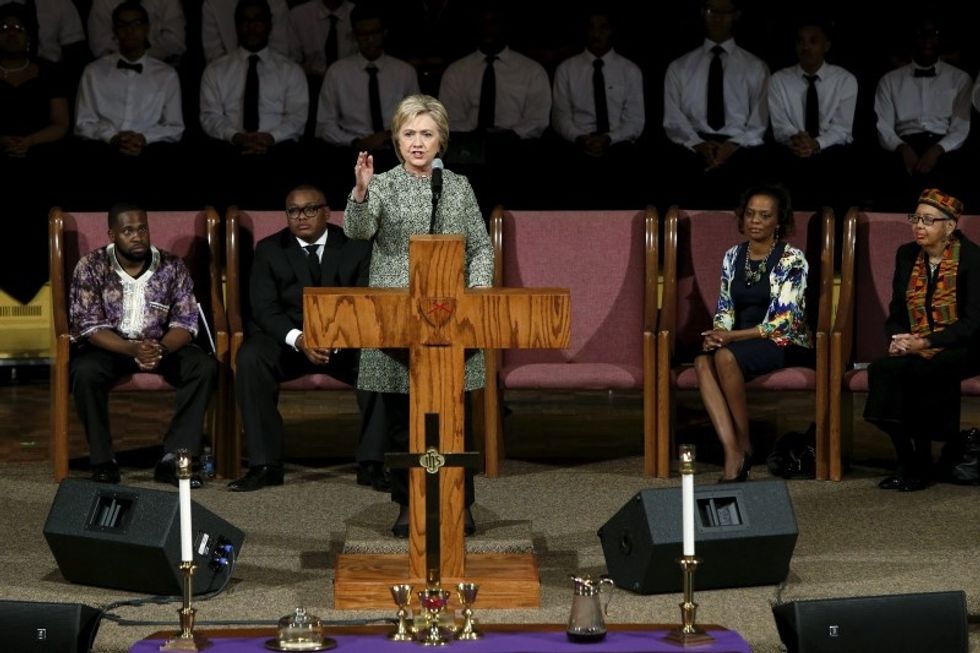 By John Whitesides and Amanda Becker
COLUMBIA, S.C. (Reuters) – Riding high after a landslide victory in Saturday's South Carolina primary, Democratic front-runner Hillary Clinton has set sights on a possible face-off in the Nov. 8 presidential election with Donald Trump, the favorite for the Republican nomination.
"Despite what you hear, we don't need to make America great again. America has never stopped being great," she told supporters in her victory speech in South Carolina, declining to mention Trump by name, but taking a jab at his campaign slogan, "Make America Great Again."
Clinton said she was not taking anything for granted after crushing Democratic rival Bernie Sanders on Saturday by 48 percentage points, likely setting herself up for a good "Super Tuesday" night on March 1, a key date in the nomination battle.
But if Clinton and Trump win big on Tuesday as opinion polls suggest, the chance of a general election matchup between them increases, adding another twist to a presidential campaign that has defied convention as U.S. voters vent frustration over economic uncertainty, illegal immigration and national security threats.
Some Clinton backers, emboldened by the heightened chance of a Trump nomination, have reaffirmed their support for the former secretary of state, saying that it is she, not Sanders, who is best equipped to take down Trump in a head-to-head showdown in November.
Rosilyne Scott, 58, of Texas, cast her vote early for Clinton ahead of Texas's upcoming Tuesday nominating contest, calling the prospect of a Trump presidency "frightening."
"I just think she has more support, and she's been doing it a lot longer," she said.
"If you get someone like Donald Trump in, I don't know. … I think he's a joke, a bigot, a racist."
Amid Clinton's renewed momentum against Sanders, a U.S. senator from Vermont, donors have also found resolve.
One Clinton fundraiser in California said her recent victories in Nevada and South Carolina have prompted more people to donate to her campaign and to attend Clinton events. He said he had raised $10,000 for the Clinton campaign in the past week alone.
A Trump-Clinton election would embody the outsider-versus-establishment battle in American politics. Trump has never been elected to public office, while the former first lady has been a player in Washington for decades.
SANDERS DOUBTS
South Carolina was Clinton's third victory in the first four Democratic contests, raising more questions about whether Sanders, a democratic socialist, will be able to expand his support beyond his base of predominantly white liberals.
Exit polls showed Clinton winning big in the state with almost every constituency. She won nine of every 10 black voters, as well as women, men, urban, suburban, rural, very liberal and conservative voters. Sanders was ahead among voters between ages 18 and 29, and among white men.
When asked which candidate they thought "can win in November," an overwhelming 79 percent said Clinton, with only 21 percent putting their faith in Sanders to defeat the eventual Republican nominee.
Sanders, who has energized the party's liberal wing and successfully courted many of the party's youth, on Sunday acknowledged he had been "decimated" by Clinton in South Carolina. He set his sights on March 1, where a win in a key state is crucial to keeping his hopes alive.
"I think we're going to do well on Super Tuesday, we're going to do well in many states after that and we look forward to those state-by-state struggles," he said in an interview on NBC News's "Meet the Press."
But Sanders needs to have his breakout moment sooner rather than later, warned longtime Democratic activist Phil Noble, who said that Sanders' momentum in South Carolina "fell off the table" after Clinton's solid victory in Nevada on Feb. 20.
"He's got to pull off a surprise against Clinton soon or he won't have time to recover," he said.
(Additional reporting by: Alana Wise in Washington, Luciana Lopez in New York, Emily Stephenson in Texas; Editing by Alistair Bell, Mary Milliken and Jonathan Oatis)
Photo: U.S. Democratic presidential candidate Hillary Clinton speaks during a worship service at the Mississippi Boulevard Christian Church in Memphis, Tennessee, February 28, 2016. REUTERS/Jonathan Ernst