CNN: Roger Stone Caught Claiming 'Credit' For Wikileaks Collusion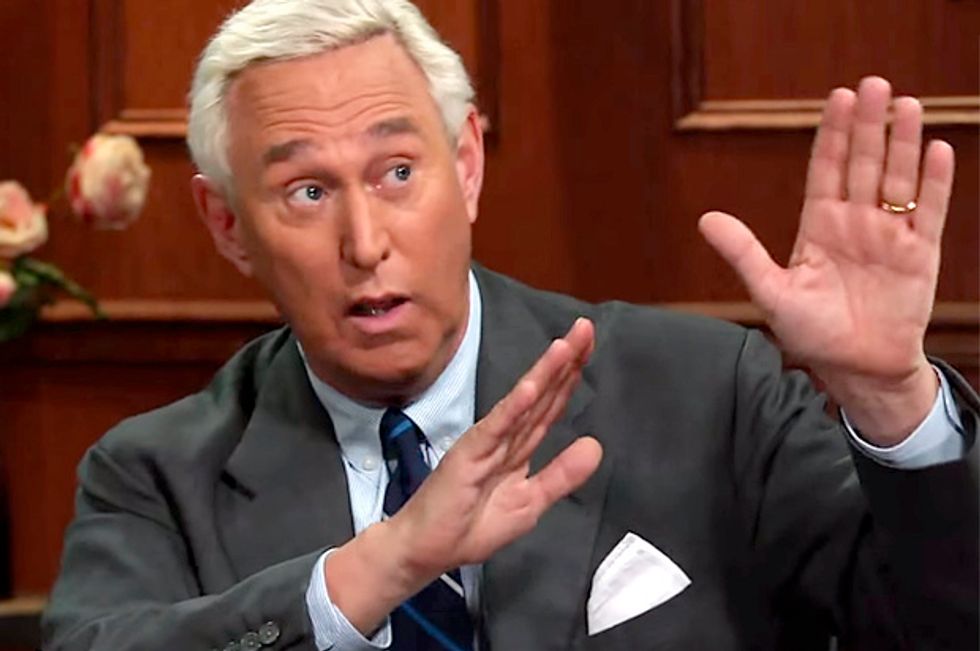 Reprinted with permission from Shareblue.
Longtime Trump ally and former campaign adviser Roger Stone may like to think of himself as the ultimate "dirty trickster," but as special counsel Robert Mueller reportedly zeroes in on his contacts with WikiLeaks, it appears that Stone may have been outmaneuvered.
According to CNN, Mueller has obtained recordings of Stone saying he should get credit for coordinating with WikiLeaks — a revelation that would undermine Stone's repeated denials and potentially put him in a position to face perjury charges.
The recordings were provided to Mueller's team as part of its broader investigation into Stone's communication with WikiLeaks and its founder, Julian Assange.
Investigators are particularly interested in whether Stone passed along information that he believed was from WikiLeaks, such as the content of upcoming leaks, to members of Trump's campaign.
Despite publicly suggesting that he was privy to such information during the presidential campaign, Stone has since denied that he had any prior knowledge of WikiLeaks' document dumps. He has similarly denied sharing any information about WikiLeaks with the Trump campaign.
But now, investigators reportedly have their hands on recordings that captured Stone saying he frequently talked to Trump early in the 2016 presidential campaign, which would have given him the opportunity to pass along this type of pertinent information.
Even more damning: In separate communications later in the campaign — after WikiLeaks had dropped major documents like the hacked emails from the DNC and Clinton campaign chairman John Podesta — Stone was reportedly caught on tape saying he should receive credit for his work coordinating with WikiLeaks.
As CNN noted, "The queries about whether Stone may have shared information with the Trump campaign are a strong indication that Mueller's team is still actively investigating the possibility that someone close to Trump engaged in collusion with the Russians."
Apparently, Stone was so eager to get recognition for whatever work he did that he demanded credit for collusion.
This is par for the course for Stone, who has long faced suspicion stemming from his work with the Trump campaign, in large part due to his own words and actions.
Perhaps most infamously, Stone sent a series of tweets raising questions about whether he had advanced knowledge that WikiLeaks was about to publish emails hacked from Podesta's account.
"Trust me, it will soon the Podesta's time in the barrel. #CrookedHillary," he tweeted on Aug. 21, 2016.
The first of Podesta's emails were published on Oct. 7, just hours after the infamous "Access Hollywood" video, in which Trump brags about sexually assaulting women, came out. The published emails allowed the Trump campaign to divert attention away from the "Access Hollywood" scandal engulfing Trump, which led to speculation that there may have been coordination between the campaign and WikiLeaks.
It has also been revealed that Stone communicated with a Russian intelligence agent, Guccifer 2.0, during the 2016 campaign. This communication was described in an indictment earlier this year, though Stone remained unnamed.
The new report did not say who provided Mueller's team with the recordings. However, investigators are reportedly scrutinizing a widening circle of Stone's allies and also putting the pressure on Paul Manafort, Trump's former campaign manager who was convicted of eight felony charges in August, to hand over information about Stone, so it appears that some of these efforts are producing results.
As for the existence of the recording, Stone has no one but himself — and his oversized ego — to blame for that one.
Published with permission of The American Independent.