#EndorseThis: Colbert Takes Another Big Bite Out Of Alex Jones, Zebra Eater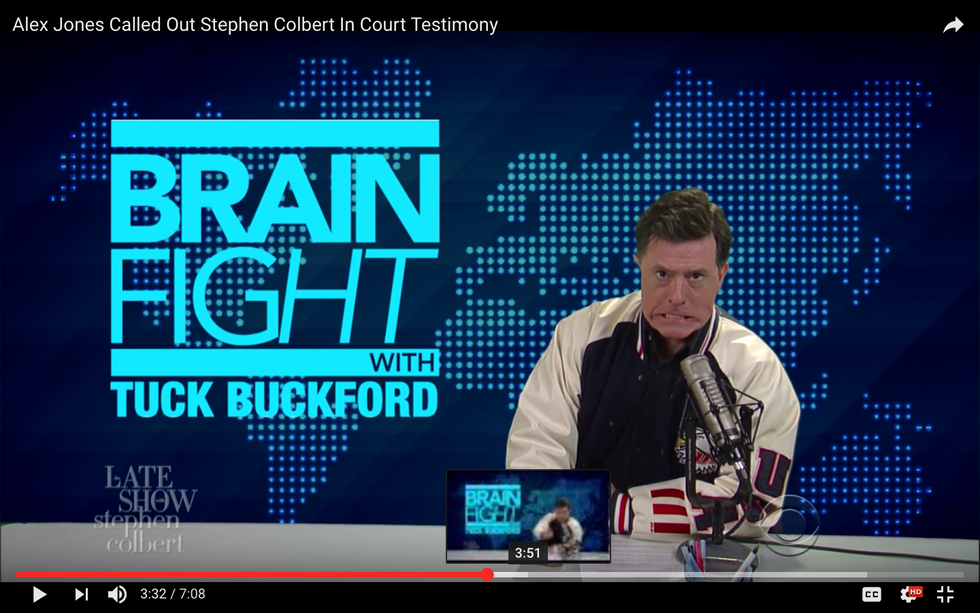 Alex Jones, conspiratorial eminence of radio and Internet fame, already may regret calling out Stephen Colbert at his child custody trial in Texas — because of course the Late Show host had to respond with what might be considered overkill in any other circumstances.
Describing Jones with pinpoint metaphorical accuracy as a "furious hardboiled egg," Colbert goes on to lampoon the Infowars impresario without mercy (and even worse, shows a video clip of Jones in which he truly resembles "a rabid badger"). Colbert's wife, he confides, won't let him in the house after he does his Tuck Buckford "Brain Fight" parody of Jones —  until he has gone through a stringent delousing and burned his clothes outside.
Evidently the former Mrs. Jones, an animal lover, couldn't quite stomach the radio maniac's insistence on eating zebra steaks. She also thinks he smokes way too much pot, although he claims that he only tokes up once a year to "test its strength," which he says "is how law enforcement does it."
Uh-huh.
You will laugh, more than once — almost as loudly as Jones screams into his microphone.