Comey Plays Cordelia To Trump's Lear: A Political Tragedy
@JamieStiehm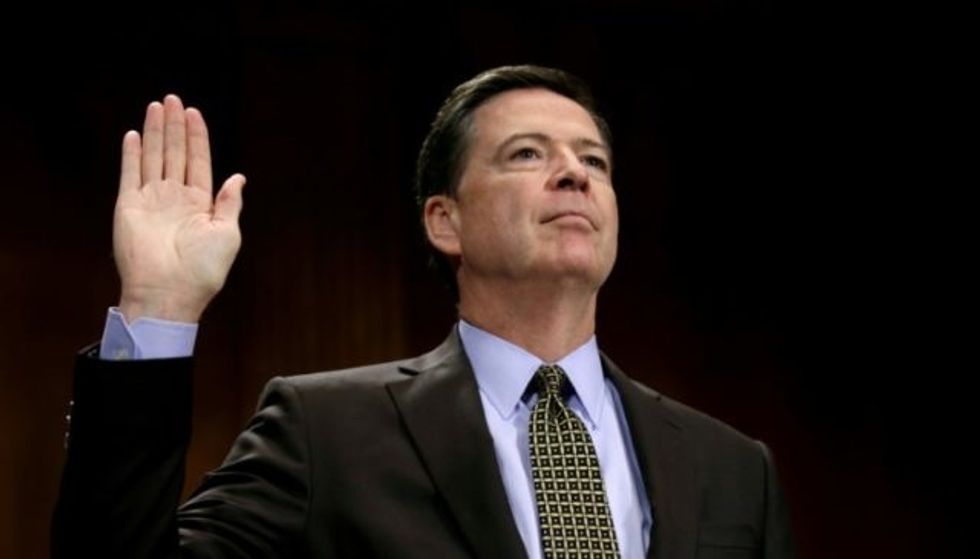 Reprinted with permission from Creators.
The scene was straight out of Shakespeare. FBI Director James Comey played Cordelia at the loyalty dinner with President Trump, one week into his White House reign. Comey and the stage character Cordelia get punished severely for speaking truth to power's face.
Trump does a mean King Lear: Cordelia's father, the lead in one of the Bard's greatest tragedies. Both rulers confront someone close — a daughter, a courtier — and demand to know just how much he means to them.
Cordelia, unlike her scheming sisters, tells her fearsome father she loves him within limits: "I love your majesty/According to my bond; nor more nor less." After all, she has to save some love for when she weds. "So young, my lord, and so true."
Honesty got Cordelia nowhere. Enraged, Lear disowns her: "as a stranger to my heart and me."
In a scene strikingly similar to what the Bard wrote 400 years ago, Trump probed the limits of Comey's fealty after he summoned him to break bread together.
According to Comey's account, Trump pressed him for a loyalty pledge. Upfront. Comey said he could not promise that. However, he could promise honesty. Always the dealer, Trump demanded "honest loyalty." Could they settle on that? "You will have that," Comey agreed.
It was an uneasy bargain on both sides.
This fateful White House conversation at a table for two was the beginning of the end for Comey, fired abruptly last week in a move that roiled Washington. Memories of Watergate awakened. But this may not fit into a '70s suit.
Comey, the self-righteous former FBI director, 56, earned a reputation for being independent in the service of presidents who appointed him. With a penchant for drama, he defied the White House chief of staff while serving under George W. Bush.
That record was nettlesome to Trump, who had inherited him from a Democratic president, Barack Obama, who curiously appointed Comey, a registered Republican most of his life. (Obama, wherefore art thou?)
In a divided city, Comey could not be pegged, controlled or relied upon — a big problem for a new president who hated having Comey walking his law enforcement beat with a big stick. Trump knew one investigation was underway into his ties to a foreign power — Russia. And it drove him nearly mad.
Like Cordelia's exchange with her father, the Trump-Comey loyalty dinner may presage the ultimate unraveling of a ruler when he cannot assure absolute loyalty and devotion. We don't know where it will end, but Trump's brazen meeting with top Russian officials, the foreign minister and the ambassador, at the White House was unsettling. Out of view of the American press, this meeting, sharing classified information, may be the second step down a dark path.
Trump's need to win ratings, polls, crowd counts and press appearances is paramount. Like Lear, he's driven to demand and measure what must be given freely. Seldom does he rise above the personal to speak about substance. His hard-right appointments were tantamount to jeering at Senate Democrats.
We know Richard Nixon talked down and dirty about people in private. But Trump talks down and dirty in public. Who needs tapes? Yet, the president all but told us that he keeps tapes, too — in a threat meant to intimidate Comey.
The rub: Now a free man, Comey is more dangerous to Trump's realm. In a stunning twist, another former FBI director, Robert Mueller, just became the special counsel for the Russian probe. Just Trump's luck.
Trump's government, greeted by record street marches, was fragile from its first winter day. A week later, a firing ensued: Sally Yates, as acting attorney general, stood against his travel ban on several Muslim countries. Trump's first victim was a woman — should we be surprised? So was Lear's.
King Lear lost his mind in a raving fury as he walked the heath in a storm: "Blow, winds, and crack your cheeks! rage! blow!"
For our own sakes, it's worth seeing how perfectly the Bard captures Lear, fictional king of Britain. He has lost everything, his kingdom conquered as he pursues private vendettas. The mad old man dies onstage. But young Cordelia is murdered, the cruelest turn of the tragedy.
As Shakespeare sums up: "The weight of this sad time."
To find out more about Jamie Stiehm and read features by other Creators Syndicate writers and cartoonists, visit creators.com.