Congress Demands Trump's Hidden Tax Returns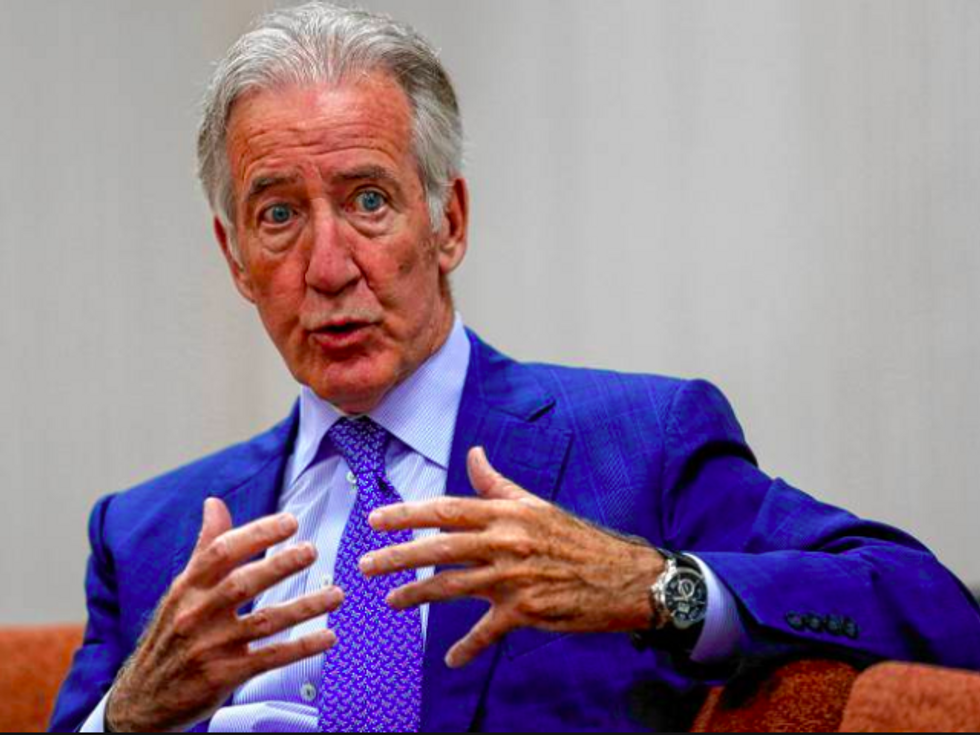 Congress is determined to find out what Trump is hiding in his tax returns — and they could find out as early as next week.
On Thursday afternoon, Rep. Richard Neal (D-MA) sent a letter to the IRS commissioner officially demanding Trump's personal and some business tax returns for the past six years, from 2013 to 2018. Neal gives the IRS until Wednesday, April 10 to turn over the documents.
Trump is the first president since Richard Nixon to hide his tax returns from the public. When running for president, Trump repeatedly promised he would release his tax returns, but he never did.
Neal's action had been anticipated ever since Democrats regained control of Congress as one way to hold Trump accountable. Right now, no one in Congress or the public knows if or to what extent Trump has conflicts of interest, illicit business relationships, or unknown influence from foreign governments or entities.
Neal is relying on a provision in the tax code, signed into law in 1924, that gives the chairs of the House Ways and Means Committee and Senate Finance Committee the right to request the tax returns of any person. The law "gives the Trump administration little room to decline a request," according to the New York Times. The provision is straightforward and orders the Treasury Department to comply.
In addition to Trump's personal tax returns, Neal is requesting the returns of Trump's trust and seven additional Trump business entities, including his golf club in Bedminster, New Jersey, according to the Times.
Trump has often claimed he couldn't disclose his tax returns because they are under audit by the IRS. There is no law precluding him from releasing his returns during an audit — and Congress should soon know if he was lying about being audited.
In his letter to the IRS, Neal asks for "a statement specifying: (a) whether such return is or was ever under any type of examination or audit; (b) the length of such examination or audit; (c) the applicable statute of limitations on such examination or audit; (d) the issue(s) under examination or audit; (e) the reason(s) the return was selected for examination or audit; and (f) the present status of such examination or audit (to include the date and description of the most recent return or return information activity)."
And there's a lot more Congress can learn from Trump's taxes.
For years, Trump has lied about his wealth — and even his creditors, such as Deutsche Bank, likely knew he was a liar. Trump's former attorney and "fixer," Michael Cohen, testified before Congress that Trump regularly inflated his personal wealth and may have broken the law.
Last year, the New York Times published a sweeping investigation that revealed how Trump and his family lied and cheated to avoid taxes for decades.
Several of Trump's allegedly corrupt business entities and charities are already under criminal or civil investigation by federal prosecutors.
Republicans, terrified of what Democrats might find if all Trump's shady deals were brought to light, have fought every effort to properly investigate the man sitting in the Oval Office.
But all Trump's secrecy may soon come to an end.
So long as the Trump administration follows the law, Congress should have Trump's tax returns in a week.
If not, Democrats are expected to go to court and argue that no one — not even the president — is above the law.
Published with permission of The American Independent. 
IMAGE: Screenshot of Rep. Richard Neal (D-MA), chair of the House Ways and Means Committee.