For Once, Congress May Take Action on Gun Control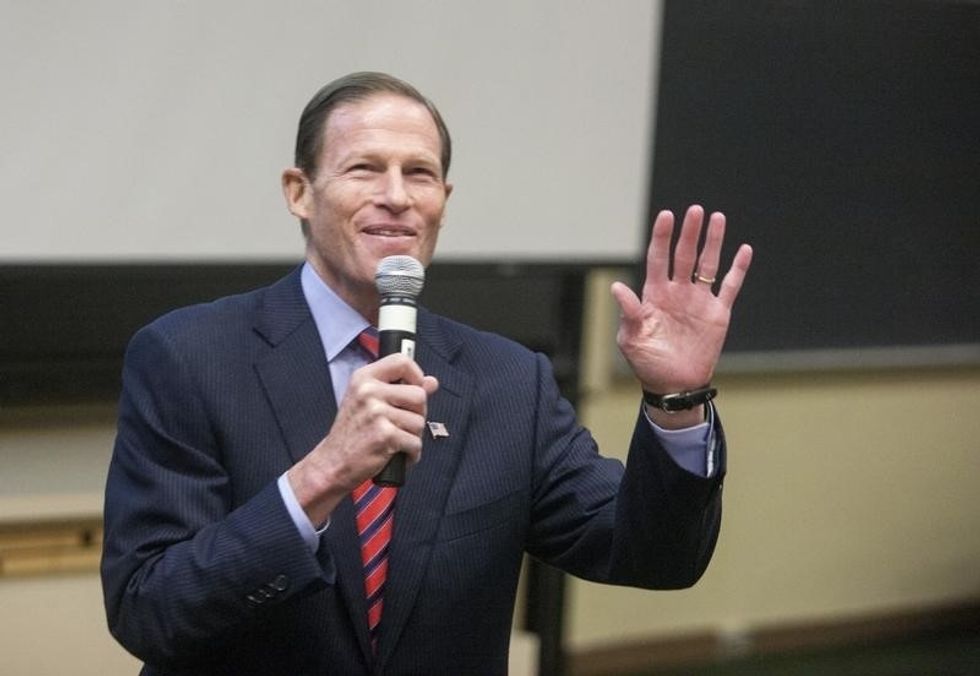 Connecticut Sen. Chris Murphy's filibuster on the Senate floor Wednesday represents a potential changing of the tides regarding gun control in Congress, where some Democrats are finally pushing for concrete legislative action.
After the deadliest mass shooting in U.S. history this past weekend, it seemed as if the response from Congress would follow the pattern it has followed many times before: "faux concern, contrived gravity, and tepid smugness," as Rep. Jim Himes called it.
In a powerful speech on the House floor, Himes — who, like Murphy, also represents a region affected by the Sandy Hook shooting–condemned Congress' complicity in "the weekly bloodshed" and said he would be boycotting its moment in response to the massacre at Orlando's Pulse gay nightclub.
"Silence. That is how the leadership of the most powerful country in the world will respond to this week's massacre of its citizens," Himes said. "As you bow your head and think what you say to your God when you are asked what you did to slow the slaughter of innocents, there will be silence."
But perhaps because of Himes' strong words, or the severity of the shooting, Congress may respond with more than silence this time around. Murphy, President Obama, and other top legislators are pushing for the passage of two gun control bills — one reinstating a ban on the sale of assault weapons, and the other preventing those on "no-fly" lists from buying guns.
The first measure, known as the Federal Assault Weapons Ban, prevented civilians from buying certain semi-automatic guns made after 1994, when it was set in place by Bill Clinton and a Democratc Congress.
However, when the ban expired a decade later, many Republicans refused — to opposition from Democrat leaders like John Kerry and, yes, Hillary Clinton.
A study conducted by political scientist John A. Tures found that the United States saw over two and a half more mass shootings after the ban than while it was under effect. Indeed, the shooters in Orlando, San Bernardino and Sandy Hook all used assault weapons to kill and wound dozens of innocent people.
The other potential piece of legislation being considered — known as "no fly, no buy" — is precisely what it sounds like: It would restrict gun ownership for individuals who are already on "no fly" or other terrorist watch lists.
Given the controversy surrounding "no fly lists" and the many documented issues with the implementation of such a policy, this bill might seem more controversial. But Democrats are hoping that such a bill — which also includes an appeals process for those who believe they've been politically targeted — is their best chance at swaying a Republican majority.
"Our priority this week should be this terrorist gap measure because it is linked so directly to the issue of terrorism and extremist violence in this nation and abroad," Sen. Richard Blumenthal said during a call with reporters.
While academics and politicians alike have labeled the United States' issues with guns a public health concern, the Centers for Disease Control — which heads the country's public health research — does not conduct any inquiries into gun violence.
That's because, according to the Los Angeles Times, dangerously conservative decisions from CDC leadership and a 1996 Congressional measure preventing the CDC from spending federal funds "to advocate or promote gun control," means that a congressional appropriation is necessary for research to resume.
Normally, a congressional response fails to materialize following tragic incidents such as this one (or Sandy Hook, or San Bernardino or Charleston) because the NRA-backed Republican opposition is too strong. But in calling for both of these measures, Obama perhaps put it best:
"Otherwise, despite extraordinary efforts, despite all the sacrifices that folks make, these kinds of events are going to keep on happening," he said. "And the weapons are only going to get more powerful."
Photo: U.S. Senator Richard Blumenthal addresses the Marching On conference on gun violence prevention in Middletown, Connecticut September 28, 2013. REUTERS/Michelle McLoughlin