Conservatives In Iowa Resist Bush, Romney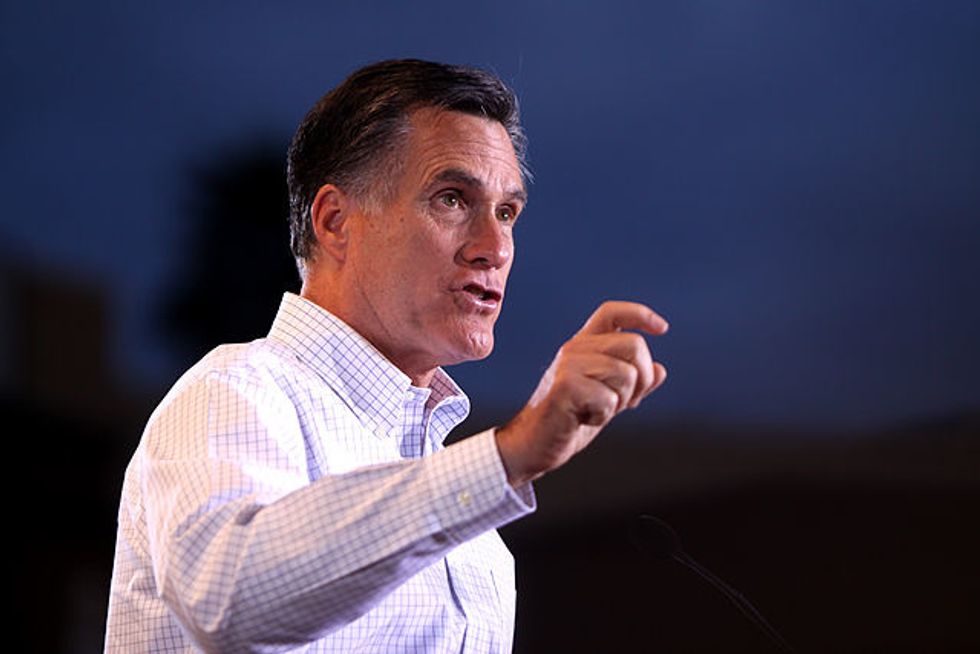 By David Lightman, McClatchy Washington Bureau (TNS)
DES MOINES, Iowa — Jeb Bush and Mitt Romney face big trouble in Iowa — influential conservatives have had enough of them.
Disdain for the party's center-right powerhouses, who are both considering seeking the 2016 Republican presidential nominations, could have implications well beyond the nation's first caucus state.
Iowa conservatives mirror the views of like-minded activists nationwide, and having the party's vocal right wing blasting away could stagger either candidate throughout 2016. And it's uncertain that conservatives would actively work in a general election for Romney, the 2012 Republican presidential nominee, or Bush, the former Florida governor.
"This could be a big problem," said Craig Robinson, editor-in-chief of theIowaRepublican.com, a partisan web site.
With its town-hall-like precinct caucuses the first test of the nomination next winter, Iowa usually winnows the field of a party's nomination contest and previews campaign styles and weaknesses. Just ask the Romneys and Bushes. The families have had a candidate in five competitive caucuses since 1980, and in all but one instance, the outcome foreshadowed the future.
George H. W. Bush was a barely-known former CIA director in 1980 when he stunned the political world by topping Ronald Reagan. Though Reagan would win the nomination, Bush showed enough strength to become Reagan's running mate.
Bush faltered in Iowa in 1988 when he ran for the nomination a second time, this time as the sitting vice president, finishing third behind Kansas neighbor Bob Dole and evangelist Pat Robertson. The caucus prodded Bush to run a tougher campaign, and he went on to win the nomination and the White House.
In 2000, his son cemented his standing as the candidate to beat with a big victory over magazine editor Steve Forbes.
Romney finished second in 2008 and 2012, both times losing to Christian right favorites. It was a signal that that bloc was leery of Romney's record.
Today, memories of Romney's previous efforts dog him. "He's a proven loser," said John Eggen, a Des Moines air conditioning and heating contractor.
Another campaign, he said, would mean more debate over the 2006 Massachusetts health care law that Romney approved when governor. It's considered the model for the 2010 federal health care law that Republicans hate.
Bush is also yesterday's candidate, said Sabrina Graves, a stay-at-home mother from Blue Grass. Bush's support for Common Core educational standards, which many conservatives view as big government reaching too far into local education, also gets slammed.
"I don't know what is worse, nominating someone merely because he's been nominated twice before or nominating a liberal supporter of Common Core because he has a familiar name," said former New Hampshire House Speaker Bill O'Brien, who spoke at a daylong conservative forum in Iowa Saturday featuring a long list of potential presidential candidates.
Romney and Bush did not attend. Bush, who last week spoke at length with the Iowa Republican chairman and hinted at a White House bid, cited a scheduling conflict. A spokesman for Romney did not respond to a request for comment.
Some of Saturday's loudest cheers came when businessman Donald Trump fired away. "It can't be Mitt because Mitt ran and failed," Trump said, adding "the last thing we need is another Bush."
The audience was largely hardcore conservatives, the crowd that boosted former Arkansas Gov. Mike Huckabee, also a Baptist preacher, in 2008 and former Pennsylvania Sen. Rick Santorum, a hero of the Christian right, four years later. Both won the Iowa caucus.
They watched Romney market himself as a fierce conservative in 2012, but never quite bought it. Saturday, they saw New Jersey Gov. Chris Christie, another moderate favorite, argue that he's a true conservative.
"If the values I'm fighting for every day in New Jersey and all across this country are not consistent with your values, then why would I keep coming back? I wouldn't," he said. Reaction was spotty.
The conservatives say they've had enough of nominees with appeal to independent and more moderate voters.
"We are tired of being told who our candidates should be," said Donna Robinson, a Marengo saleswoman. "They say they're conservative, then they run to the middle."
The right wants new faces and new ideas. They were particularly impressed Saturday with Wisconsin Gov. Scott Walker, 47, and Sen. Ted Cruz of Texas, 44.
"He has a proven record and he's young," Eggen said of Walker.
They also like people without lengthy political resumes. That's why retired neurosurgeon Ben Carson and former business executive Carly Fiorina got warm receptions.
"People who have been in and around government and politics for their entire lives may no longer be able to see the truth: our government must be fundamentally reformed," Fiorina said.
The conservatives loved it. Romney and Bush? "They're all cronies," Graves said. "I want someone this time who's not a politician."
Photo: Gage Skidmore via Flickr