Conway Caught Lying (Twice!) About Military Pay Increase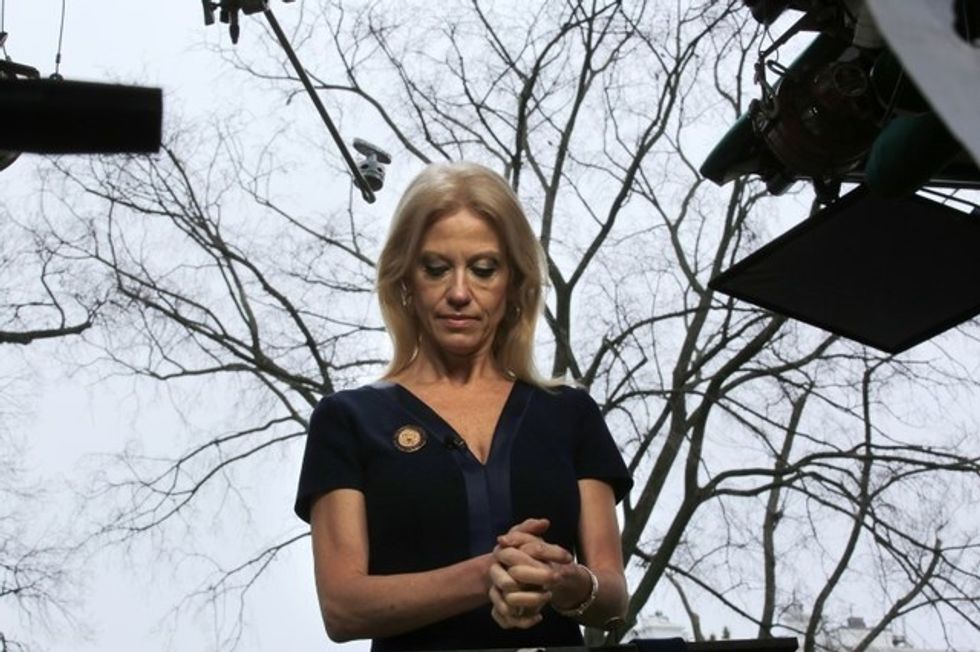 Reprinted with permission from Shareblue.
White House counselor Kellyanne Conway continued to lie about military pay raises Sunday morning, even after she was busted for it just minutes before by CNN's Jake Tapper.
On Sunday morning's edition of CNN's "State of the Union," Conway kicked off a day of desperate damage control over this week's revelations that senior Trump administration officials routinely disobey and ignore Trump's orders in order to keep disaster at bay.
In the middle of that effort, Conway tried to slip in an unrelated lie.
"We have had the first pay raise for the military in years," Conway fibbed to Tapper.
"Well, not the first," Tapper interrupted.
Conway tried to talk over him, but Tapper finished his correction: "It's a bigger pay raise, but they've been going on every year."
Indeed, as Tapper noted, military service members have gotten pay raises every year.
But Tapper's fact check didn't stop Conway from repeating the same lie to another reporter.
In a later interview with "Meet the Press" moderator Chuck Todd, Conway again claimed that Trump had passed "the first military pay raise in quite a while."
Todd didn't catch her lie.
Tapper's fact check also didn't convey just how badly Trump has insulted our troops when it comes to pay.
Trump recently "joked" to troops at Fort Drum that they would give up their pay raises if they were "real patriots." He also rewrote history by insisting that the 2.6 percent raise was the "biggest pay increase in a decade."
It's true, as Tapper noted, that this year's pay raise for troops was larger than in recent years.
However, this year's 2.6 percent increase still fell short of the 3.4 percent pay raise President Obama enacted in 2010 when he had the support of a Democratic Congress.
It was only after Republicans took control of the House that military pay raises dipped below 3 percent, and even fell to a measly 1 percent in 2014 and 2015.
It's not surprising that Conway would lie for Trump. But it is especially galling that she would use a lie about military pay in order to defend a person who avoided military service himself during the Vietnam War, and who later described his ability to avoid contracting an STD as his own "personal Vietnam."
Trump has also failed to visit troops in a combat zone even once during his first year and a half in office, and has practically made a second career of attacking military families and veterans.
After ignoring the sacrifice of American troops who were killed in Niger, Trump then started a feud with the grieving family of one of those troops.
And Trump recently capped off years of attacks on former prisoner of war John McCain by refusing to honor McCain's life after he died of cancer last month.
Our troops deserve better than what Republicans and Trump have given them — and they definitely deserve better than to be blatantly lied about by one of Trump's closest advisers.
Published with permission of The American Independent.