D.C. Slugfest Takes A Toll Back Home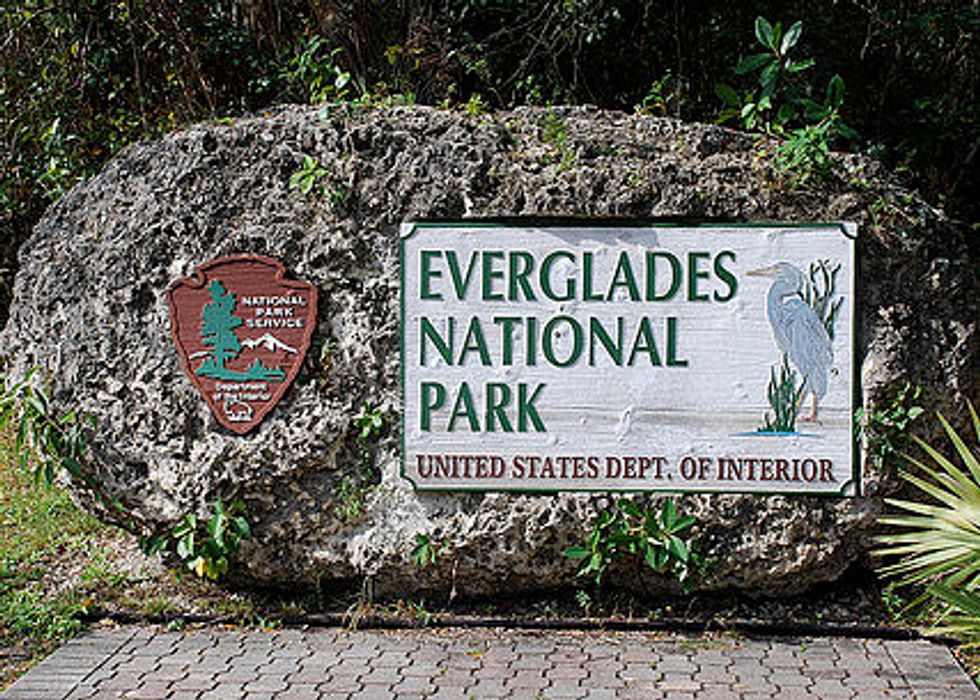 So they've shut down the national parks. No big deal, right?
The troops in Afghanistan are still getting paid, the air-traffic controllers are still on duty and Mom's still receiving her Social Security checks.
Evidently the parks are considered a minor, low-profile casualty in the Republicans' war on Obamacare.
Except to the thousands of workers around the country who depend on a thriving park system for a paycheck — and not just the rangers.
In the Florida Keys last Wednesday, about 150 boats filled with fishing guides and their families gathered at Cowpens Channel to protest the closing of Everglades National Park.
It's unique among our 401 national parks because so much of it is water — more than 800 square miles accessible by boat, canoe or kayak.
ENP is a live tapestry of mangrove islets, flats and snaking channels stretching from Everglades City on the west coast almost all the way to Long Key, encompassing the Ten Thousand Islands and most of Florida Bay.
Since the days of Zane Grey, the area has been one of the world's legendary sportfishing destinations. Now the guides who go there every day have been ordered to stay out. They're losing customers, losing money and losing faith.
One of the protesters was Capt. Hank Brown, age 83, who spent a lifetime exploring the park's waters before he retired a few years ago. Asked about the shutdown, he told The Miami Herald's Cammy Clark: "It's the government's fault and it's B.S."
Hank, who's a friend of mine, never wastes words. Many of the sidelined guides have mortgages, car payments, boat payments and medical bills.
To see their lives disrupted by a cluster of moronic ideologues in Washington is sickening.
Twice before the ENP and other parks were padlocked during a budget standoff. It happened in 1995 and 1996, back when House Republicans were trying to stick it to Bill Clinton.
The shutdowns were an epic failure sparking bitter political backlash, yet here we are again.
Near Florida City the main road entrance to the park is blocked, while rangers in boats patrol the marine boundaries.
Trespassing on government property (or waters) during the shutdown is punishable by six months in jail and up to a $5,000 fine, although as of midweek nobody had been arrested or even ticketed.
There are other places in the Upper and Middle Keys to go fishing, but none with the Everglades' abundance of snook, redfish and tarpon, species prized by backcountry anglers.
OK, so a couple hundred fishing guides from Naples to Marathon have to suck it up while the political stalemate festers for a while longer. Hey, it's better than closing down the Defense Department or the VA, right?
But here's who else is getting screwed while the parks are shut down and the tourists stay away: Owners of all the nearby hotels, restaurants, campgrounds, bars, marinas, grocery stores, tackle shops and gas stations, and everybody employed by them.
Mechanics, maids, bartenders, waiters, cooks, checkout clerks — ordinary folks who've done absolutely nothing to deserve this. They don't work for the government but they've effectively been downgraded to "non-essential."
The sad story in the Keys is repeating itself in small towns such as Gardiner, MT, the northern gateway to Yellowstone National Park, and Tusayan, AZ, at the South Rim entrance to the Grand Canyon.
Also off-limits (at least on paper) is Biscayne National Park, a prime swath of Biscayne Bay. Good luck enforcing that during the Columbus Day regatta.
Ironically, no place has been spanked harder by the parks shutdown than Washington, D.C., where the economy depends on millions of tourists coming to the national monuments and free museums, now closed to the public.
The pain being suffered by the capital's idle taxi drivers and tour bus operators isn't enough to move House Speaker John Boehner and his Tea Party posers, nor is the distant plight of South Florida's fishing guides.
Interestingly, Boehner enjoys visiting the Keys, hanging out with his buds at the Cheeca Lodge in Islamorada.
Now is probably not a good time for Johnny Boy to come.
Lots of people down there would like to speak with him and, banned from their fishing waters, they've got plenty of time for conversation.
(Carl Hiaasen is a columnist for The Miami Herald. Readers may write to him at: 1 Herald Plaza, Miami, Fla., 33132.)
Photo: afagen via Flickr