Dallas Poised To Pitch For 2016 GOP Convention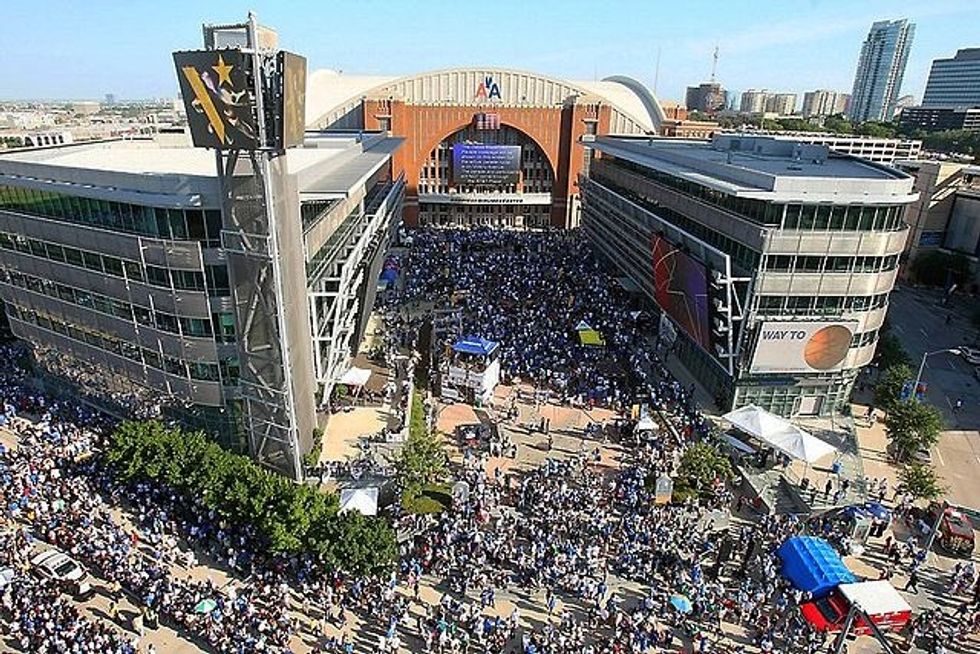 By Bruce Tomaso, The Dallas Morning News
DALLAS — After a snow delay, Dallas is ready to join the sweepstakes for the next Republican convention.
Along with officials from seven other cities, Dallas representatives were poised to make their pitch to GOP leaders in Washington on March 4, but nature had other plans.
A blizzard dumped a half-foot of snow on Washington, forcing airlines to cancel scores of flights into the nation's capital.
Dallas, Las Vegas and Cincinnati had to postpone their presentations, which are now scheduled for March 21. Kansas City, Missouri, Denver, Phoenix, Cleveland, and Columbus, Ohio, went ahead with their bids.
GOP officials will visit sites in April and announce a winner in August.
The stakes are high. The 2016 Republican National Convention will bring at least 40,000 visitors, as well as global media attention, to the host city.
"You're looking at over $200 million of economic impact," said Denver Mayor Michael Hancock. His city, which hosted the Democrats in 2008, is among those pursing the Republicans in 2016.
While the multipliers and assumptions used to generate such economic-impact numbers can be generous, there's no doubt that a lot of dollars get left behind once a convention has come and gone.
And there are residual benefits. After the Democrats visited in 2008, "Denver emerged as one of the top convention destinations in the world," Hancock said.
Dallas was the GOP pick in 1984, when President Ronald Reagan was re-nominated. But it was late to this game, tossing together a bid only within the last month or so. That eleventh-hour decision surprised even some members of the Dallas City Council.
"We're starting late but will give it our very best effort," said Kay Bailey Hutchison, the retired U.S. senator. Hutchison, a Dallas Republican, is one of those leading the city's presentation.
Dallas' strengths, she said, include "our two great airports and airline service … more convenient than others can offer," plentiful hotel rooms within a couple of miles of American Airlines Center — which would be the main convention site — and the quality of that arena.
Throw in grand spaces for receptions — the Perot Museum of Nature and Science, the Morton H. Meyerson Symphony Hall, the AT&T Performing Arts Center, among others — along with world-renowned caterers and an impressive array of fine restaurants, and the city starts to look downright alluring.
Then, too, there's that Bush fellow (a fairly prominent Republican in his day) and his jewel of a library and museum at Southern Methodist University. It's hard to imagine many cities that would be seem more welcoming to visiting Republicans.
On the other hand, traffic in Dallas on a good day is bad, and it isn't going to get better by 2016. Getting on or off Stemmons Freeway, Woodall Rodgers or Dallas North Tollway near American Airlines Center would be nightmarish, especially during evening rush hour, just as the convention's prime-time sessions would be getting under way.
Dallas' downtown "renaissance" is a work in progress. Many visitors wouldn't have cars. Many stuck downtown would be dismayed at the empty sidewalks and eerie quiet that are still the norm after dark.
And the weather in late June, early July? Let's just say it falls between Denver's splendid and Phoenix's scorching.
But closer to scorching.
Here's a look at the strong suits of the other bidders, along with a few loose threads that might not hold up to a lot of tugging:
Las Vegas
Strong suits: As Lt. Gov. Brian Krolicki of Nevada told Las Vegas Review-Journal, "I don't think there's a better city in the world to host a convention. This is what we do." The city has welcomed conventions of 150,000 people. Hotels abound, and they're centrally located.
Loose threads: Those hotels have casinos. Showgirls, call girls, free drinks and round-the-clock gambling aren't in keeping with the image that Republicans seek to project. Delegates would have plenty of opportunities to succumb to vice. If they did, and if they had prominent names, the army of reporters on hand would spread the news far and wide.
Denver
Strong suits: In hosting the Democrats in 2008, Denver showed it could handle a national political convention. And it did so with no expenditure of public money, which should impress fiscal conservatives. Even in July, the temperature rarely exceeds the mid-80s.
Loose threads: The airport is in the boonies, an hour's ride from downtown by public bus. In January, Colorado became the first state to legalize recreational use of marijuana, and by all reports, Coloradans are enthusiastically exercising this new freedom. Comparisons to 2008 would be inevitable. That was when Barack Obama, the first black presidential candidate to be nominated by a major party, wowed a crowd of 84,000 at the Denver Broncos' home stadium. Such comparisons could be tough on the next Republican standard-bearer.
Phoenix
Strong suits: Tourism is a huge industry. Gorgeous resorts, lush golf courses (even in the arid summer) and dazzling desert scenery abound. Sunsets are spectacular. There are mountains all around the city. The Phoenix area has hosted two Super Bowls, and it's hosting next year's. Like Texas, Arizona is a GOP stronghold.
Loose threads: It's hotter than Hades. The best hotels aren't downtown or close to it, and mass transit is all but nonexistent. Arizona's Republicans sometimes do things that bring unpleasant national scrutiny, like passing a "religious freedom bill" (vetoed last week by the governor) that would have allowed businesses to deny service to gay people. Even Mitt Romney and John McCain, the last two Republican presidential candidates, opposed that measure.
Kansas City
Strong suits: It's the heartland of America, an idyllic backdrop for messages extolling God, country and family. It hosted the 1976 GOP convention, where Reagan boldly (but unsuccessfully) sought to wrest the nomination from President Gerald Ford. Great steaks. Good barbecue.
Loose threads: Neither Kansas nor Missouri is likely to be in play in 2016. Both are solidly Republican. (Missouri thinks of itself as a swing state, but it hasn't swung to the Democrats since 1996.) There's little political gain for the GOP in going there. Since '76, KC has repeatedly sought the Republican convention and repeatedly been passed over.
The Ohioans
Strong suit: Ohio is critical to the Republicans in 2016. Indeed, few nonpartisan analysts think the GOP could win without the Buckeye State. "The road to the White House runs through Ohio. It is the ultimate battleground state," said Matt Borges, the state's GOP chairman. He said of his state's bidders, Cleveland, Cincinnati, and Columbus: "Not only does Ohio have three world-class cities capable of hosting a national convention, but bringing one here would put our candidate and party's message directly in front of voters."
Loose threads: Even in Ohio, not a lot of people would call Columbus a "world-class city." Cleveland and Cincinnati were, but long, long ago. The last time Cleveland hosted a major-party convention was when the Republicans met there in 1936. The last one for Cincinnati was the Democrats in 1880. In all three cities, travel times between convention sites and many hotels would be lengthy. Along the way, there might not be much to see out the windows.
Photo via Wikimedia Commons