DC Police And Prosecutors Collude With Far Right To Jail Protesters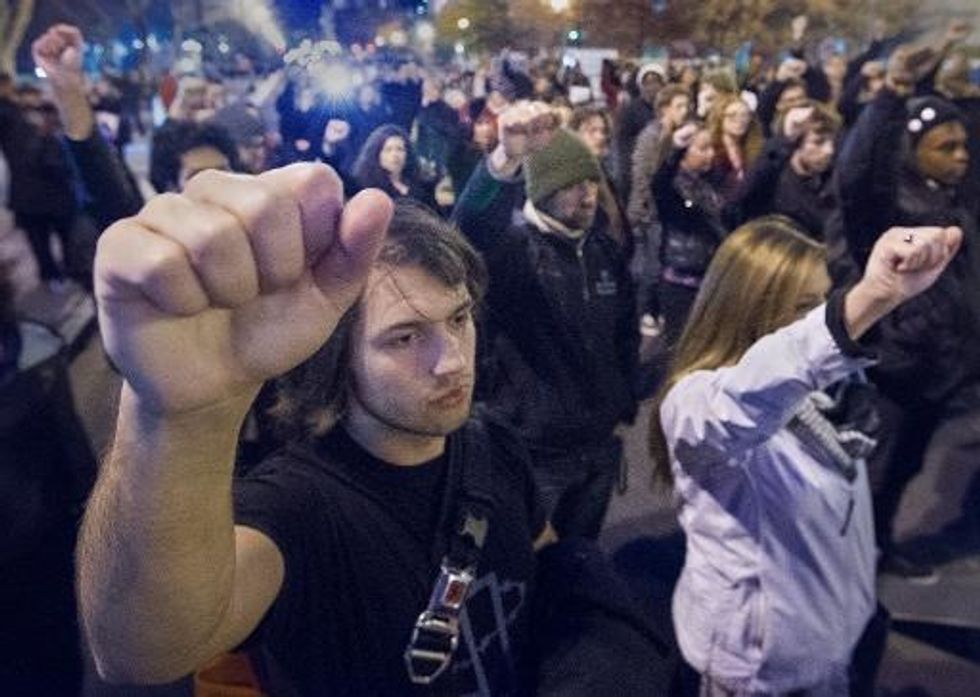 Reprinted with permission from AlterNet.
Washington, D.C., police and federal prosecutors have been collaborating with notorious right-wing groups known for fascist statements and using doctored videos to ambush their targets in an attempt to convict and jail protesters from President Trump's inauguration.
The question is not whether the Metropolitan Police Department (MPD) and the U.S. Attorney's office in Washington, D.C., are working with Oath Keepers, a group of cops and veterans with rabid anti-government views, and Project Veritas, a far-right group known for fabricating accounts to ambush the media and the political left.
The question is, how deep is the relationship between the police, federal prosecutors and these extremists? And in MPD's case, are Washington police breaking the law, as its city council has passed laws barring them from spying on protesters or protest groups?
"It's extraordinarily dangerous for prosecutors and police to be accepting information and evidence from politically motivated organizations that are intending to work against their political opponents," said Mara Verheyden-Hilliard, executive director and constitutional rights attorney with the Partnership for Civil Justice Fund. "That's not how they're supposed to operate."
"So when the U.S. Attorney's Office takes video from the widely discredited Project Veritas, in fact, edited video, and submits it into evidence in an effort to prosecute protesters and put them away for decades in prison, it is critically important that the public has an opportunity to see what's going on behind those scenes, and to know what the relationships are that the Metropolitan Police Department, the D.C. police department, or any police department, has with right-wing organizations," she said. "They simply can't be working in collaboration."
The capital's cops and right-wingers are apparently working together, according to a lawsuit filed Tuesday by PCJF against D.C. Mayor Muriel Bowser and Karl A. Racine in the U.S. Attorney's office. They want to force the police and prosecutors to turn over all documentation of the relationship between their agencies and right-wing groups that was "used to prosecute persons whose political views are in apparent opposition to the political goals of the providing entities," as the lawsuit said.
"What we are trying to get at is the nature and extent of the relationship, of the D.C. police department working with Project Veritas, Oath Keepers and other entities," Verheyden-Hilliard said. "We know for a fact that the police department worked with Project Veritas, obtaining edited video that group created when it infiltrated organizations that were planning protests for [President] Trump's inauguration. And in fact, the U.S. Attorney's office in Washington, D.C., introduced that video in their failed prosecution of six people caught in that dragnet arrest on January 20. There are still dozens of cases pending. But in the initial round, they tried to prosecute six people for having been in proximity to a demonstration, where other people are alleged to have engaged in acts of property damage at other locations and times separate from the location and time of the arrest."
Astoundingly, federal prosecutors introduced the doctored video evidence made by Project Veritas the same week the Washington Post reported that the group had tried to bait the paper with a fabricated account by a fellow right-winger who accused Alabama Republican Roy Moore—then a U.S. Senate candidate—of sexual harassment. (Moore has been accused by a series of women, first reported by the Post.)
"So they did introduce this video into evidence" to try to convict six protesters from Trump's inauguration, Verheyden-Hilliard said. "It was created by Project Veritas. The police also were given video that they used, and the U.S. Attorney's office used, from the right-wing militia Oath Keepers. When they introduced that video in court, it was the exact same week that Project Veritas was exposed for trying to plant a fake story in the Washington Post. So we immediately filed a FOIA [Freedom of Information Act] demand, seeking records showing the nature of the police department and its officers and Project Veritas, Oath Keepers and any other private entity that is providing intelligence information to the MPD. And they refused to respond to that request. We have even had followup inquiry and they are absolutely silent. They will not respond, so we sued them for the documents."
There is a long history of police working with right-wing groups to subvert the organizing and speech rights of social justice groups. On Friday, the Guardian reported police in California were working with white supremacists before June 2016 anti-fascist protests in Sacramento, the state capital, to target protesters for arrest. That wasn't the only example cited, either. "At an Oregon 'alt-right' event, police allowed a member of a right-wing militia-style group to help officers arrest an anti-fascist activist," it reported. "Police in Charlottesville were widely accused of standing by as Nazis attacked protesters, and a black man who was badly beaten by white supremacists was later charged with a felony."
A generation ago, the San Francisco Police Department was caught working with the Anti-Defamation League of B'nai B'rith, a Jewish civil rights group, to "spy, harass and intimidate" pro-Palestine activists, as the New York Times reported in 1993. But one big difference between the California state police and the Metropolitan Police Department in Washington is that the District of Columbia's city council has explicitly passed laws barring the city's police from spying on and framing protesters.
That law came after the Partnership for Civil Justice Fund sued the city after anti-globalization protests more than a dozen years ago.
"We have information showing during the anti-globalization movement that police agencies in both Washington, D.C., and Philadelphia were readily obtaining and using politically created false information by right-wing organizations. It's very dangerous," Verheyden-Hilliard said. "But in Washington, D.C., we put these restrictions in place under the law. So there's a key component here, which is, the police are actually barred by law—there are restrictions on their surveillance of political protest groups. And we are very concerned that they are actually trying to outsource that by working with these right-wing organizations to do what the police are barred by law from doing. But, in our view, that would still be illegal. We don't think that they can actually work as a proxy."
It's chilling to recall what the capital's police did a dozen years ago, and to ponder who they're partnering with today to apparently evade restrictions on that behavior.
"We found that the D.C. police were sending agent provocateurs into peaceful organizing meetings, encouraging people to undertake acts of violence, which were rejected," Verheyden-Hilliard said. "We found that they were sending cops on long-term assignment pretending to be social justice activists. They were going into people's homes. They were participating in their meetings in an active capacity. And when we were finally able to bring this to light, after some years of litigation, there were laws put into place to make it clear that the police could not conduct themselves in those ways."
But some police departments are conducting themselves in that manner—and not just in Washington.
"It is shocking and really angering to see the level of collusion and the amount to which the police covered up for the [neo-]Nazis," Yvette Felarca, "a Berkeley teacher and anti-fascist organizer charged with assault and rioting after participating in the June 2016 Sacramento rally, where she said she was stabbed and bludgeoned in the head," told the Guardian. "The people who were victimized by the [neo-]Nazis were then victimized by the police and the district attorneys."
While this police tactic is not new, Verheyden-Hilliard said Trump has given extremists in police ranks his blessing to go after the political left.
"With Trump taking over the presidency, and his comments before and after, he made it clear that he's giving a green light to the police to act against social justice demonstrators," she said. "He has heralded police brutality as an acceptable form of policing. And I think he has certainly sent a message to police forces and to anyone inside those police forces who has an affinity for any of these right-wing organizations that it's completely acceptable to act on their views in the context of policing. We can see with Charlottesville real questionable police conduct; their failure to act against white supremacists and neo-Nazi demonstrators, while simultaneously acting against social justice demonstrators."