Democratic Presidential Candidates Get Chance For Seventh Debate
@reuters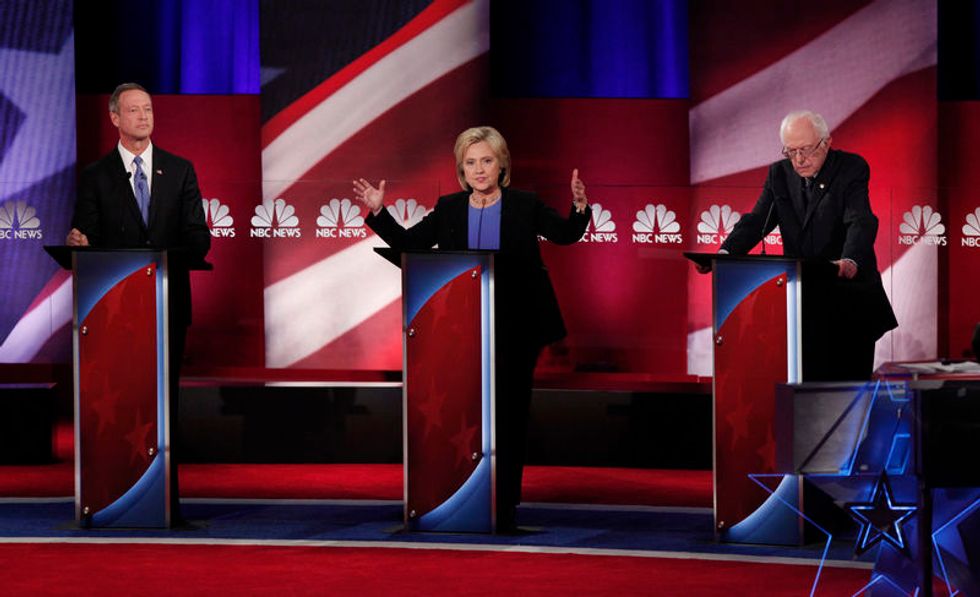 By Jonathan Allen
NEW YORK (Reuters) – A U.S. news channel and a newspaper will host a debate for the Democratic presidential contenders in New Hampshire a few days before the state's primary election – but it remained unclear whether the party will relax its rule banning candidates from non-sanctioned debates.
The news channel MSNBC and the New Hampshire Union Leader will hold the debate on Feb. 4 in New Hampshire, the second state in the nation to vote for parties' presidential nominees following the Iowa caucuses on Monday, the Union Leader said on its website on Tuesday.
The Democratic National Committee (DNC) has been criticized by two of the three contenders, U.S. Senator Bernie Sanders of Vermont and former Maryland Governor Martin O'Malley, for its relatively skimpy debate schedule.
The DNC scheduled only six debates for its 2016 candidates, and, contrary to its practice in previous election years, forbade candidates from taking part in debates not sanctioned by the party. There were 25 Democratic primary debates in 2008 and 15 in 2004, both sanctioned and unsanctioned.
DNC Chairwoman Debbie Wasserman Schultz has dismissed criticisms from within her party that she organized relatively few debates and scheduled them at times when viewership might be lower than average in order to protect former Secretary of State Hillary Clinton's position as the long-standing front-runner for the nomination.
Sanders has recently been drawing near or even, overtaking Clinton in some opinion polls as the first voting draws near.
"We were always concerned that this would have been the first time in 32 years without a Democratic debate before the New Hampshire primary," Joseph W. McQuaid, the Union Leader's publisher, said in an article on the paper's website, explaining the decision to add an unsanctioned debate.
The paper did not say which candidates were invited or whether any of them had accepted ahead of the Feb. 9 New Hampshire primary. Spokesmen for Sanders, Clinton and the DNC did not respond to a request for comment.
John Bivona, O'Malley's campaign director in New Hampshire, said in an email to reporters that O'Malley looked forward to participating in the debate.
(Editing by Jonathan Oatis)
Photo: Democratic U.S. presidential candidate and former Secretary of State Hillary Clinton speaks as she discusses issues with former Governor Martin O'Malley (L) and Senator Bernie Sanders at the NBC News – YouTube Democratic presidential candidates debate in Charleston, South Carolina January 17, 2016. REUTERS/Randall Hill