Democrats Keep The Senate, Add To Their Majority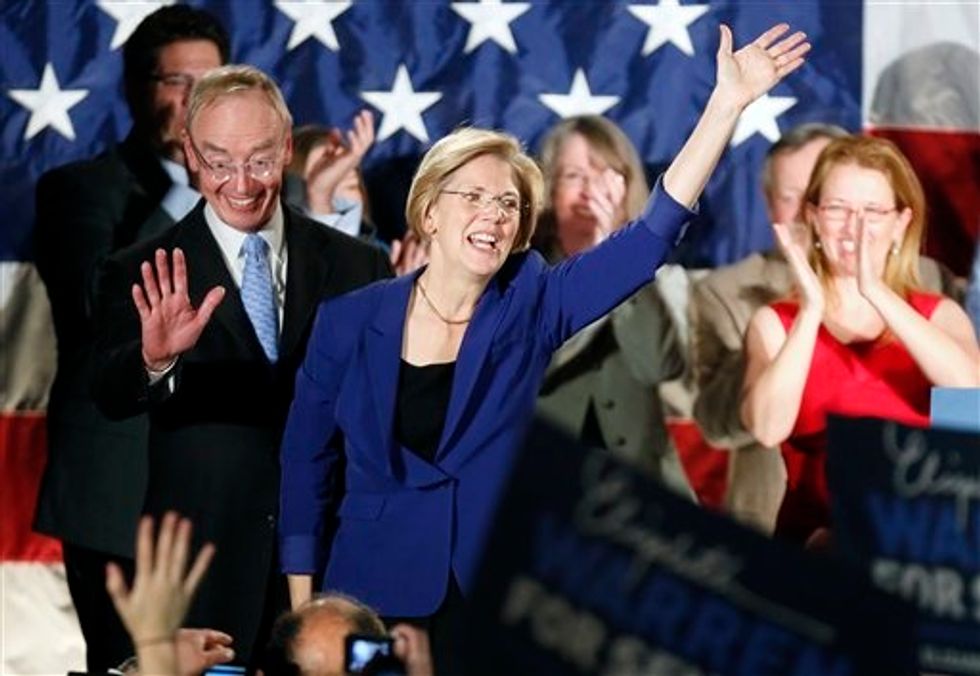 Republicans tore defeat from the jaws of victory again and again to give leader Harry Reid a safe — but not filibuster-proof — majority in the Senate.
Democrats picked up seats in Massachusetts and Indiana. Former governor Angus King, the new Senator in Maine, is likely to caucus with Democrats. Heidi Heitkamp also leads Republican Rick Berg in North Dakota.
Elizabeth Warren–the woman who predicted the housing crisis and came up with the idea for the Consumer Financial Protection Bureau– won Ted Kennedy's old Senate seat in Massachusetts by defeating Scott Brown (R-MA) — the man who helped water down Wall Street Reform. Brown's likability helped him win the seat in a special election in 2010. In this race, however, he focused on trivial wedge issues popular in the right-wing press, like attacking Warren for her family's claims of Native American heritage.
With Senator John Kerry (D-MA) possibly becoming the next Secretary of State, Brown could find himself in another special election soon.
Senator Claire McCaskill (D-MO) faced almost certain defeat until her campaign helped Rep. Todd Akin (R-MO) win the Republican primary. After Akin's comments about "legitimate rape," Republicans asked him to drop out of the race. He refused. McCaskill soundly defeated him Tuesday.
Democrat Joe Donnelly defeated Repulican Richard Mourdock in Indiana. Mourdock had defeated Senator Richard Lugar (R-IN) in the Republican primary, after Lugar was targeted by Tea Party groups for being willing to compromise with the president on foreign policy. Mourdock' own comments about rape contributed to his lead evaporating, and he lost in a state Mitt Romney carried by double digits.
Senator Sherrod Brown (D-OH) held off an extremely well funded challenge from Ohio Treasurer Josh Mandel. Senator Jon Tester (D-MO) also appears to have held off Rep. Danny Rehberg in another race that cost tens of millions of dollars.
Democratic candidates in Arizona, Nevada and Nebraska came close but fell short of winning seats now held by Republicans.
Republicans will not have as good a chance to take back the Senate for several election cycles. However, their House majority, along with a willingness to filibuster almost anything, gives them the ability to enforce gridlock for years to come.
Update: Just before 11am on Wednesday morning, the Associated Press called Montana's Senate election in favor of Democratic incumbent Jon Tester.
Photo credit: AP Photo/Michael Dwyer