Revealed: Did Trump Leak His Own 2005 Tax Return To David Cay Johnston?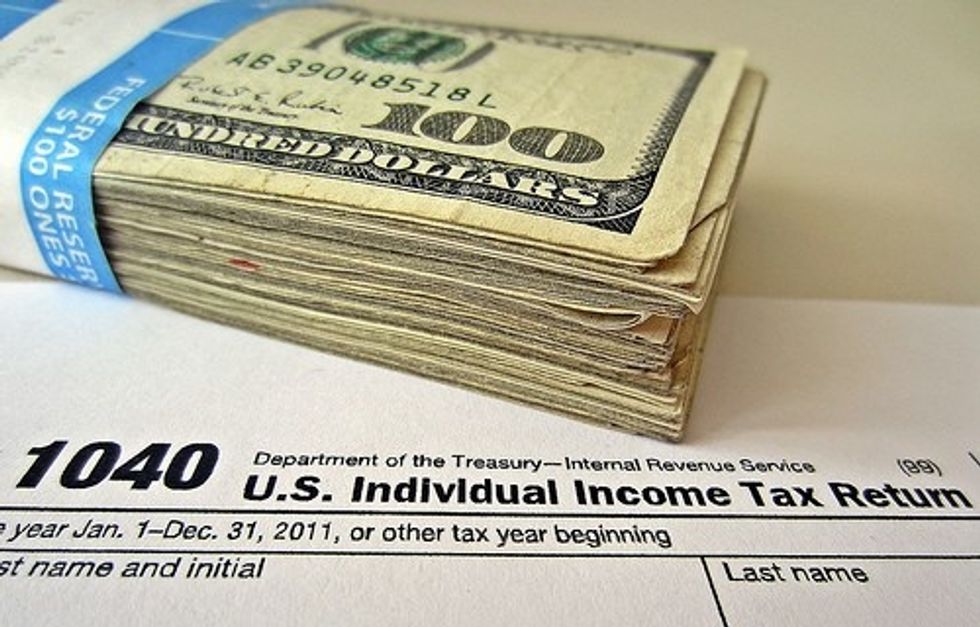 Donald Trump paid only a small percentage of income tax on earnings of over $150 million in the year 2005, according to documents obtained by reporter David Cay Johnston, a contributor to The National Memo. Johnston received what appear to be the first two pages of Trump's federal income tax return from that  year, and published a report on his new website, DCReport.org. Instantly and massively picked up by the media, including television appearances by Johnston, the story crashed his website hours later.
According to the documents, Trump and his wife Melania paid $5.3 million in regular federal income tax or under four percent — but were required to pay $31 million more in "alternative minimum tax," or AMT. The same documents also shows that Trump benefited from a loss of over $900 million he first claimed in his 1995 return,
Johnston has written extensively on Trump's tax avoidance, refusal to disclose his returns, and other financial chicanery, including a marvelous 2015 column published here that previewed those controversies and many more: "21 Questions For Donald Trump." In that column, addressed to Trump, he noted:
Public records (cited in my book Temples of Chance) show that as your career took off, you legally reported a negative income and paid no income taxes as summarized below:

1975
Income: $76,210
Tax Paid: $18,714

1976
Income: $24,594
Tax Paid: $10,832

1977
Income: $118,530
Tax Paid: $42,386

1978
Income: ($406,379)
Tax Paid: $0

1979
Income: ($3,443,560)
Tax Paid: $0

Will you release your tax returns? And if not, why not?
Evidently Trump still has no intention of releasing his complete tax returns for the past decade or so, as Hillary Clinton and most presidential candidates and presidents traditionally have done. On the Rachel Maddow Show yesterday evening, Johnston speculated that Trump himself might have sent him the 2005 tax documents anonymously via mail — since that year's return at least shows the former casino mogul paying some taxes, following his final big score as an actual real estate developer. It wouldn't be the first time that Trump attempted to manipulate the media from behind a false front.