'He Didn't Even Remember His Name'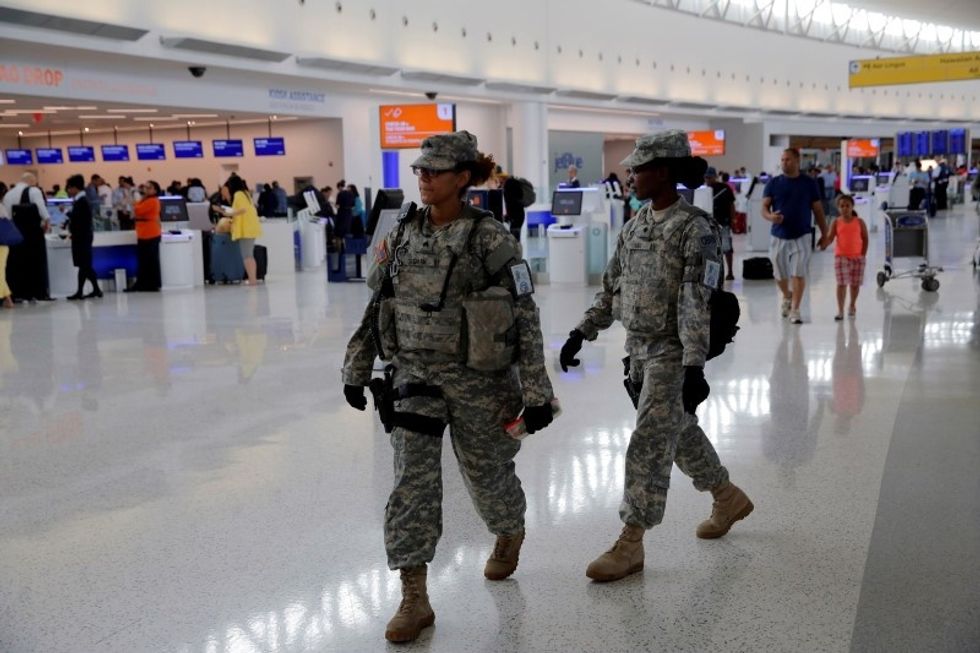 Reprinted with permission from Creators.
His name was La David T. Johnson.
His wife's name is Myeshia Johnson.
The congresswoman from Florida is Frederica Wilson.
You would know none of this from Donald Trump's public statement Wednesday:
"I had a very nice conversation with the woman, with the wife, who sounded like a lovely woman." He also asserted, "I didn't say what that congresswoman said, didn't say it at all. She knows it."
The woman.
The wife.
That congresswoman.
This is a Trump habit. If he doesn't name them as fellow humans, maybe he can pretend they're not quite real.
Millions of Americans know otherwise.
Let us start with the 25-year-old man who was not even mentioned. He is Army Sgt. La David Johnson, a member of the 3rd Special Forces Group (Airborne), based in Fort Bragg, North Carolina. He and three other men were killed in an ambush in Niger on Oct. 4. Their names are Staff Sgt. Bryan Black, Staff Sgt. Jeremiah Johnson and Staff Sgt. Dustin Wright.
Sgt. Johnson was the father of a 2-year-old boy and a 6-year-old girl. "The woman" — "the wife" — is his widow. Again, her name is Myeshia Johnson. She is pregnant with their third child.
As video and photographs documented for all the world to see, Myeshia Johnson was overcome at the sight of her husband's flag-draped casket, which arrived yesterday at Miami International Airport. She leaned over his casket, sobbing and murmuring, as her little girl stood silently next to her.
"The congresswoman" is Frederica Wilson. She was sitting in the car with Myeshia Johnson and the aunt who raised La David — her name is Cowanda Jones-Johnson — when Trump called Myeshia, two weeks after the death of her husband.
The conversation was on speakerphone. Wilson told NBC News later that day that Trump had said this more than once about Johnson to his widow: "But you know he must've known what he signed up for."
On Wednesday morning, Wilson told MSNBC's "Morning Joe": "But that's not the worst part. She was crying the whole time, and when she hung up the phone, she looked at me and said, 'He didn't even remember his name.' That's the hurting part."
That's when Trump issued that public statement about "the congresswoman" and "the woman," "the wife."
Two days earlier, during a news conference in the Rose Garden, Trump avoided responding to a reporter's question about why he had yet to speak publicly about the killing of Johnson and his comrades in Niger. Instead, Trump claimed he had written the letters over the weekend and that he would call grieving family members soon.
And then he added this: "If you look at President Obama and other presidents, most of them didn't make calls. A lot of them didn't make calls. I like to call when it's appropriate."
This is a lie.
As The New York Times reported, "several former Obama administration officials recalled the former president's walks through Section 60 at Arlington National Cemetery, where the dead from Iraq and Afghanistan are buried, his visits to the wounded at Walter Reed National Military Medical Center, and the time he spent with families of the fallen at the White House and around the country."
On Wednesday, Politico reported that National Security Council staffers had "drafted and circulated a statement of condolence" after the deaths in Niger, "but Trump never delivered it."
An article by the U.S. Army listed these among Sgt. Johnson's awards and decorations: "Army Achievement Medal, the Army Good Conduct Medal, the Global War on Terrorism Medal, the Army Service Ribbon, the Army Parachutist Badge, the Army Air Assault Badge, the Drive and Mechanic Badge, and the Marksmanship Qualification Badge — Sharpshooter with Rifle."
He is the type of hero Trump accuses black NFL players of disrespecting when they protest racism in America by kneeling during the national anthem.
On Wednesday morning, after Rep. Wilson's MSNBC interview, Trump went after her on Twitter: "Democrat Congresswoman totally fabricated what I said to the wife of a soldier who died in action (and I have proof). Sad!"
Cowanda Jones-Johnson, the aunt who raised "the soldier" as her son after his mother died, put an end to that presidential lie.
"President Trump did disrespect my son and my daughter," she told The Washington Post, "and also me and my husband."
He didn't even remember his name.
But we will.
His name is La David T. Johnson.
Somebody tell the president, please.
Connie Schultz is a Pulitzer Prize-winning columnist and professional in residence at Kent State University's school of journalism. She is the author of two books, including "…and His Lovely Wife," which chronicled the successful race of her husband, Sherrod Brown, for the U.S. Senate. To find out more about Connie Schultz (con.schultz@yahoo.com) and read her past columns, please visit the Creators Syndicate webpage at www.creators.com.