Distraught Oscar Pistorius Testifies At Murder Trial, Apologizes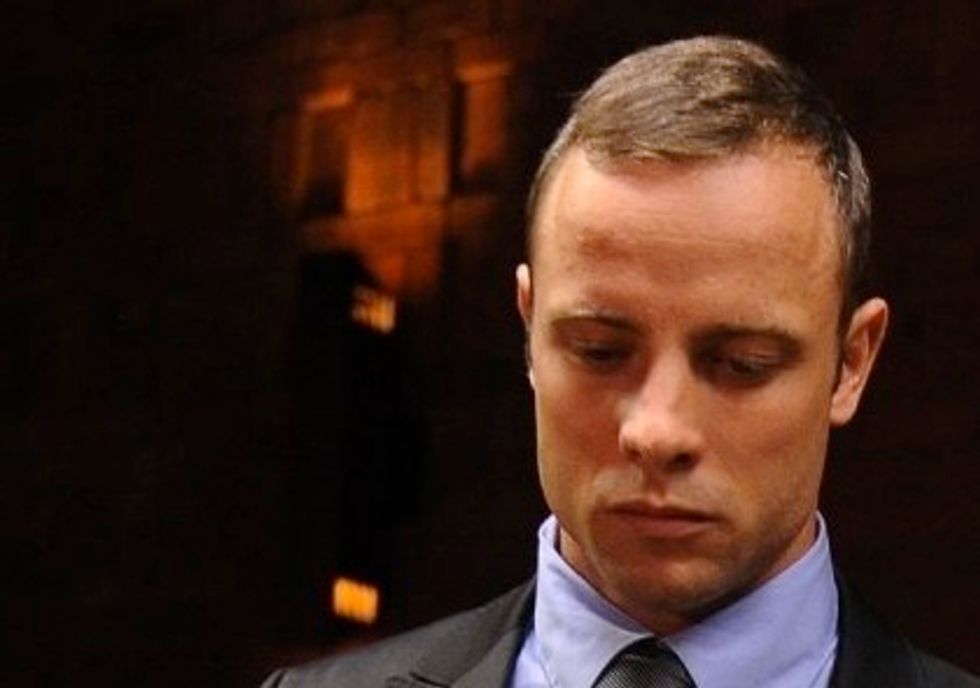 By Robyn Dixon, Los Angeles Times
PRETORIA, South Africa — Olympian Oscar Pistorius made a tearful apology to the family of his girlfriend Monday as he stood trial for fatally shooting her in the early hours of Valentine's Day last year.
Pistorius took the stand to tell the court his version of what happened that night. Courtroom benches were packed with supporters of both the athlete and his girlfriend, Reeva Steenkamp.
Pistorius' almost-whispered apology was so quiet that Judge Thokozile Masipa had to tell him to speak up.
"I would like to take this opportunity to apologize to Mrs. and Mr. Steenkamp, to Reeva's family, to all those of you who knew her who are here today, to her family and friends," he said.
"There's not a moment and hasn't been a moment since this tragedy happened that I haven't thought about her family," he said, adding that it is the first thing that comes into his mind when he wakes up.
"I can't imagine the pain and emptiness and sorrow that I've caused your family. I was simply trying to protect Reeva. I can promise you that when she went to bed that night she felt loved," he said, his voice trembling.
Pistorius said he had often sat down to try to write a letter of apology to Steenkamp's family but found there were no words adequate to convey what he wanted to say.
Pistorius has pleaded not guilty to the murder of Steenkamp, claiming he shot her accidently after mistaking her for an intruder. He has also pleaded not guilty to two charges of recklessly discharging a gun, and to one charge of unlicensed possession of ammunition.
His lawyer opened the defense case Monday with testimony from a pathologist and from Pistorius himself.
Pistorius told the court he had been on anti-depressants since soon after the shooting and that he also needed medication because he couldn't sleep.
"I wake up and I smell blood and I wake up to be terrified. I wake up in a complete state of terror. I would rather not sleep," he said.
He said he wanted nothing to do with guns anymore, and slept with a security guard at his door. He sometimes gets panic attacks and one night had to hide in a cupboard because he couldn't calm himself down, he told the court.
"I woke up and I was terrified and I for some reason couldn't calm myself so I climbed into the cupboard and I phoned my sister to come and sit by me, which she did," he said.
Earlier, Pistorius' defense attorneys called a pathologist to testify that Steenkamp may not have had time to scream when the athlete shot and killed her.
Jan Botha, a former government pathologist in two South African provinces, said the bullets could have been fired in the space of four seconds, meaning that Steenkamp wouldn't have had the time to scream before she was struck in the head, losing consciousness.
Part of the prosecution's case rests on testimony from five neighbors who say they heard a woman screaming the night Pistorius shot Steenkamp. The defense has argued that only Pistorius screamed after the shooting.
"She may have been frozen with fear for a second or two," Botha said, concluding there would have been a delay of about two seconds before she began to scream — by which time she would have been struck in the head.
"If they (the shots) were fired over four seconds, I don't think she would have had any time to scream. I think there would have been panic, confusion," he said.
But he acknowledged under cross-examination by the prosecution that if Steenkamp was mortally afraid in the moments before she was shot, she likely would have cried out.
"If she was in mortal fear, it's more likely she would have screamed," he said. "If there was an interval of several seconds between the shots, I think she may well have had a chance to cry out."
Pistorius wept during the pathologist's testimony on Steenkamp's wounds, as a close-up photograph depicting a bruise on her back was projected in the courtroom. He also vomited into a green plastic bucket. During a tea break, the athlete was hunched, sobbing loudly, with his brother Carl and sister Aimee at his side, hugging him.
AFP Photo/Alexander Joe