Trump Could Personally Cost Americans Thousands In Bigger Health Care Bills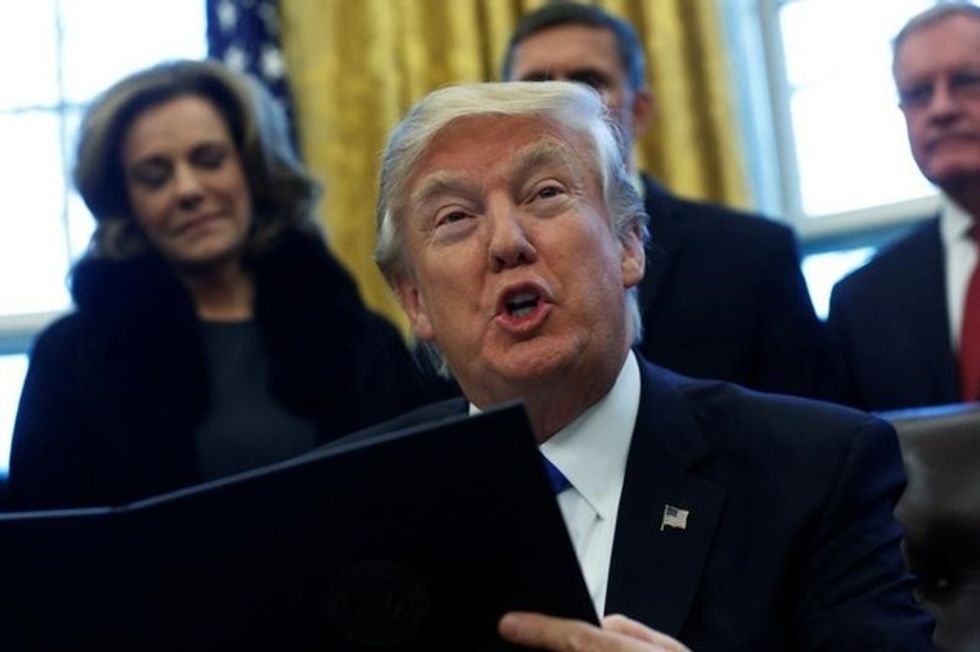 Reprinted with permission from AlterNet.
Nearly 8 million Obamacare policyholders who now receive federal subsidies to help defray the cost of their health insurance could lose that support and see premiums rise by 20 percent starting next January if the Trump administration stops those "cost sharing reductions" in 2018, two congressional fiscal agencies reported Tuesday.
The U.S. House's Democratic leadership requested the report from the Congressional Budget Office and Joint Committee on Taxation. It looked at the impact of ending federal subsidies for Obamacare's "silver plans," which are the second tier of four levels of plans (plus catastrophic care) offered via government insurance-buying exchanges. There are 7.7 million individuals with silver policies nationally out of a total of 11 million policyholders. (Some states, mostly blue, also expended their Medicaid programs for impoverished households and individuals.)
"Gross premiums for silver plans offered through the marketplaces would be 20 percent higher in 2018 and 25 percent higher by 2020—boosting the amount of premium tax credits according to the statutory formula," the congressional analysts said. "Silver plans differ from other plans because they must provide CSRs [cost-sharing reductions] to eligible enrollees: The actuarial value depends on the policyholder's income as a percentage of the FPL [federal poverty level for household income]."
The congressional reports are the latest evidence that Republican actions to disrupt and dismantle Obamacare are creating unnecessary chaos that is on track to hurt millions of Americans who obtained health care under the law. Trump has not announced whether the executive branch would withhold the subsidies, which in essence, would be tantamount to a massive tax increase for millions of financially struggling households. (This same uncertainty has prompted insurers to say they will be raising rates for non-Obamacare policyholders in 2018; New Jersey's largest insurer said Tuesday it would raise rates by 22 percent instead of a "single-digit" increase.)
The capitalist economics at play in this avoidable crisis are blunt and harsh. The imperiled federal subsidies help lower-income individuals who could not otherwise afford insurance. The CBO/JCT analysis says if the subsidies are cut, 1 million people would drop their plans. Despite the subsidies' public benefit, the subsidies are still a giant transfer of wealth upward—welfare for insurers, drug companies and physicians, guaranteeing their prices are paid.
Not one of these industry sectors said during 2017's health care debate that they would be willing to moderate their anticipated profits. This same dynamic is affecting the anticipated 2018 premiums for the other policy categories under Obamacare, which the report said would also rise should Trump discontinue the subsidies to silver-level policyholders.
"According to CBO and JCT's projections, for single policyholders, gross premiums (that is, before premium tax credits are accounted for) for silver plans offered through the marketplaces would, on average, rise by about 20 percent in 2018 relative to the amount in CBO's March 2016 baseline and rise slightly more in later years," the report said. "Such premiums for other plans would rise a few percent during the next two years, on average, above the increases already projected in the baseline in response to uncertainty among states and insurers about how to respond under the policy."
The analysis also said ending the Obamacare subsidies would cause insurers to exit some states, leaving about 5 percent of Americans with no policy option. That would be a tremendous increase from today's status quo. As of August 15, the Kaiser Family Foundation, which specializes in health policy, reported that only two counties in America (with 381 Obamacare policyholders) were poised to see private insurers leave in 2018.
Large numbers of people in many of the states that voted for Trump and congressional Republicans would be especially hard hit by ending the subsidies. According to a 2016 state-by-state listing of enrollees by Obamacare plan, these states' silver plan recipients are as follows:
Florida: 1.2 million
Texas: 737,000
North Carolina: 426,000
Georgia: 372,000
Pennsylvania: 299,000
Michigan: 211,000
Ohio: 122,000
Arizona: 115,000
The CBO/JCT report also compared the current levels of costs for silver plan policyholders, which is pegged to how their income compares to the federal poverty line. Their subsidies shrink as household income rises.
"For people at most income levels, the actuarial value for a silver plan is 70 percent; the average deductible for a single policyholder, for medical and drug expenses combined, is about $3,600 in 2017," it said. "People with income between 100 percent and 250 percent of the FPL [federal poverty level], however, are generally eligible for silver plans with higher actuarial values (and with lower deductibles), as follows:
"For people with income between 100 percent and 150 percent of the FPL, 94 percent (with an average deductible of about $300);
"For people with income between 150 percent and 200 percent of the FPL, 87 percent (with an average deductible of about $800); and
"For people with income between 200 percent and 250 percent of the FPL, 73 percent (with an average deductible of about $2,900)."
The CBO/JCT report is a stark reminder of not only the callousness of the Republicans who are now ruling Washington, but of how health care spending has hijacked the American economy. Should Trump revoke the subsidies, the individuals who accessed coverage would face the equivalent of a massive tax increase to keep their insurance. Meanwhile, the marketplace uncertainty caused by Trump and the GOP has become the industry's latest excuse to raise prices.
Rising health care costs are one reason working- and middle-class Americans have not seen real increases in wages for decades, once inflation is factored in. As soon as people start to get ahead, big businesses like health care keep finding ways to meet their bottom line goals regardless of the financial and other insecurities caused by doing so. This same cycle is in motion once again.