RNC Now Endorses Early Voting But Trump Still Claims It's 'Corrupt'
@jeisrael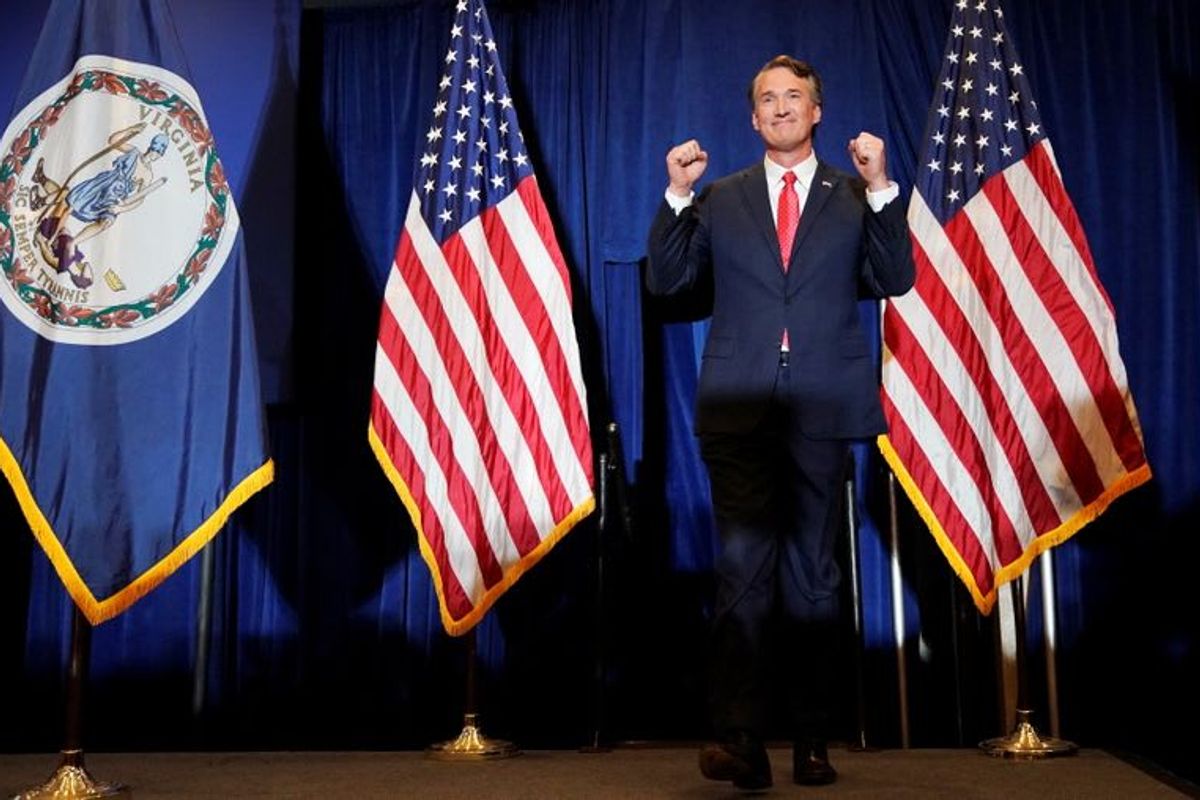 Glenn Youngkin
After years of opposing early voting laws, Republicans in Virginia and nationally have been mounting an effort this summer to convince conservative voters to take advantage of those same laws, while former President Donald Trump and some Virginia Republicans have undermined their efforts.
Trump repeatedly opposed early voting and voting by mail during the COVID-19 pandemic in 2020. Though he has personally cast absentee ballots multiple times, Trump falsely claimed that mail-in voting leads to fraud and urged Republicans to block it.
"Republicans should fight very hard when it comes to state wide mail-in voting," he tweeted on April 8, 2020. "Democrats are clamoring for it. Tremendous potential for voter fraud, and for whatever reason, doesn't work out well for Republicans."
After losing his reelection bid, Trump baselessly claimed the election was unfair because of mail-in voting. "'I've been talking about mail-in voting for a long time. It's really destroyed our system. It's a corrupt system. And it makes people corrupt even if they aren't by nature, but they become corrupt; it's too easy," he said on Nov. 5, 2020.
In Virginia, the Republican majority in the House of Delegates passed an array of bills in the 2023 legislative session that would have made it harder to vote early. The bills would have eliminated ballot drop boxes , cut the in-person early voting period down from 45 days to just two weeks , and ended the automatic vote-by-mail list. The bills each died in the Democratic-led Senate.
John Stirrup, a Republican currently running for the House of Delegates in a competitive district , called the 45-day early voting period "ridiculous."
"Too many people have easy access to voting. Voting needs to be tightened up," Stirrup said at a candidate forum in May, according to the Prince William Times .
Now some Republicans are changing their tune on early voting.
On July 11, the Republican Party of Virginia released a video in which Gov. Glenn Youngkin urged his fellow Republicans and swing voters to vote early in person or by mail ahead of the general election in November, when all 100 House of Delegates seats and all 40 Senate seats will be on the ballot.
"We're making Virginia the best place to live, work, and raise a family, and to take us to the next level, I need your early vote this year," Youngkin said. "We can't go into our elections down thousands of votes, and you can secure your vote before Election Day. Join the permanent absentee list or make a plan to vote early by mail or in person."
The Republican National Committee launched a national effort to encourage early voting.
On July 24, RNC Chair Ronna McDaniel announced a campaign to encourage voters to "Bank Your Vote" before Election Day, starting with an early voting operation in Wisconsin in 2024.
"To beat Joe Biden and Democrats like Tammy Baldwin in 2024, we must ensure that Republicans bank as many pre-Election Day votes as possible in Wisconsin," McDaniel said in a press release. "The RNC is proud to work with Republican leaders across the state to encourage voters to Bank Your Vote and deliver Republican victories up and down the ballot next November."
The GOP even enlisted Trump to help with the effort. He urged supporters to vote early in a 40-second video message released on July 26.
"We must defeat the far left at their own game, or our country will never recover from this disastrous crooked Biden administration. Sign up at bankyourvote.com now and join the Republican effort to win big in 2024. We're going to win, and we're going to make America great again," Trump said.
Just two days later, he appeared on John Fredericks' right-wing radio program in Virginia and contradicted that message.
"We should have one-day voting, we should have paper ballots, and we should have voter ID and you'd have honest elections," Trump said. "When you see these votes when they take 42 days and they have ballots sitting all over the place, it's a disgrace. We're like a third-world country."
The same week, Axios reported that the GOP majority on the Richmond Electoral Board voted to reduce the number of early voting sites in the city from three to one, claiming budgetary concerns. The move eliminated satellite voting locations in downtown and South Richmond, where many of the city's Black and Hispanic voters reside .
Reprinted with permission from American Independent .