U.S. Election Largely Peaceful, Despite Intimidation And Glitches
@reuters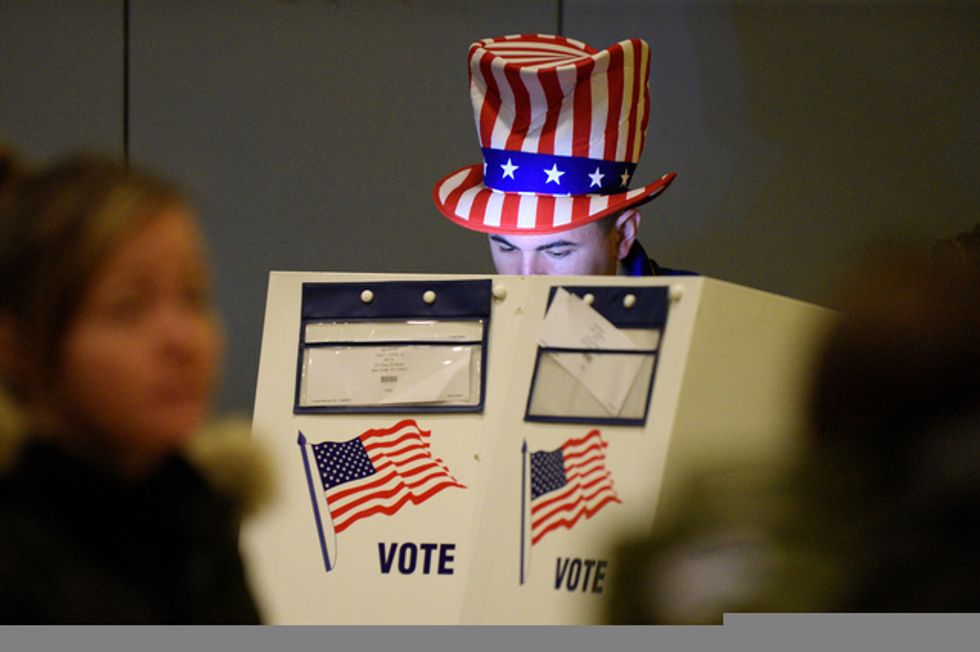 By Julia Harte, Andy Sullivan and David Ingram
WASHINGTON/PHILADELPHIA (Reuters) – Voters and civil rights groups reported long lines, isolated cases of malfunctioning equipment and some harassment at polling places in Tuesday's U.S. presidential election but fears of widespread violence at the polls did not materialize.
Nationwide, civil rights groups logged unusual levels of voter intimidation complaints, receiving about 35,000 calls through a national voter complaint hotline as of Tuesday evening. Democratic Party officials, however, said they did not see systemic voter suppression efforts.
Civil rights groups, who have enlisted 7,000 volunteers, said 40 percent of the calls they had received through the telephone hotline by early afternoon were from African-American and Latino voters.
Complaints of voter intimidation were especially prevalent in Florida, Georgia, Ohio and Arizona with a disproportionate share coming from minority voters.
"We are hearing more complaints about voter intimidation than we have in presidential cycles from prior years," said Kristen Clarke, president of the Lawyers' Committee for Civil Rights Under Law.
Republican presidential candidate Donald Trump has repeatedly said the election would be "rigged" and called on his supporters to watch for signs of fraud in urban areas, raising fears they could clash with minority voters. Numerous studies have found that voter fraud is exceedingly rare in the United States.
VOTER INTIMIDATION
Absent on Tuesday were reports of the kind of hostile political displays, vandalism and violence that have cropped up regularly throughout the campaign. A polling station was locked down in Southern California after one person was killed and three wounded by gunfire but police saw no immediate indication the incident was linked to Election Day.
But isolated reports of voter intimidation and harassment flooded the voter complaint hotline run by a coalition of civil rights groups throughout the day.
An African-American voter called the hotline from Alabama's Shelby County to report that a white poll worker had indicated she would have to wash her hands after handling the voter's photo identification card.
Shelby County lawyers persuaded the U.S. Supreme Court in 2013 to strike down a key provision of the landmark Voting Rights Act requiring states with a history of voter discrimination to get federal clearance for changes to their election laws.
Clarke said many voter complaints to the hotline came from states formerly covered by that provision.
Some voters in Florida reported a heavy, unexplained police presence at several polling sites around the state. A group of students in the state were told their votes would not count because their college dormitory was considered a hotel.
In Ohio's Franklin County, the hotline received complaints that Somali-American voters were told they would have to vote provisionally because their addresses did not match their identification cards – and then were told that the polling site had run out of provisional ballots.
In Georgia's DeKalb County, a group calling itself Defenders of Democracy was pressuring voters in line to fill out sample ballots and sign pledges that they would cast the same votes on the real ballot, according to reports received by the hotline.
The federal government reduced its election monitoring program in the wake of a 2013 U.S. Supreme Court decision that weakened federal oversight of states with a history of racial discrimination. Revised voting laws and lengthy court battles in many states also have left voters uncertain about when and where they can cast their ballot and whether they will need to present photo identification.
A Nevada judge on Tuesday rejected a request from Trump for records from a Las Vegas polling place that his campaign said had improperly remained open last week to accommodate people who were lined up to vote. The judge agreed with a county attorney who argued that election officials already preserve records.
MACHINE GLITCHES
Malfunctioning machines dominated voter complaints out of Pennsylvania, Arizona, New York, North Carolina and Virginia.
Trump cited reports that polling machines were switching votes for Republican candidates to votes for Democrats as cause for concern that the election outcome might not be valid, once again warning of a rigged system.
Speaking to Fox News, Trump provided no evidence to support the allegations or say where polling machines were breaking down, although there were some problems in Pennsylvania.
Voters in at least four Pennsylvania counties said touch-screen voting machines were mistakenly switching votes. State officials, however, said they did not believe any ballots had been wrongly counted as a result of the machine malfunctions.
Pennsylvania is one of a handful of states that relies on electronic voting machines without a paper backup that would allow officials to double-check the outcome if it is challenged.
The machines can record votes incorrectly if they are not calibrated properly, a problem that is magnified as the screens degrade with age.
But ES&S, the company that makes the machines, said voters have a chance to confirm their choices before they cast their ballot, making it impossible for the machine to flip a vote from one candidate to another. Local officials test machines to make sure they are calibrated properly before each election.
The Philadelphia district attorney's office, which monitors voting in the state's largest city, said on Twitter it was not receiving any complaints out of the ordinary.
Electronic voting rolls in Durham County, North Carolina, malfunctioned early on Tuesday, prompting the county to ask the state board of elections to extend voting hours in eight precincts until 9 p.m., an hour and a half later than they were supposed to be open.
The state elections board on Tuesday evening agreed to extend voting hours in the precincts by between 20 and 60 minutes.
(Additional reporting by Mark Hosenball; Editing by Andrew Hay and Bill Trott)
IMAGE: Travis Lopes, 30, casts his vote for the presidential election in Manhatta, New York. REUTERS/Darren Ornitz