#EndorseThis: Colbert Shudders At Nancy Pelosi Prediction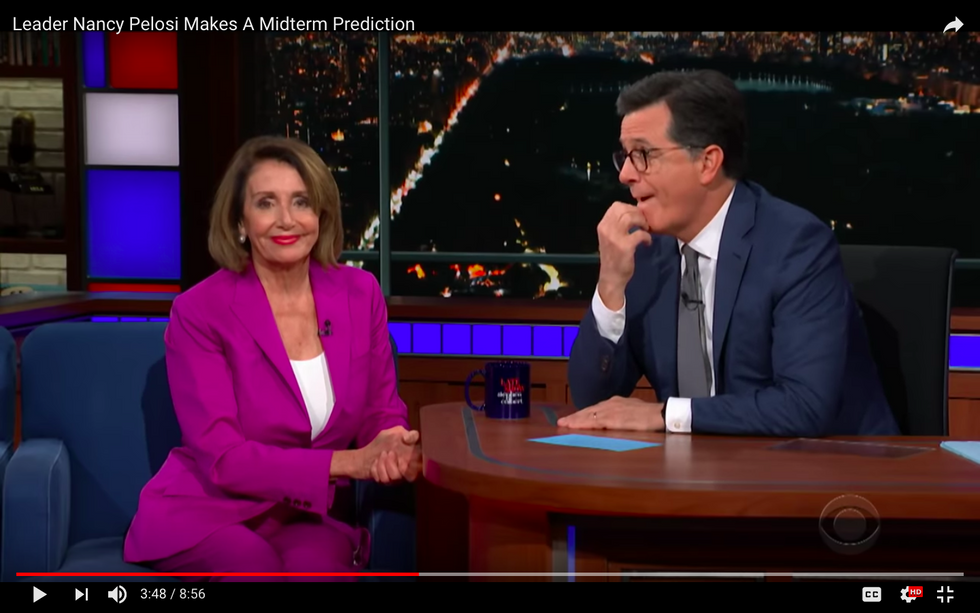 Watch Nancy Pelosi scare the hoo-ha out of Colbert when she flatly predicts a Democratic victory next Tuesday and "a great night for America." Blanching at the "hex" laid on the midterm outcome by the minority leader, Stephen crosses himself, then offers to "sacrifice a goat" if necessary.
Pelosi is unfazed. A political veteran with "a very thick skin," as she says, the former and perhaps future Speaker calmly lays out the stakes of this election, no less than defense of the Constitution itself. Still she laughs at Trump, she laughs at herself, and she explains quite cogently why the Republicans demonize her — namely, that she is a highly effective legislator who beats them at their own games, and raises a ton of money to support Democrats against the GOP machine.
Oh yeah, she's proud of being "a San Francisco liberal." If you've never understood why this pioneering politician is still at the top after all these years, this clip is instructive.
Just click.