#EndorseThis: DL Hughley On Colin Kaepernick: 'There's Nothing More American Than Silence'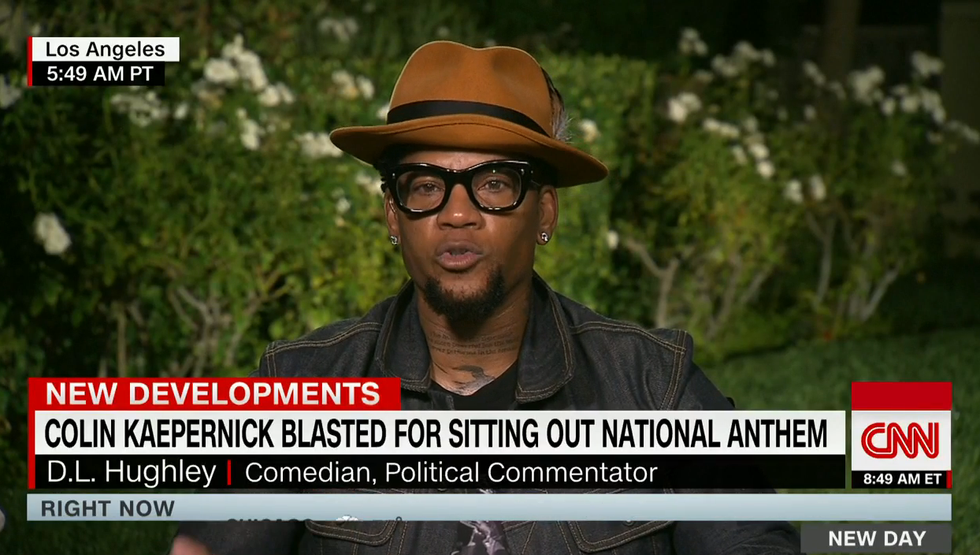 Not two months after the death of the greatest American sports hero of the 20th century, Muhammad Ali, many seem to have forgotten that Ali claimed that title for his refusal to serve in what he viewed as an unjust war in Vietnam, at the expense of his own career and, in the eyes of many Americans at the time, his patriotism.
When Colin Kaepernick refused to stand for the national anthem over the weekend, though in protest of police brutality and our otherwise racist politics stateside, his own argument was silenced in much the same way many tried to silence Ali's story in June: Ali, they said, was great as a boxer, not as a warrior for social justice. And Colin Kaepernick is a punk.
Many have accused Kaepernick of seeking to insult veterans — though he explicitly said that was not the point of his protest — and others have said the national anthem ought to be above politics, a unifying theme under which celebrate our ideals.
Comedian and commentator DL Hughley answered those criticisms today on Chris Cuomo's New Day. The irony, Hughley said, is that the same Americans who chastise Kaepernick for his own silence during the anthem have themselves refused to speak out against police violence. If one is politically acceptable, why isn't the other?
.@RealDLHughley on Kaepernick's protest: Football is an escape, and black people often don't get escape from reality https://t.co/BU2OCWbvDp

— New Day (@NewDay) August 30, 2016
Video: CNN