#EndorseThis: Donald Trump Exposed… By Donald Trump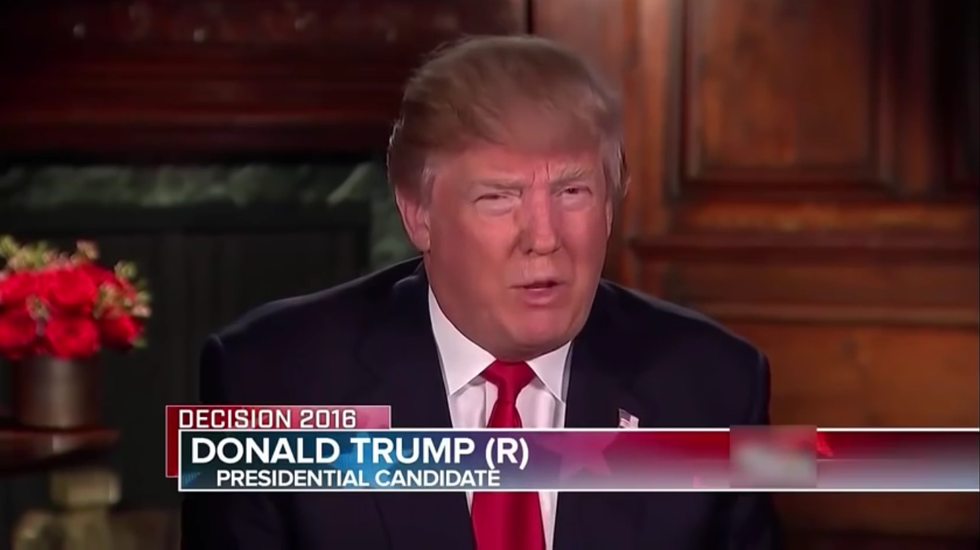 Donald Trump exposed! By whom, you may ask? Well, none other than Donald Trump.
In a new video making the rounds on social media today, Trump is shown to have switched stances on almost every major political issue in this campaign.
Posted by YouTube user PlainSight, the video showcases clips of Trump on the election trail this year contrasted with clips from months and years past. PlainSight only has two videos posted to his or her YouTube account — the "Trump Exposes Trump" video that's been trending today and a music-free version.
The video begins with Trump emphatically stating he was the "only one" on the Republican primary stage that said "we shouldn't go into Iraq." Of course, this statement is then immediately contradicted by clip of Howard Stern asking Trump whether he is for invading Iraq, and Trump agreeing that he is.
And they keep coming: On abortion ("I'm very pro-life" followed shortly thereafter by "I'm really pro-choice"), healthcare ("Everybody's gotta be covered" versus an I've-never-said-that moment on the debate stage), and immigration ("They're here illegally, you take them, they have to go back" versus "We have to show some compassion, we just can't throw everybody out").
There are even clips of Trump commending Hillary Clinton for being very talented — prior, of course, to his 2016 campaign against her where he claimed she has "no natural talents to be president."
The video even captures Trump's changing viewpoints on whether or not cursing is appropriate on national television (ridiculous on its face, for him) and his own party affiliation.
The exposure of Trump as a political fraud comes weeks after a major turning point in his campaign. After insulting the family of a slain military hero, Trump has been plagued by multiple public statements from prominent Republicans declaring their refusal to support him.
Watch the entire video, below:

Screenshot via YouTube/PlainSight