#EndorseThis: John Oliver Shatters Your Illusions About Ivanka And Jared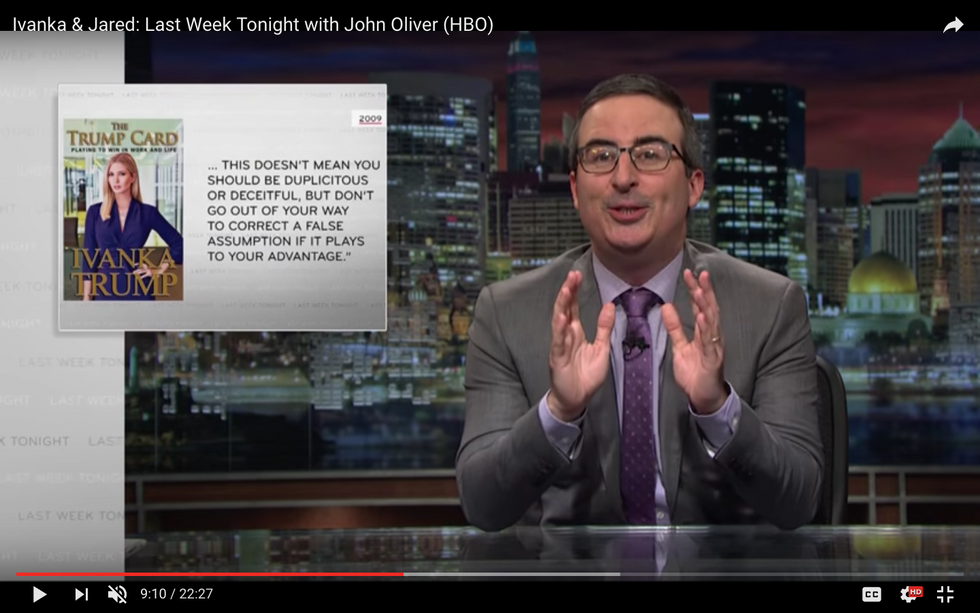 While mainstream media outlets popularize the notion that Jared Kushner and Ivanka Trump are safer and saner than the rest of the White House rogue's gallery, John Oliver isn't buying it. As he explains in the latest installment of Last Week Tonight with John Oliver, this president "can't even get nepotism right."
And indeed, as he recites the list of Kushner's assigned tasks — from bringing peace to the Middle East to remaking the federal government — the audience laughs uproariously. Unlike various cable show personalities and hired hacks, they're in on the joke. For those who aren't, Oliver presents the true facts about Jared Kushner's actual background and experience, which render his rise to power all the more astonishing and unnverving.
As for Ivanka, who poses as a "moderating influence" on her loony dad, Oliver points out how she essentially says nothing of substance yet does everything possible to bolster her father — no matter how extreme his words and actions. Oliver's staff also digs up even more creepy footage of Ivanka and Donald, including her appearance as a hostess for the Miss USA Teen Pageant. And they also found a revealing video clip of Ivanka prevaricating about Hillary Clinton's child care platform, proving that "when it comes to lying about easily observed facts, the apple doesn't fall far from the orange."
No, they're not Steve Bannon and Kellyanne Conway, but that's a rather low bar, isn't it? If you can stand to have your illusions shattered — or especially if you have no illusions about this pair — you don't want to miss this.