#EndorseThis: Seth Meyers Reviews Trump's Lame And Lonely G-20 Trip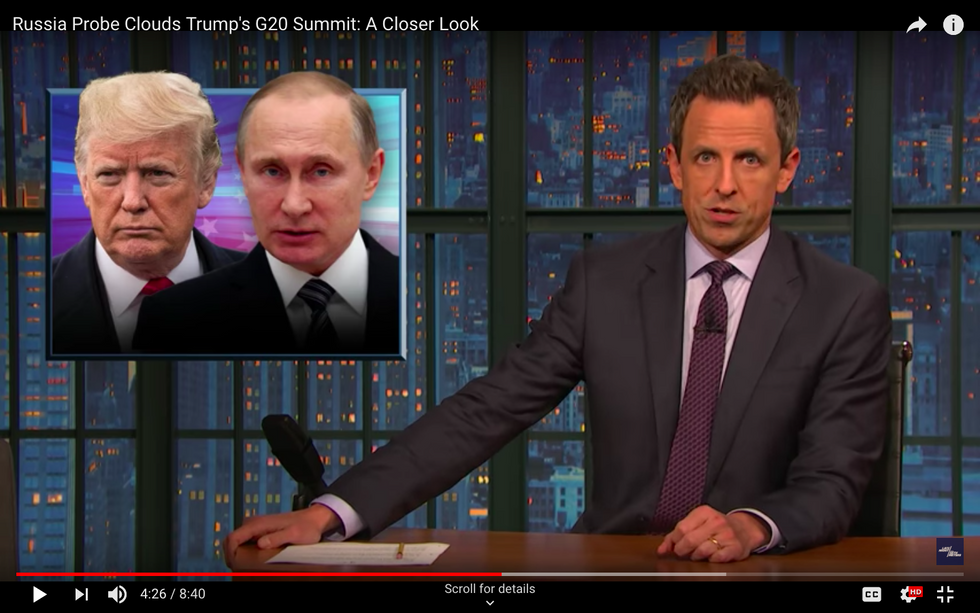 Seth Meyers couldn't help but notice how poorly President Trump fit in among his international peers at the G-20 meeting in Argentina — perhaps because he attends every such meeting under the cloud of the Russia investigation.And this time, he must have felt the special counsel probe closing in.
Onstage among the other world leaders, Trump looked lonely, like someone at a house party who knows none of the other guests. At the signing of his "new NAFTA" deal with the Mexican and Canadian presidents, he said Justin Trudeau has become "a great friend" — which brought a strange expression to Trudeau's face.
It's more comical than sad, especially when Trump wanders away from the Argentine president onstage, muttering "Get me out of here" into a hot mic.
Returning to Washington, Trump issued a series of furious tweets about the special counsel probe, praising Roger Stone for clamming up and attacking Michael Cohen for testifying. Meyers reviews this latest attempt to obstruct justice — and wonders he put quotation marks around his own name and title. The answer is obvious.
Click for laughs.