#EndorseThis: Trump's Unfiltered Rally In New Hampshire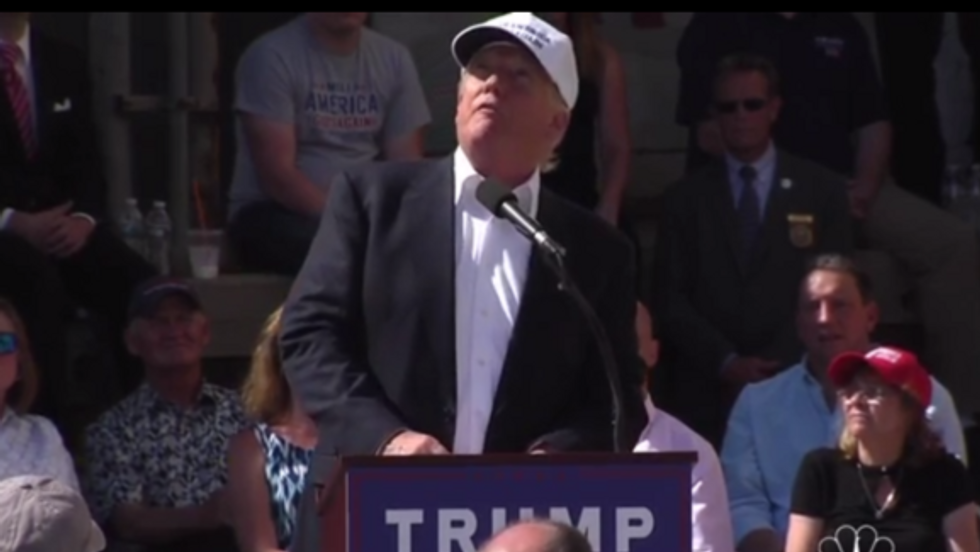 At a rally in Manchester, New Hampshire, Donald Trump was doing pretty well sticking to his prepared remarks about trade and the Mexican government, until he was distracted by a plane flying overhead.
"In fact, that could be a Mexican plane up there!" he said. "They're getting ready to attack."
You could almost hear Trump's new campaign manager cringe.
Paul Manafort officially took over the campaign after the firing of his predecessor (and chair of the New Hampshire delegation to the Republican National Convention) Corey Lewandowski was unceremoniously fired recently. Manafort has promised that his candidate would "pivot" towards a more acceptable persona and more effective strategy for general election voters. But no one tells Donald Trump not to behave like a child.
It's hard to stay scripted when unforeseen distractions like planes and audience questions get in the way. One woman suggested employing veterans to replace "heebeejabby" TSA workers –apparently a garbled reference to scarves worn by some Muslim women.
Trump replied, "I understand. And we are looking at that. We're looking into a lot of things."
Later, a New Hampshire man voiced his opposition to abortion and followed with, "I'm opposed to our wasting our military in the Middle East on behalf of Zionist Israel." Trump rebutted the latter remark, saying that "Israel is a very important ally of the United States" and pledging "100 percent" protection of the Middle Eastern nation.
Trump has previously said that he would make Israel pay for defense aid (he backtracked on that statement later).
Manafort probably isn't a huge fan of un-screened question and answer sessions.
Video: Trump sees a plane overhead, says "That could be a Mexican plane up there—they're getting ready to attack." https://t.co/ryWXqnrMgx

— Bradd Jaffy (@BraddJaffy) June 30, 2016
Photo: Twitter/MSNBC