The Entire GOP Agenda Is A Talking Point Designed To Mislead The American People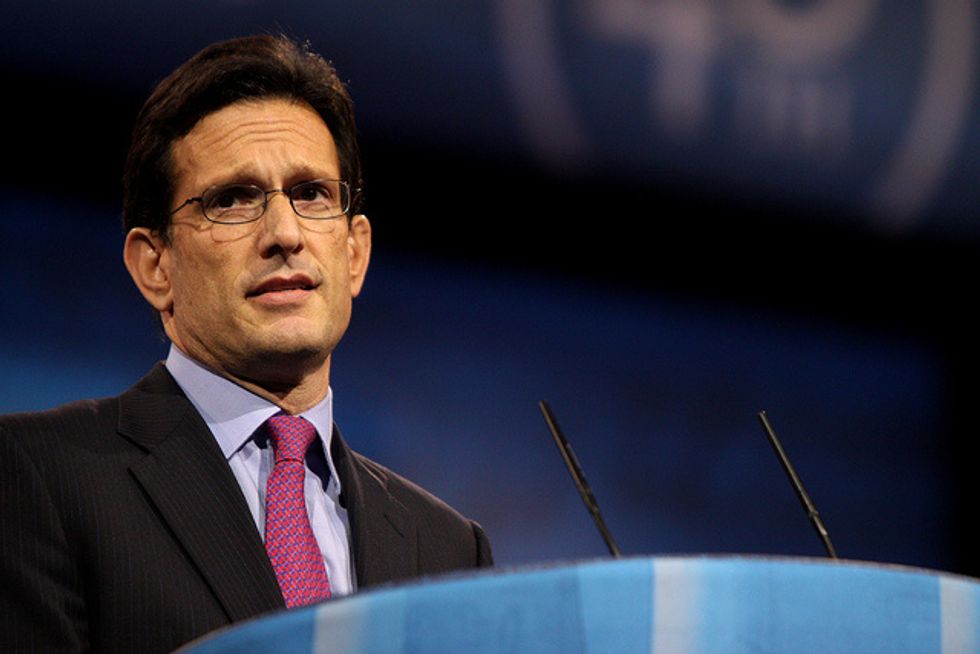 The GOP's latest #Benghazi smoking gun revealed earlier this week illuminated two #shocking details.
First of all, the White House and the CIA agreed on their talking points in the immediate wake of the tragedy of the deaths of four Americans at a CIA outpost in Libya. Secondly, government officials sometimes may use talking points that end up being incorrect or even misleading.
For the party that spent years pushing the myth that Iraq had weapons of mass destruction and this lie was somehow connected to the 9/11 terrorist attacks, this latter revelation was especially shocking.
We've known the extent of the tragic security failure in Benghazi since early 2013, after the release of the Accountability Review Board report authored by Republican diplomat Thomas Pickering and retired admiral Mike Mullen.
But for more than a year now, Republicans have tried to create a new Watergate that will completely destroy President Obama and Hillary Clinton out of the banal process of bureaucrats shaping talking points. Because nothing is more sacred to the GOP than the sanctity of marriage and talking points, at least that's what they tell their mistresses.
On Wednesday, House Republicans attempted to get ahead of the announcement that over 8 million Americans have signed up for insurance through Obamacare exchanges while 4.8 million gained coverage since last year through Medicaid. They produced a report that said only 67 percent of people who chose coverage had paid for it, even though all evidence shows that at least 80 percent of new customers are paying.
The report was immediately debunked by anyone paying attention, and the insurance industry itself. And Republicans have even stopped trying to defend it after House Minority Leader Eric Cantor (R-VA) was caught using bad math on Twitter.
LOL.
Republicans just hate misleading talking points.
That's why after five years of Republicans saying that Obamacare would destroy jobs and bankrupt the country, we're looking at the best year for job creation since 1999 and the deficit at a five-year low.
That's why after years of using the deficit as excuse to cut off the long-term unemployed, slash food stamps and cut medical research, the House GOP is rushing to approve $300 billion in tax breaks for multinational corporations.
That's why a judge took a look at the right's case for voter IDs, which suggests that in-person voting fraud justifies erecting obstacles to voting, and found that it's completely fake.
That's why the Republican National Committee is pretending to reach out to minorities while canceling early voting in Ohio to fix the problem of too many black people voting.
That's why Republicans complain that not enough people are being covered by Obamacare, while denying 5 million working people Medicaid expansion.
That's why they're still fixated on Solyndra in 2014 even though the stimulus gave birth to a clean energy revolution that has seen solar production grow 418 percent since 2010.
That's why Rep. Paul Ryan (R-WI) is pretending to care about poverty as he pushes a budget that would take health insurance from tens of millions and usher millions into poverty.
That's why they say they can't do immigration reform because they don't trust this president — who has done more than any other recent  president — to secure the border.
That's why they say they're "pro-life" while refusing to admit that Democrats have just done more than conservatives have ever done to reduce abortions by simply mandating birth control coverage.
After leaving this country with a Great Recession and two wars, the best the GOP can do after spending millions of taxpayer dollars investigating the White House is an allegation of misleading talking points.
If misleading talking points were an impeachable offense, Washington, D.C. would be empty and the GOP platform would be a blank piece of paper.
There's a simple reason Republicans engage in this kind of politics, and The New Republic's Jonathan Cohn nailed it in his post describing how Obamacare is now getting the Benghazi treatment:
The tactic works, no matter how many times fact-checkers and media point out the distortions. Once information like this is out there, it becomes a permanent part of the conversation. Republicans and their supporters will keep citing it, over and over again. Some will even say it's proof that Obama is "cooking the books"—even if it turns out that it's Republicans, not the White House, playing games with the numbers.
Republicans are looking forward to a 2014 election where a friendly map will likely result in them appearing to be the victors.
But the last election they won big was in 2010, in the middle of the worst recession in 50 years that was definitely not prevented by, and was possibly even the result of, conservative policies. Sandwiched around that election were 2006, 2008 and 2012, when voters decided that they'd mostly had enough of the far right.
There may be a point when the American people tire of having their intelligence insulted. And Republicans seem to willing to find out if that point exists.
Photo: Gage Skidmore via Flickr