EU Readying For A Fresh Round Of Sanctions Against Russia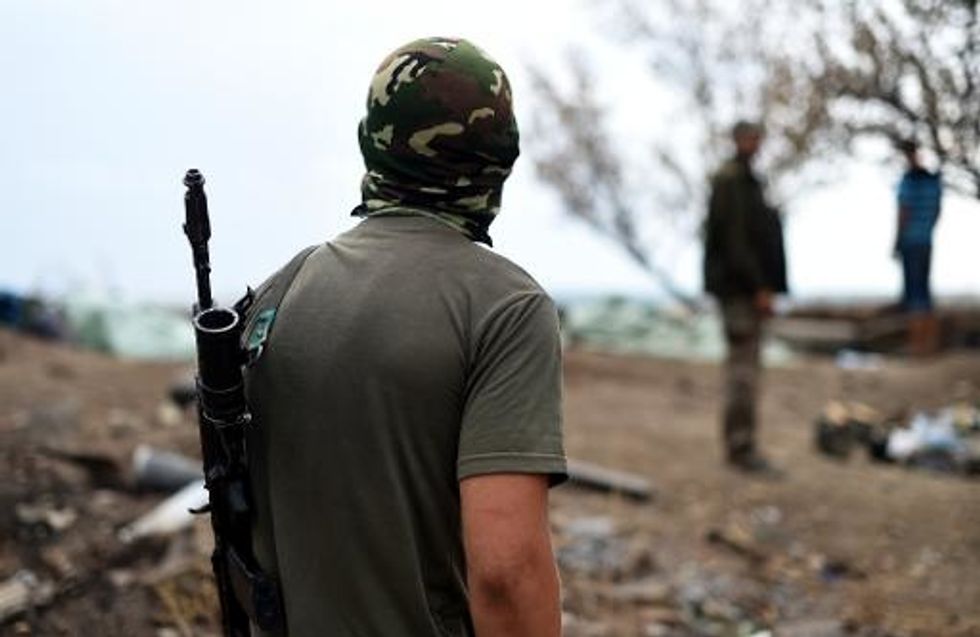 dpa
MOSCOW and MILAN — The European Union was mulling tougher sanctions against Russia on Friday, following reports that Moscow had sent hundreds of regular troops to eastern Ukraine to support the separatist militias there.
EU leaders could task experts with drawing up new sanctions at a summit this Saturday in Brussels, diplomats said.
Many of the bloc's foreign ministers voiced support for fresh sanctions as they gathered for informal talks in Milan on Friday.
"It is really unacceptable to continue to stir up trouble in a neighboring country," Dutch Foreign Minister Frans Timmermans said as he arrived for the two-day meeting in Milan. "If Russia does not change its stance, then we can't do anything but sharpen ours."
"I don't think we can allow such Russian steps without reacting," Danish Foreign Minister Martin Lidegaard said, while also noting that ultimately the EU wants Russia "to come to the negotiating table and to find a peaceful solution to this."
Germany's Frank-Walter Steinmeier warned that the situation was getting out of control, given the violations at Ukraine's border with Russia. "Reason has to finally prevail, and I say that especially with an eye to the Russian side," he said.
Lithuanian Foreign Minister Linas Linkevicius suggested the possibility of supporting Ukraine with "military" supplies.
Swedish Foreign Minister Carl Bildt said he thought this would be something rather for a NATO summit in Wales next week.
"It is clear that NATO cannot support Ukraine with troops. … But we need your assistance to stop (Russia's) aggression," Ukrainian Ambassador Ihor Dolhov said after talks with NATO ambassadors in Brussels.
Romanian President Traian Basescu called on the EU and NATO to support the Ukrainian armed forces. Otherwise government troops won't bring eastern Ukraine under control, Basescu told a meeting of Romanian diplomats in Bucharest, according to the Mediafax news agency.
NATO has said it believes "well over" 1,000 Russian troops are engaged in combat in Ukraine, adding heft to similar accusations by the Ukrainian government.
Russia denied the accusations on Friday, with Foreign Minister Sergey Lavrov saying that the claims lacked factual evidence.
Satellite pictures showing Russian military convoys were of the same quality as images taken from computer games, he said in Moscow, according to Russian news agencies. He noted that pictures alleging troops movements had been taken from games in the past.
The minister said that "nervous accusations" are being aired because the pro-Russian separatists have made military advances.
NATO Secretary-General Anders Fogh Rasmussen called Moscow's denials "hollow."
Ukrainian Prime Minister Arseniy Yatsenyuk announced a bill to parliament that could lead to the revival of the country's bid for NATO membership. Ukrainian President Petro Poroshenko is expected to attend next week's NATO summit.
Russia has long been wary of closer ties between Ukraine and the alliance.
President Vladimir Putin compared the Ukrainian government's military campaign against the separatists with the tactics of Nazi troops during the Leningrad siege who "shot civilians at point blank."
He told a youth forum in Russia's Tver region that Moscow will not be drawn into a large-scale conflict, but must "always be ready to repel any aggression against Russia."
"Our partners must understand that is better not to mess with us," he said.
Earlier, Putin for the first time addressed the pro-Russian separatists in eastern Ukraine, referring to them as the militia of "Novorossia" (New Russia) — an expression believed to reflect Russia's territorial ambitions in the neighboring country.
He praised their offensive against the Ukrainian military operation, but also called upon them to open a humanitarian corridor for surrounded Ukrainian soldiers.
Ukraine's National Security and Defense Council said Friday that government troops had killed 26 "members of armed formations" in a battle in eastern Ukraine.
Council spokesman Andriy Lysenko did not specify the location of the battle, the Interfax Ukraine news agency reported. However, he confirmed fresh fighting in the area between the cities of Mariupol and Novoazovsk, along the Sea of Azov.
Ukraine has said that Russian troops entered the country in that region during the past week.
The separatists said Friday that their forces had encircled Mariupol, an industrial port city with a peacetime population of 500,000, Russian news agencies reported.
Nearly 2,600 people have died in the fighting in eastern Ukraine since mid-April, according to new UN data released Friday.
The figure, as of Wednesday, was 2,593 dead, reported the international agency from its Geneva offices.
AFP Photo/Francisco Leong
Interested in world news? Sign up for our daily email newsletter!