EU Seals Closer Ties With Ukraine, Sanctions Russia
@AFP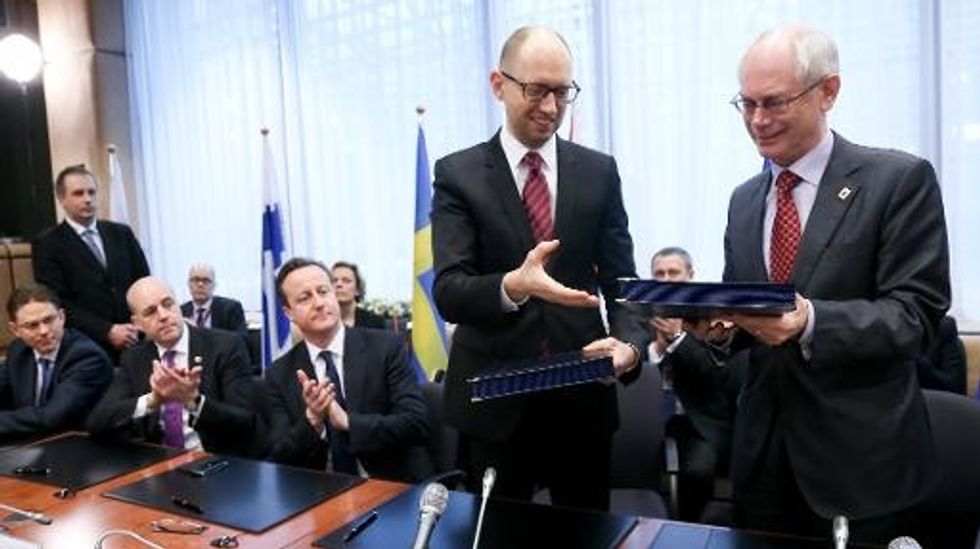 Brussels (AFP) – The EU welcomed Ukraine into the Western fold on Friday, signing the political provisions of a landmark accord as a defiant Russia formally completed its takeover of Crimea.
Seeking some leverage over a newly-assertive Moscow, European Union leaders agreed sanctions against top Russian politicians and stepped up efforts to cut the bloc's energy dependence on Russia.
Signing the Association Accord "symbolizes the importance both sides attach to this relationship… and the joint will to take it further," EU president Hermann Van Rompuy told Ukraine interim premier Arseniy Yatsenyuk.
The EU was offering Ukraine its "steadfast support," Van Rompuy said, promising help to get the country's struggling economy back on track.
"We are sure that together we will succeed," Yatsenyuk said after the European Union's 28 heads of state and government signed the document.
At another ceremony, this time in Moscow, President Vladimir Putin signed the documents that sealed Crimea's absorption into Russia.
"Today we have a serious, momentous event," Putin said.
"I want to congratulate you, all the inhabitants of the country, Russian citizens, the inhabitants of Crimea and Sevastopol on this landmark — without any exaggeration — event."
The annexation of Crimea, after a referendum on Sunday condemned as illegal by Washington and Brussels, prompted both to impose sanctions on Russia.
U.S. President Barack Obama blacklisted 20 Russian lawmakers, senior government officials and businessmen, in addition to 11 already targeted, and warned Moscow it faced international isolation if it did not reverse course.
Moscow responded in kind, announcing sanctions of its own against nine U.S. officials, including top political figures and presidential aides.
After long talks in Brussels, EU leaders hit 12 more Russians with travel bans and asset freezes, bringing their list to 33.
Among them was Russian Deputy Premier Dmitry Rogozin, also targeted by Washington and who vehemently dismissed the measures.
"All these sanctions aren't worth a grain of sand of the Crimean land that returned to Russia," Rogozin said in a tweet.
Washington however signaled its determination to maintain the pressure on Moscow, saying Obama would use a trip to Europe next week to mobilize U.S. allies and underscore Russia's isolation.
"What will be clear for the entire world to see is that Russia is increasingly isolated and the United States is leading the international community in supporting the government of Ukraine and the people of Ukraine and imposing costs on Russia," said U.S. National Security Advisor Susan Rice.
As the economic fallout from the crisis deepened, EU leaders agreed on the need to cut the bloc's dependence on energy supplies from Russia, which supplies more than a quarter of its natural gas, much of it in pipelines through Ukraine.
"Reducing our energy dependency, especially in relation to Russia, was a key topic" at the two-day summit, Van Rompuy said.
But with many EU nations heavily reliant on Russian energy — and little prospect of rapidly finding alternatives — the bloc is divided on how far it should go with economic sanctions.
EU efforts to diversify energy supplies after Russia cut deliveries to Ukraine in 2006 and 2009 have so far failed to make much headway.
On Friday Russian business daily Kommersant said Ukraine could lose a gas discount it won in 2010 in exchange for allowing Russia a base for its Black Sea fleet in Crimea.
That would mean Kiev paying up to $480 per 1,000 cubic meters, the highest price of any of gas giant Gazprom's clients in Europe, the newspaper said.
Ramping up the pressure further, Moscow demanded that Ukraine pay back money it saved as a result of the discounted gas price.
"The Ukrainian state saved some $11 billion dollars and accordingly the Russian budget has a missed profit of the same $11 billion," Prime Minister Dmitry Medvedev said.
Ukraine was already in dire economic straits even before the Russian annexation of Crimea, which Yatsenyuk said could cost Kiev "hundreds of billions of dollars" as it lost control of "dozens of installations" on the breakaway peninsula.
The International Monetary Fund said it had made "significant progress" in talks with Kiev over the resumption of a vital support program.
Japan also plans to provide nearly $1.0 billion in aid to Ukraine, reports said, while the EU has announced funding of 11 billion euros ($15 billion) in all.
The crisis has also hit Russia's economy. On Friday, Fitch joined fellow ratings agency Standard & Poor's in downgrading Russia's credit outlook from stable to negative because of the growing risk of Western sanctions.
"Since U.S. and EU banks and investors may well be reluctant to lend to Russia under the current circumstances, the economy may slow further and the private sector may require official support," Fitch said.
On the ground in Crimea, Russia continued to consolidate its position, with Kiev preparing an evacuation plan for thousands of Ukrainian soldiers and their families based there.
Meanwhile the Organization for Security and Co-operation in Europe (OSCE) agreed on Friday to send to Ukraine a monitoring mission, initially numbering 100 people, after Russia dropped objections, although they will not have access to Crimea.
OSCE's current chairman, Swiss Foreign Minister Didier Burkhalter, said the teams would monitor the human rights situation "including the rights of national minorities".
Moscow cited the protection of Ukraine's ethnic Russian minority to justify its annexation of Crimea and Kiev fears it may now venture into eastern Ukraine, home to a large Russia-speaking population.
Washington said on Thursday that Russian Defense Minister Sergei Shoigu had promised his U.S. counterpart Chuck Hagel that Moscow would not move into eastern Ukraine.
AFP Photo/Olivier Hoslet