Feinstein Says Islamic State Stronger, Criticizes U.S. Approach
@reuters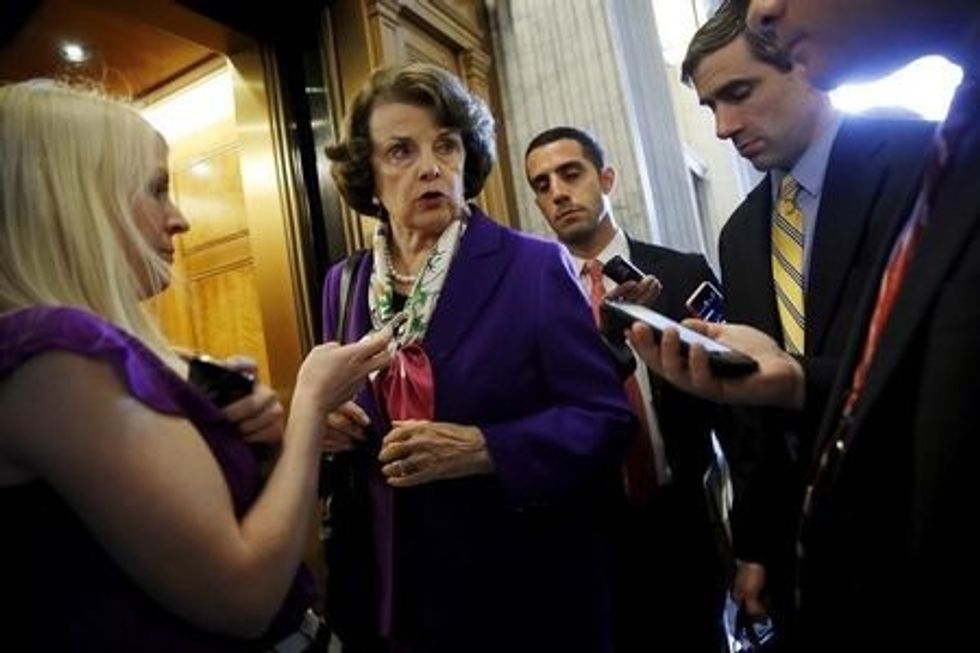 By Doina Chiacu
WASHINGTON (Reuters) – Leading Democratic Senator Dianne Feinstein said on Sunday the United States is not doing enough to fight Islamic State, and the group is gaining strength outside Iraq and Syria.
Feinstein, the ranking Democrat on the Senate intelligence committee, said Secretary of State John Kerry gave the panel a more comprehensive picture last week of the U.S. strategy to combat Islamic State, including talks in Vienna to find a diplomatic solution to the Syrian crisis.
However, she said on CBS, "I don't think the approach is sufficient to the job."
Feinstein said President Barack Obama's decision to send 50 special forces to Syria will not solve the problem and advocated a larger, more specific special operations plan.
"We need to be aggressive now," she told "Face the Nation."
Feinstein described Islamic State, which has seized large portions of Syria and Iraq and declared a caliphate, as an "enormously strong" quasi-state with 30,000 fighters, a civil infrastructure and funding.
It is also spreading quickly to other countries, she said, noting the Nov. 13 Paris attacks that killed 130 people were masterminded by Islamic State devotees in Belgium."It's a big, big problem," Feinstein told CBS. "This has gone on too long now. And it has not gotten better. It's gotten worse."
Devin Nunes, the Republican chairman of the House of Representatives' intelligence committee, criticized Obama's Islamic State strategy as a "containment policy."
U.S. strategy should be broadened to match the group's global threat, he said on CNN's "State of the Union."
Brett McGurk, Obama's envoy to the global coalition to counter Islamic State, fended off the criticism. He said the coalition was targeting the group's international networks as well as pressuring it in Iraq and Syria.
"We're not going to be satisfied until we have destroyed this organization," he said on "Face the Nation."
The deadly attacks in Paris and a threat alert in Brussels over the weekend have heightened concerns of an attack on American soil. The House of Representatives moved to tighten screening of refugees from Syria last week, fearing that militants could slip in among them.
In New York on Sunday, security officials sought to calm public fears before this week's Thanksgiving Day holiday. Homeland Security Secretary Jeh Johnson appeared with New York City officials for a security drill in a subway station.
"We want the American public to know that we're on the job, we're vigilant and we're continually reevaluating our security posture," Johnson said on NBC's "Meet the Press."
Nunes was asked about a New York Times report on whether intelligence assessments from U.S. Central Command painted an overly optimistic picture of the fight against Islamic State in Iraq and Syria.
He said members of his committee, which is investigating the claims along with the Pentagon's inspector general, had long noticed such discrepancies between what they saw during visits to the region and in the intelligence reports.
Obama, at a news conference in Malaysia closing a weeklong overseas trip, said described the intelligence he has been getting as a "clear-eyed, sober assessment."
(Reporting by Doina Chiacu; Editing by Ralph Boulton, Ros Russell and Paul Simao)
Senator Dianne Feinstein (D-CA) speaks with reporters the weekly after party caucus luncheons at the U.S. Capitol in Washington June 23, 2015.  REUTERS/Jonathan Ernst