Ferguson Reveals A Growing Gap In A Black And White World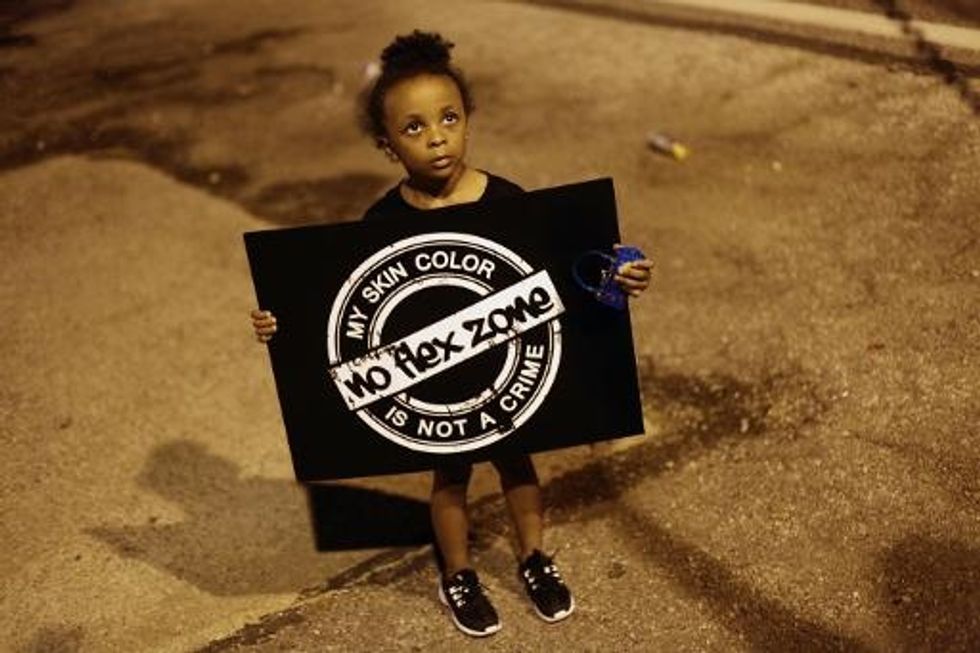 By Jerry Large, The Seattle Times
A poll and a set of charts both say something important about the situation in Ferguson and around the country. The poll shows the divide between black and white reaction to the shooting, and the charts map the different worlds most white and black Americans inhabit.
I wrote something about Ferguson last week and didn't think I'd be doing it again this week, but the ongoing protests and the clumsy official handling of the protests keep bothering me. And more than that, what Ferguson says about race in America keeps clawing at my thoughts.
That's not true for everyone, and the poll captures a divide that is both political and racial in who finds broader significance in the events in Missouri.
It's the Pew Research poll that came out Monday. In it, 80 percent of black people said the case raises important issues about race. Thirty-seven percent of white people surveyed agreed, but 47 percent said race has been getting too much attention.
The responses broke along political as well as racial lines, but then politics follows clear racial lines. So you won't be surprised that while 68 percent of Democrats thought the shooting raises important racial issues, only 22 percent of Republicans thought so.
How people view the case affects whether they see a need to address underlying causes and what those causes might be. If the shooting of Michael Brown was only an isolated interaction between a police officer and a young man he might have suspected of doing something wrong, then that's pretty much the end of the story. The protests and news coverage seem misguided and excessive.
But there is a pattern of white police officers shooting and killing black men that goes beyond chance. The statistics on police stops in that area and many other cities show patterns that go not only beyond chance, but even beyond what would seem to be legitimate law-enforcement needs, as when the numbers show blacks and Latinos are stopped at higher rates, but are far less likely to be found with contraband, for instance, than white people who are stopped. Police seem to be more accurate in judging which white people to stop.
Those disparities often occur with police departments that don't look like the communities they are policing. Nothing says police and communities have to be exactly the same complexion or ethnicity, but when they aren't even close, that raises questions. They were far from being matched in Ferguson.
What flared up in Ferguson are pressures that are present beneath the surface in much of the U.S. Police-community interactions that go wrong are dramatic, but the pressure comes from disparities in multiple areas of life.
The New York Times has a feature called The Upshot, and last week it included charts that measure how well white and black Americans are doing in a number of key economic categories.
What the charts show is that we haven't been making progress on closing gaps for a long time. In some cases, we are moving backward, and the recession took a hammer to many of the gains black Americans had made since the civil-rights legislation of the 1960s.
Here are some of the facts.
In 1972, the jobless rate among African Americans was 2.04 times that among whites. In 2013, it was 2.02. And black unemployment rates are higher regardless of education.
Black people are underrepresented in high-income fields and overrepresented in low-paying jobs. The pay gap between black and white Americans has grown since 1980 and the wealth gap is much wider than the pay gap and growing.
There was a short window after civil-rights legislation in which black Americans made huge strides in education, employment and other areas. The window was closed by economic downturn, the racist war on drugs that further poisoned relationships between the police and the communities where they work, and the withdrawal of political support for advancing equality.
Ferguson brings all of that to mind for me, but apparently not for everyone, and the lines continue to diverge.
AFP Photo/Joshua Lott
Want more political news and analysis? Sign up for our daily email newsletter!