Ferguson Waits And Hopes That Truce Will Become Lasting Peace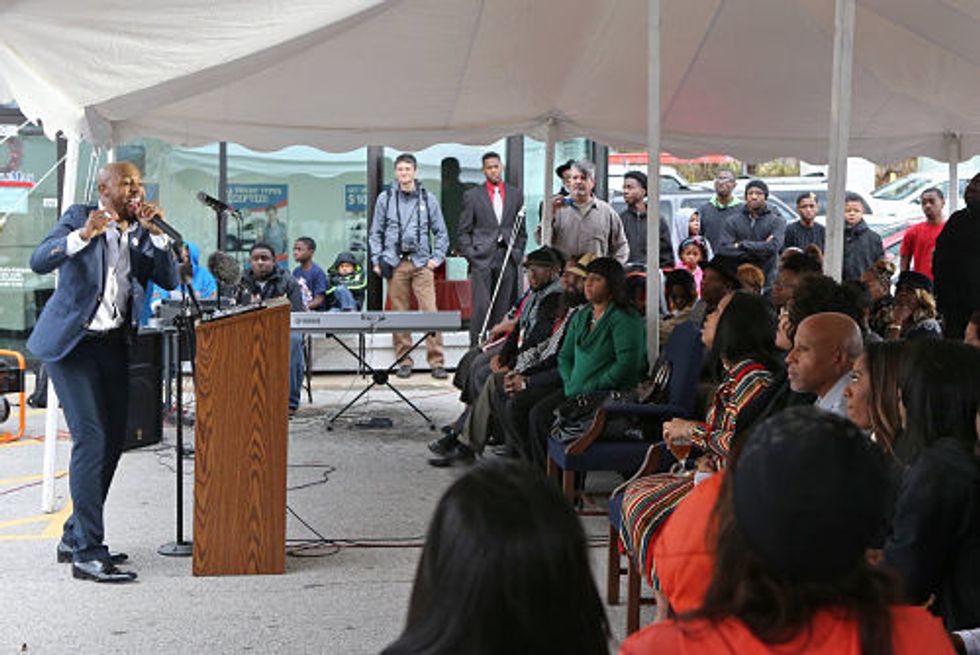 By Paul Hampel, St. Louis Post-Dispatch (TNS)
FERGUSON, Mo. — Christmas lights and inflatable Santas festooned homes throughout the city as shoppers, in another sign of the coming holiday, descended on the local Target.
Elsewhere, patrons quietly sipped beers awaiting the kickoff of Monday Night Football.
Just another early December evening in Ferguson.
Were it not for the National Guard troops, four per camouflaged Humvee, patrolling city streets in three to four minute intervals.
A week to the day after chaos reigned in a blizzard of arson, looting and blind rage, a calm settled over Ferguson on the first day in the final month of its most cataclysmic year.
St. Louis County police Sgt. Brian Schellman said the recent relative calm would allow officers on Ferguson detail to return to their normal shifts today. Regular days off would also be restored, he said.
Police had been on 12-hour shifts since Nov. 23.
"They're all pretty well taxed," Schellman said. "There are a lot of officers looking forward to spending time with their families again."
He acknowledged that police had been nervous heading into last weekend, concerned that the warm weather would reignite trouble.
"But the last few days, we haven't had to deal with very many things at all in Ferguson," he said.
On Monday, guard Humvees appeared to replace police vehicles in taking on the brunt of patrol duty in Ferguson.
Schellman said it was uncertain when the guard would pull out of the city.
"They've been a big help in freeing us up to deal with any criminal activity," he said.
Residents and businesses, who have witnessed such lulls before, are not ready to declare the unrest over.
At Marley's bar and grill on South Florissant Road, just yards from where rioters torched two county police cars on Nov. 24, a sparse crowd settled in for dinner and to watch pro football.
Owner Martin Braun noted that, even at the height of the rioting, his bar had remained open — and undamaged.
"One reason we remained open was that it's harder to pick on a place that's occupied," Braun, 57, said.
He said business was down a third in the early hours and about half late at night.
"My regular customers have stood by me," Braun said. "I'm just hoping that this peace will hold and more people will feel comfortable coming in."
The Subway franchise across South Florissant from the Ferguson police and fire stations was also seeing a steep decline in activity.
The store had closed as demonstrators and news crews gathered on South Florissant in advance of the Nov. 24 nighttime announcement that a St. Louis County grand jury had declined to indict Ferguson officer Darren Wilson in the August shooting death of Michael Brown, an unarmed teenager.
With temperatures plummeting in the days that followed, the Subway became a haven for journalists and protesters seeking warmth.
"No one wants to stand out there to get frostbite," said "Miss Kelly," the Subway employee who has served as an unofficial hostess to demonstrators and the national and international media which — by Monday night — had dwindled to a handful of network and cable news crews waiting for assignment editors to end extended stays in St. Louis.
As the temperature dropped below freezing on the first night of December, there was nary a protester for journalists to interview in the tire store parking lot that has served as a staging area for demonstrations since this summer.
Shortly after 7 p.m. it appeared that the protests would begin anew as a small group gathered curbside directly across from police headquarters.
As they have since August, passing cars honked their horns in support of the 11 young people huddled against the cold.
The group responded to the attention with giggles and laughter for supporters who had no way of knowing they were simply students from the Florissant Valley campus of St. Louis Community College waiting for a bus to whisk them home.
Moments later, they clambered aboard.
Leaving South Florissant Road as empty as it has been since August.
Photo: Rev. Carlton Lee gives his church service in a tent on Sunday, Nov. 30, 2014, in Country Club Hills, Mo. His Flood Christian Church burned last week during the riots. (J.B. Forbes/St. Louis Post-Dispatch/TNS)