Fires Intensify As Hundreds Flee 21 Blazes In Washington And Oregon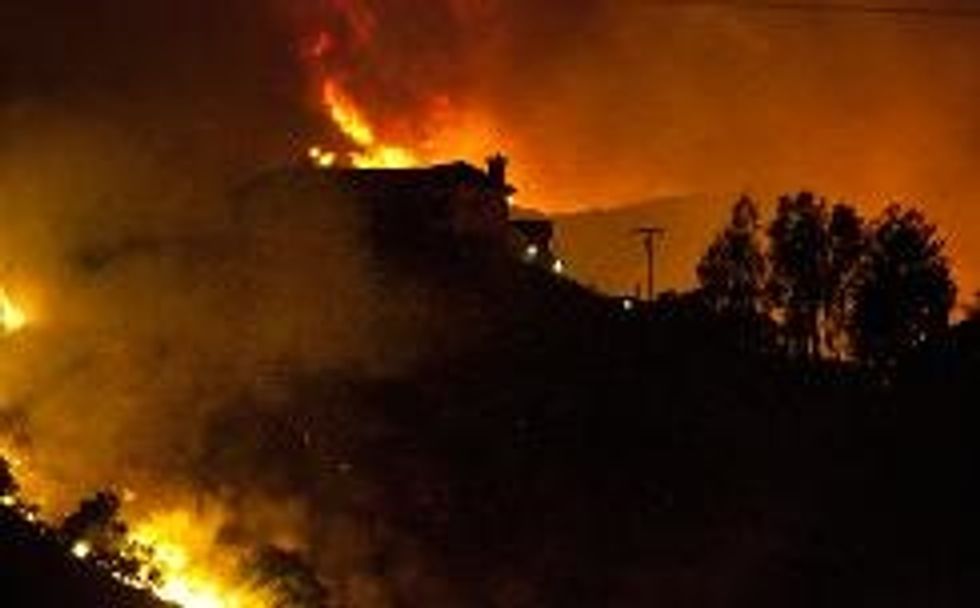 By Michael Muskal, Los Angeles Times
The dry Northwest continued to battle an outbreak of 21 wildfires in Washington and Oregon where lightning strikes and arid tinder have conspired to burn through about 80,000 acres and force the evacuation of hundreds of homes.
According to the federal fire-tracking clearinghouse, by early Thursday morning three new fires had been reported, bringing the number of large fires to 21 in the two states, where states of emergency have been declared. Wildfires continued to grow in drought-plagued regions and tens of thousands of lightning strikes have been reported since the weekend.
"The National Weather Service posted red flag warnings and fire weather watches … for much of Eastern Washington from Wednesday afternoon through Friday," said the state's emergency declaration, signed by Lt. Gov. Brad Owen.
The Chiwaukum Creek fire, first detected Tuesday, is believed to have been started by lightning. It sent a smoke plume 25,000 feet into the air as it burned through heavy timber. The fire, about 10 miles north of Leavenworth, Wash., and 120 miles east of Seattle, had raced across more than 1,200 acres by Wednesday evening and prompted the closure of a 15-mile stretch of U.S. Highway 2.
As many as 400 people have been told to leave their homes or cabins and another 800 homes were threatened by the out-of-control fire.
The most destructive wildfire in Washington remained the Mills Canyon fire near Entiat, where more than 35 square miles have been consumed since the blaze began on July 8. The fire was listed at 40 percent contained with 419 structures threatened.
The state of emergency declaration in Washington frees up state resources to combat the fires and the National Guard sent two helicopters to help fight the Carleton Complex fires about five miles northeast of the state's Methow Valley in the north-central part of the state. That fire, caused by lightning, was reported on Monday and has already burned through almost seven square miles.
At least 40 structures are threatened and some evacuations have been ordered, officials said.
In southern Oregon, a Klamath County wildfire turned out to be more destructive than first reported.
Originally, officials said six houses had been destroyed in the Moccasin Hill fire near the town of Sprague River. But that number has been increased to 17 residences burned, with 16 outbuildings also destroyed.
The fire has burned through almost four square miles since Sunday and is 35 percent contained.
According to the clearinghouse, the National Interagency Coordination Center, the Northwest has lost 79,593 acres, part of the 1.1 million acres consumed nationally so far this year. In an average year, about 3.4 million acres are destroyed by fire across the country.
AFP Photo / Jorge Cruz
Interested in national news? Sign up for our daily email newsletter!