First Lady Drops Phony Cyber-Bullying 'Campaign'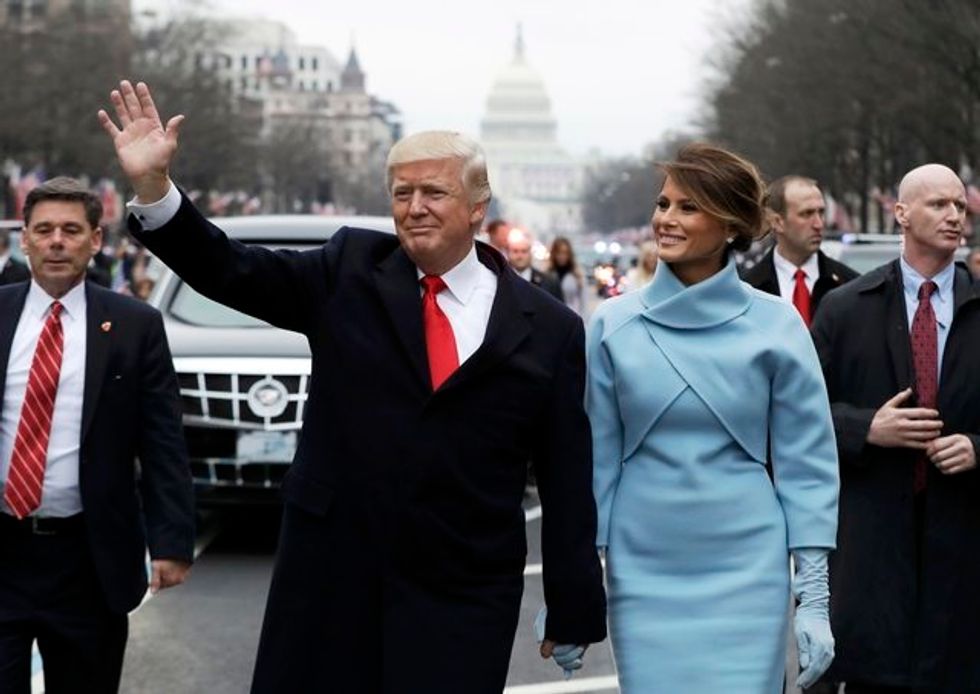 Reprinted with permission from Alternet.
After video footage surfaced of her husband bragging about sexually assaulting women, Melania Trump contributed to damage control efforts by sitting down to an interview with CNN's Anderson Cooper. Over the course of the conversation, she defended Donald Trump as being a precocious 59-year-old boy victimized by Billy Bush and the left-wing media. In an added effort to distract, Melania pledged to tackle the epidemic that is cyberbullying. You're familiar with cyberbullying, right? It's exactly that thing where the man you married gets up at 3am to call people "fat pigs," "stupid" and—irony alert!—"liars" on Twitter.
Here's what Melania actually said while keeping a completely straight face during the interview:
My passion is the same [as I've said in the past]: helping children and helping women. And also, I see now in 21st century, the social media, it's very damaging for the children. We need to guide them and teach them about social media, because I see a lot of negativity on it, and we need to help them. It has some positive effects as well, because this is the life that we live in now. But has a lot of negativity as well. And I see more and more children being hurt by it…A lot of bullying.
When Cooper asked Melania if she had spoken to her husband about how often he uses Twitter—because, seriously, the tweets are coming from inside the house—she said only that she gives her husband "many advices" he can take or leave, and that "he's an adult, he knows the consequences." Which should also be true of committing and boasting about criminal sex acts, you would think, but I digress.
Melania revisited this topic again during a rare appearance on the campaign trail in Pennsylvania. In her address, she bemoaned how "our culture has gotten too mean and too rough" and suggested Americans—without using specific names like, say, Donald—"have to find a better way to talk to each other, to disagree with each other, to respect each other."
"We must find better ways to honor and support the basic goodness of our children, especially in social media," Melania concluded in a speech Michelle Obama probably delivered somewhere first. "It will be one of the main focuses of my work if I'm privileged enough to become your First Lady."
Despite anti-cyberbullying work being a "passion" of hers, Melania did nothing to tackle the issue once her husband took office. In early May, USA Today reached out to "leaders and activists in anti-cyberbullying efforts" to see how things were going, but found that "neither Trump nor her East Wing staff [had] reached out, nor have they responded to offers to help." Melania's press secretary, Stephanie Grisham, said her boss had been spending all those months thinking really hard about what she wanted to do.
"Mrs. Trump is being very thoughtful when it comes to building out her initiatives," Grisham told the outlet. Melania hadn't hired much staff to help her with her initiative, a reflection of her commitment to "quality over quantity."
Now comes news from Politico that Melania will not be launching her cyberbullying campaign after all, despite the fact that her gilded penthouse in Trump Tower must provide a lot of quiet and space for thinking about how to stop cyberbullying. Not to mention it costs New Yorkers $146,000 a day to keep her there, far from the White House and her beloved husband.
According to Politico, a White House official confirmed that the cyberbullying "initiative has…been cast aside." The reason is definitely not because Melania would rather not be bothered with any of this in the first place, especially since Ivanka already got a "First Lady" tattoo on inauguration day. Instead, it's an issue of Melania being so busy juggling her passions that she's taking on numerous worthy causes.
"While cyberbullying is something she speaks out against," Grisham told the outlet, "that is but one subset of her focus around the overall wellness of children."
Actually, Melania hasn't "spoken out" against cyberbullying since the election. Her silence on the issue is perhaps an indication of how incredibly passionate she is about the other issues that have instead grabbed her attention, such as developing an anti-hand holding martial arts form for people who hate their spouses.
Melania and 11-year-old Barron Trump are supposed to move to the White House on June 14. Politico reports that "it's still not clear exactly what initiative Melania Trump will make her platform." Maybe living with the Cyberbully-in-Chief will inspire her to get back into the cause she originally pretended to love.
Kali Holloway is a senior writer and the associate editor of media and culture at AlterNet.
This article was made possible by the readers and supporters of AlterNet.