Five Key House Races For National Security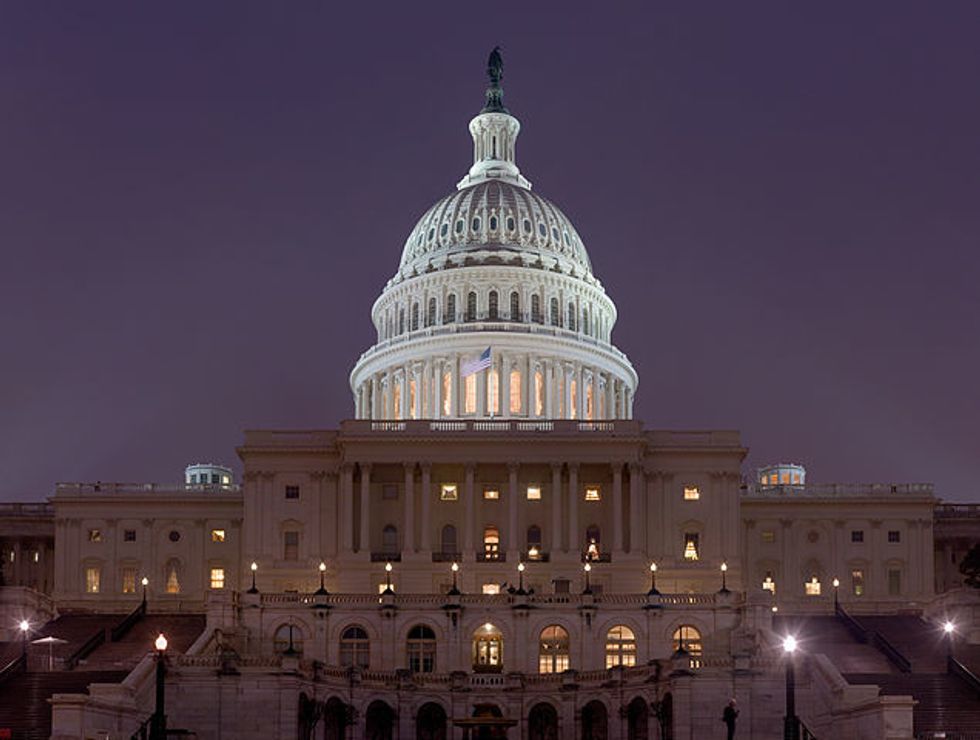 Conventional wisdom holds that the midterms are driven by economics and outrage, yet some commentators argue that national security — by way of fear — will be a decisive force in this year's elections. In any case, real, concrete national security issues should matter when Americans head to the polls this November. So ignore the drivel about Ebola-slobbering terrorists coming to destroy the fabric of Americana, and check out the races below. These candidates know veterans' issues, military, energy, and other matters of national security, and are fighting for smart solutions to real challenges.
Name: Tammy Duckworth
Status: Incumbent running for second term
Constituency: Illinois's 8th congressional district
Committee Memberships: Armed Services; Oversight and Government Reform
Service Experience: Duckworth is an Iraq War veteran deployed in 2004. She earned a Purple Heart for her service when a rocket propelled grenade nearly downed her Black Hawk helicopter. Duckworth chose to enter public service while recovering from a double amputation in Walter Reed.
Key Achievements: Before joining the legislative fray, Duckworth made strides working at the Illinois and national VA. Her idea of a tax credit for businesses that hire veterans in Illinois was copied into Congress's 2009 stimulus bill, and she had a special focus on developing tailored resources for female vets and working to end veteran homelessness.
What's Next? Duckworth has pushed for a smart and measured approach to countering the ISIS threat, and she is pushing for a clear (though politically difficult) public argument and vote on a new Authorization for the Use of Military Force in Iraq and Syria. Her voice will be critical in forcing Congress towards this essential action.
Name: Scott Peters
Status: Incumbent running for second term
Constituency: California's 52nd congressional district
Committee Memberships: Armed Services; Science, Space, and Technology
Service Experience: N/A
Key Achievements: Peters has secured more than $1.2 million in benefits for veterans and military families in his home district. He also partnered with Senator Mark Udall (D-CO) to introduce the Department of Defense Energy Security Act (DODESA), and later worked key provisions addressing the military's energy security and innovation into the 2014 National Defense Authorization Act.
What's Next? With the threat of sequestration hanging like the Sword of Damocles above the DoD, Peters promises to be a strong advocate against cuts across the board that would otherwise create a hollow force. He also will be an essential proponent of foreign aid, pushing back against his opponent's characterization of democracy and development assistance abroad as "bloated and wasteful."
Name: Paul Cook
Status: Incumbent running for a second term
Constituency: California's 8th congressional district
Committee Memberships: Armed Services; Foreign Affairs; Veterans' Affairs
Service Experience: Cook is a U.S. Marine who served as an infantry officer during the Vietnam War. He earned a Bronze Star and two Purple Hearts in his 26 years of service.
Key Achievements: Cook reached across the aisle to partner with Rep. Mark Takano (D-CA) to secure $2 million in aid to hire over 3,100 National Guard, Reserve and veterans in California. He also helped broker a deal to expand the vital Marine Corps training base located in Twentynine Palms, CA, while adhering to the unique needs of his constituency.
What's Next? Cook will be using his position on the Armed Services Committee to authorize an innovative direct placement model for National Guard, Reserve and veterans employment, based on California's successful Work for Warriors program. Cook included this concept in an amendment to the FY15 House National Defense Authorization Act.
Name: Seth Moulton
Status: Challenger (after unseating incumbent Rep. John F. Tierney in a primary)
Constituency: Massachusetts' 6th congressional district
Committee Memberships: N/A
Service Experience: Moulton served four tours in Iraq as a U.S. Marine. The Boston Globe only recently discovered that he was awarded the Bronze Star and Navy and Marine Corps commendation — an achievement about which Moulton has been so quietly humble that his parents were surprised to learn of the news via the paper's report.
Key Achievements: Moulton drew inspiration from his service in Iraq to seek infrastructure reform at home. As the managing director of the Texas Central Railway, he supervised the preliminary engineering and planning of a 240-mile high-speed rail line between Dallas and Houston.
What's Next? Moulton has indicated that he wants to bring VA health care reform back to the top of Congress's to-do list because it is essential rather than politically expedient. He has pushed for increased funding to the department on the campaign trail as well as expanded educational opportunities in the GI Bill. He will be a leading voice on issues facing post-9/11 veterans.
Name: Tulsi Gabbard
Status: Incumbent running for a second term
Constituency: Hawaii's 2nd congressional district
Committee Memberships: Foreign Affairs; Homeland Security; Armed Services
Service Experience: Gabbard served two tours of duty in Iraq, actually stepping down from the Hawaii State Legislature (of which she was the youngest member ever elected) for her deployment. She is still a member of the U.S. Army National Guard at present.
Key Achievements: Gabbard sponsored the Helping Heroes Fly Act of 2013, which provided for expedited screening for severely injured or disabled active duty military or veterans. She also introduced, along with Rep. Scott Perry (R-PA), a bill suspending the visa waiver program for any country that has identified passport holders fighting with ISIS and other extremist organizations.
What's Next? Gabbard's work on the Military Justice Improvement Act in 2013 indicates that she will continue to work for reform of how the military prosecutes sexual assault cases. Being from Hawaii, she also will be leading legislative efforts to support the Obama administration's strategic emphasis on the Asia-Pacific region via advocacy for missile defense and naval funding.
Andreas Mueller and Shawn VanDiver are members of the Truman National Security Project. Mueller is the co-chair of the Cybersecurity Expert Group, and VanDiver is a leading member of the San Diego chapter. Views expressed are their own. 
Photo: Diliff via Wikimedia Commons
Want more political news and analysis? Sign up for our daily email newsletter!