Flake Demands Senate Action On Protecting Mueller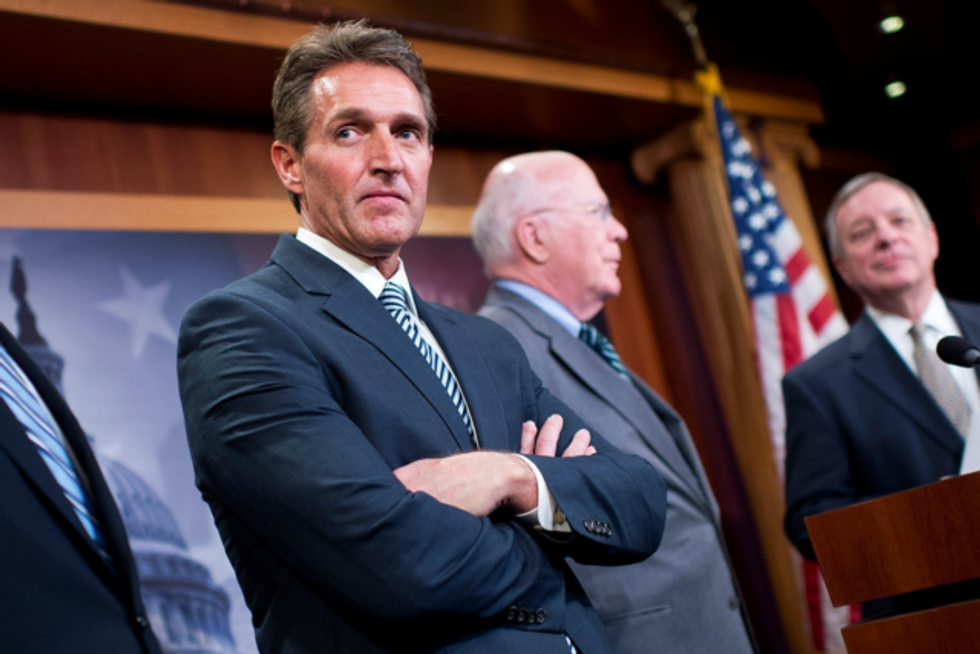 Reprinted with permission from AlterNet.
Sen. Jeff Flake (R-AZ) has often made a show of opposing President Donald Trump's greatest violations of norms and standards in American Democracy, only to inevitably back down and do nothing to stop the degradation. But on Wednesday, Flake finally looked ready to take a stand against the president and Republican Party leadership.
Flake announced that he will be blocking 21 judicial nominees that have been sent to the Senate Judiciary Committee, where he holds a key swing vote. He also said he will vote against 32 judges set for confirmation votes on the Senate floor, but he will need another Republican to join him in opposition along with all the Democrats to be able to block those nominees. He'll stand against these appointments, not because he opposes them on substantive grounds, but as an exercise in leverage.
His demand is simple: Protect Special Counsel Robert Mueller.
Until Senate Majority Leader Mitch McConnell (R-KY) brings a bill designed to protect the special counsel to a vote on the chamber floor, Flake has decided he will do his best to prevent the leader's top priority, which is stacking the judicial branch with conservative jurists.
"This is not a moment for our national leadership to be weak or irresolute," Flake said.
McConnell has thus far opposed bringing the bill to vote, calling it unnecessary. However, given Trump's obvious eagerness to interfere in the Russia investigation, the majority leader's opposition seems clear driven by a desire to please the president.
Asked why he's taking this step now, Flake said, "You use what leverage you have."
Flake will be leaving the Senate in January having declined to run again in the 2018 midterms. He will be replaced by Democrat Kyrsten Sinema.
His decision to finally use the leverage he has to force Trump to accept the rule of law is certainly coming late, but many will welcome his choice to take a stand on principle. There may be one key factor that has finally convinced Flake to make this bold move: Trump's recent decision to appoint his crony Matthew Whitaker to become attorney general, in what many legal scholars say is an unconstitutional appointment, poses a serious and immediate threat to the integrity of the Russia investigation.
Some observers, however, were unimpressed with Flake's statements and predicted that he will cave once again.
"Is there anything more empty in American politics than a threat from Jeff Flake, who has made his entire career by folding every time Mitch McConnell breathes hard?" asked CNN legal analyst Jeffrey Toobin.
He continued: "Mitch McConnell is going to squash Jeff Flake like a bug, as he always does. And the idea that Jeff Flake is going to hold up anything to protect Robert Mueller is, in my opinion, absurd. Mitch McConnell has said we don't need a law to protect Robert Mueller, and that means there's not going to be a law to protect Robert Mueller. I mean, Mitch McConnell is in charge."
Cody Fenwick is a reporter and editor. Follow him on Twitter @codytfenwick.